UCLA Football: Down Go The Bruins to USC and 2016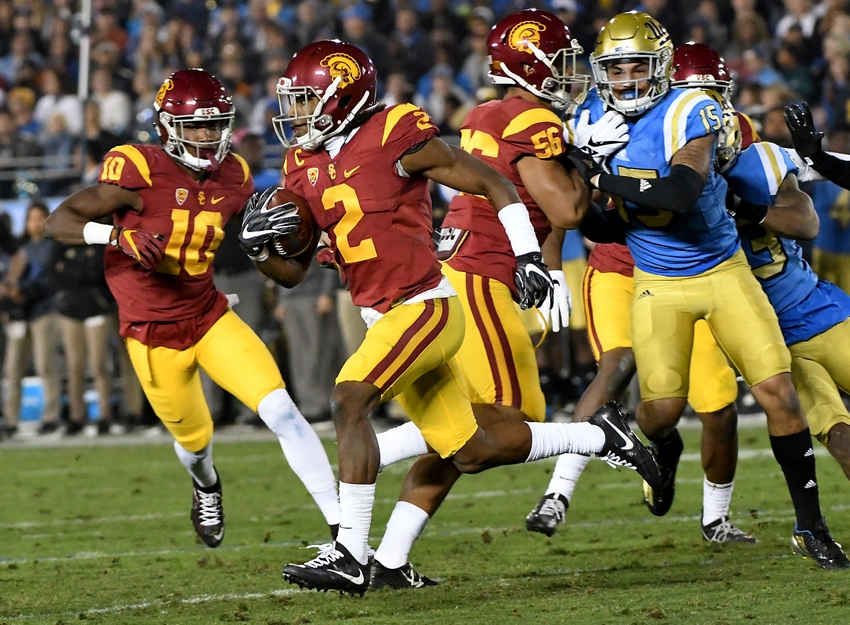 The UCLA Football team loses their second game in a row to USC as the Trojans dominate the lowly Bruins, 36-14, eliminating them from bowl eligibility.
After the first quarter, where the UCLA Football team once had a 14-7 lead which quickly dissolved into the cool Pasadena night, the USC Trojans took over to prove who runs this town.

36

14
The Bruins, who started hot, were cooled off by the red hot Trojans (I know the physics of it doesn't work, just go with me) in the final three quarters. Since UCLA went up 14-7, USC scored 29 straight points. It wasn't even close. USC ran 95 plays, while the Bruins ran 51.
It was complete domination on part of the USC offense. They had 527 total yards and controlled the clock for nearly three-quarters of the game, 43:47 as opposed to UCLA's 16:13.
UCLA's offense under Kennedy Polamalu had six straight punts and a turnover on downs after the second Jordan Lasley touchdown in the first quarter. If UCLA was hoping to make any kind of impact after the first half, they clearly forgot to game plan for it.
UCLA QB Mike Fafaul had 181 yards through the air and 2 touchdowns, but it was not close to enough. The ground game could only get 55 total yards. The receivers only caught 16 balls. The nightmare that every Bruin fan feared, came true.
The worst part… it was against USC. A team that just won there seventh straight game and is getting a lot of college football playoff talk. They also get to take the Victory Bell back to South Central. #NoBueno
USC came to play. UCLA came to play for one quarter.
UCLA loses and is 4-7. With only one game left, they fail to become bowl eligible. That is how the season has gone. And it is not over yet.
This article originally appeared on