UCLA Football: Can The Bruin's Defense Stop The BYU Run Game?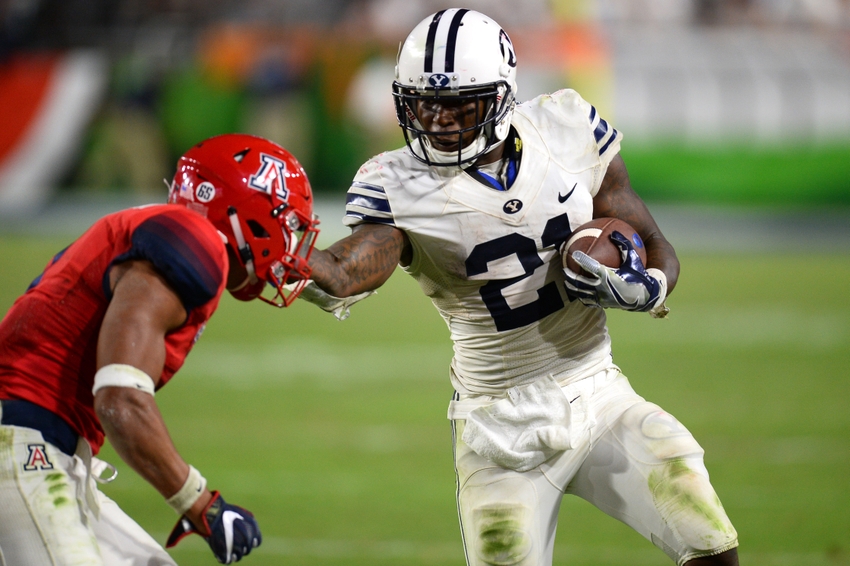 The UCLA Football team has not exactly turned the corner when it comes to their run defense, and with BYU focusing more on their ground game, it will be a tough for the Bruins to slow down the Cougars this Saturday.
The biggest issue on defense for the UCLA Football team last season was stopping the run. With the Bruins losing several defenders to injuries and having issues with schemes, UCLA was not able to slow teams down. At all.
In the last three games of the season, the Bruins allowed 197 rushing yards to Utah, 235 to USC and 326 to Nebraska for an average of 252.7 yards per game. Not exactly the kind of yards you want to give up on a weekly basis.
In the off-season, Defensive Coordinator Tom Bradley looked to change things around by implementing a 4-3 formation. They also had some players they were hoping to rely on to help quell opposing rushing attacks.
The Bruins were returning DT Eddie Vanderdoes and have defensive ends Takkarist McKinley, Deon Hollins and Keisean Lucier-South helping to lock down the defensive run game.
Unfortunately, things have not worked out that way to start the 2016 season. In their first two games, UCLA has given up 203 yards to Texas A&M and 170 yards to UNLV. Both teams averaged 5.0 yards per carry against UCLA.
That does now bode well for the Bruins as they are about to face a restructured BYU team that is looking to maximize their run game. Former BYU QB and Heisman Trophy winner Ty Detmer is now calling the shots at for the Cougars and what he has brought to the table seems to be working.
The Cougars will rely on their go-to running back Jamaal Williams. He not only has speed, but has the strength to carry him a few extra yards when he makes contact. On top of that, he can hit the gaps and and slip through with his elusiveness.

With UCLA struggling to contain the run, especially right up the gut, it would not surprise if Williams goes straight at the Bruin defensive line.
It does not get easier for the Bruins either. Along with Williams, UCLA also has to be on high alert with dual-threat quarterback Taysom Hill. Not only is the Cougar QB completing 61.8% of his passes, but is second on BYU in rushing with 124 yards (5.2 yards per carry) and has a team-high 2 rushing touchdowns.
Ideally, UCLA would want to try and contain Williams and put a spy on Hill, but with some questionable play calling on defense, the Bruins might be running after these two players all day.
Although things are looking up for UCLA. Today, UCLA Football Head Coach Jim Mora said that Vanderdoes, McKinley and Hollins are available to play on Saturday after suffering some early season injuries. Hollins has been out with concussion-like symptoms, Vanderdoes strained his knee in the first half against UNLV and McKinley has been nursing a groin injury.
That is a relief for Bruin fans because they not only have a big man in the middle to help contain the run, but will also have two pass rushers back to help put pressure on Hill.
Either way, UCLA has to find some way to limit BYU's rushing attack. They need to plug the gaps, seal the ends and get the ball carrier down as close to the line of scrimmage as possible. If not, it will be a long day for the Bruins. Looking ahead, it will also be a long season for the Bruins.
This article originally appeared on