UCLA Football: Bruins to Wear Alternate Unis on Military Appreciation Day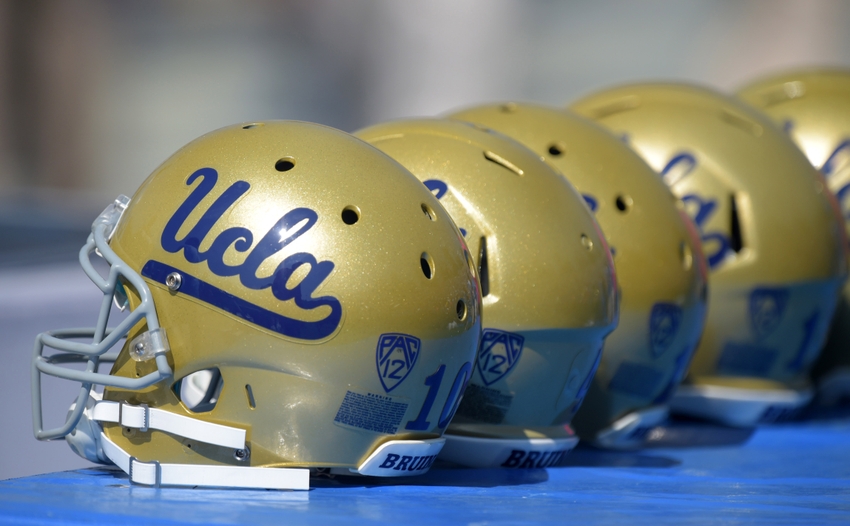 The UCLA Football team will being wearing alternate jerseys this Saturday against Oregon State at the Rose Bowl on Military Appreciation Day.
The UCLA Football team will be honoring the armed forces with Military Appreciation Day for the 20th consecutive year this Saturday when they take on the Oregon State Beavers at the Rose Bowl.
It will be the last time Adidas will be supplying the UCLA Football team with an alternate uniform as this Saturday the Bruins will be wearing a navy blue ensemble, complete with a helmet that has a UCLA/American flag decal.
The Bruins' unis will have a navy blue base with white and gold trim for the numbers, stencil lettering and shoulder stripes. The helmet, as noted, has the stars and stripes in the UCLA script as well as emblazoned on the face mask.
But that is not all. There is going to be plenty of festivities honoring the military.
Per UCLABruins.com, there will be special ticket sales for all military members, a pre-game parachuting by Navy SEALS, a presentation of colors by the Calipatira High School JROTC and a halftime military-themed performance by the UCLA Band. There will also be an unveiling of a 100-yard American Flag.
Can I get a "USA! USA! USA!"
Bruins to honor the military this Saturday at the Rose Bowl. https://t.co/320XyAsACj #GoBruins pic.twitter.com/ZO5XzWwu0X

— UCLA Football (@UCLAFootball) November 7, 2016
This Saturday we honor our troops for Military Appreciation Day @RoseBowlStadium. pic.twitter.com/cVf2Y8LiZw

— Jim Mora (@Jim_MoraUCLA) November 8, 2016
Don't miss the Navy SEAL Leap Frogs, 100-yard American Flag and Salute to Service' uniforms this Saturday. RT to win tix. #8CLAP pic.twitter.com/32DCGUHsg7

— Josh Rebholz (@JoshRebholz) November 8, 2016
A closer look at our helmet for Saturday's game #GoBruins pic.twitter.com/NBLgeEC2Fq

— UCLA FOOTBALL EQUIP (@UCLAFOOTBALL_EQ) November 8, 2016
The Bruins will be taking on an Oregon State team that has not had a lot of success in recent years. Currently, they reside in the at the bottom of the Pac-12 North Division. As for UCLA, they are 3-6 and only in 5th place in the South Division. Hopefully this game can add to the win column.
This article originally appeared on