UCLA Football: Bruins Could Still Get a Bowl Bid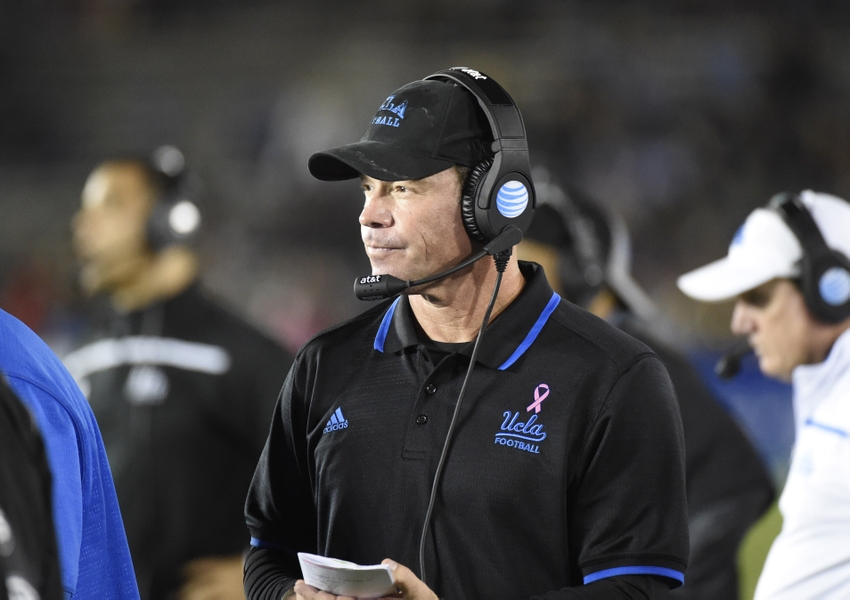 Despite not becoming bowl eligible, the UCLA Football team could find themselves in some post-season festivities.
The UCLA Football team cannot qualify for a post-season bowl game as they will not be able to meet the 6-win requirement. The Bruins only have one more game left in the regular season and have a 4-7 record.
If UCLA beats Cal this Saturday, that will only put them at five wins for 2016. That might be just enough to get them a bid for bowl season.
How is this possible? Thuc Nhi Nguyen breaks it down via the Orange County Register:
UCLA could play in a bowl game at 5-7 if there are not enough six-win bowl-eligible teams to fill the 40 bowl games and the Bruins' academic progress rate (APR) of 972 is one of the highest among 5-7 teams.
According to Nguyen, there are currently 64 teams bowl eligible (for 40 bowl games) and this weekend could see 17 more teams hit the six-win mark. If there is still space, the Bruins could possibly go bowling.
We saw this last season with the Nebraska Cornhuskers who were 5-7 at the end of the 2015 regular season. With not enough teams to fill all 40 bowls and having the highest APR of any 5-win team, Nebraska was offered an invite to play in the Foster Farms Bowl.
As Bruin fans know, the Cornhuskers ran all over the Bruins, 37-29.
First things first, UCLA has to beat Cal (hopefully by a sizable margin). If they can do that, things just might fall into place for UCLA Football and have a chance to extend their season.
This article originally appeared on