UCLA Football: 5 Takeaways From the Texas A&M Game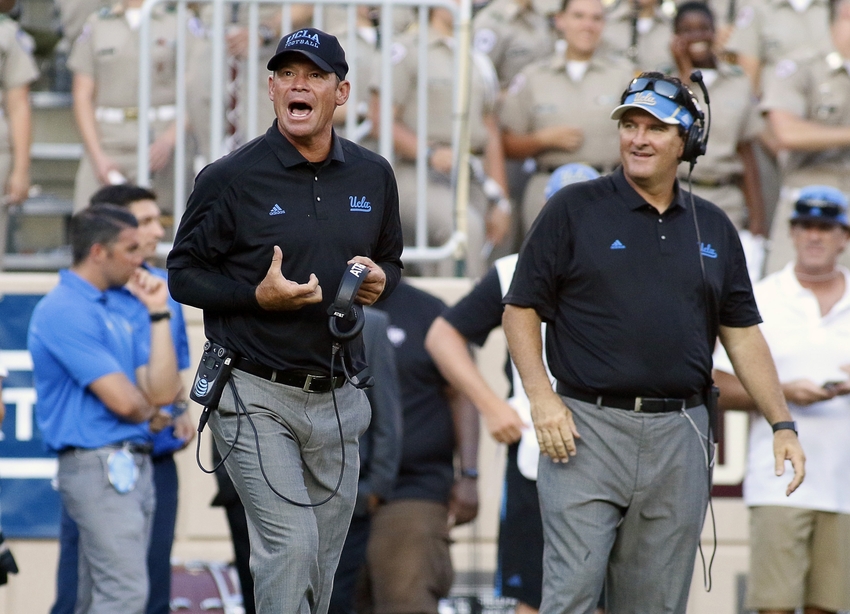 Go Joe Bruin takes a look at five things that stood out to us from the UCLA Football team in their loss to the Texas A&M Aggies, 31-24.
1. Defense Needs To Improve
The defense was a bit inconsistent. They had good moments which included recovering a fumble, intercepting a pass and had several good stops in the backfield. Unfortunately, at times they looked like they did last season with the pass rush. UCLA allowed 5.0 yards per attempt on the ground, which is not a good way to improve the run defense.
The pass defense was also inconsistent. What was suppose to be the strength of the defense, allowed 239 yards through the sky. They played the Aggie receivers close, but often allowed enough space in between them to allow the Texas A&M offense to find opportunities.
2. Special Teams Is Good
When they were needed, all three specialists delivered. Long snapper Johnny Den Bleyker properly delivered the ball to Austin Kent who averaged 43.3 yards per punt. Kent even had a long of 55 yards and was able to pin back the Aggies when UCLA needed space.
JJ Molson scored the first nine points for UCLA as their offense had trouble getting in the end zone. Molson almost had a fourth field goal, but a 48-yarder to end the half was a bit much to ask of the true freshman as it went wide right. Still, him, Kent and Den Bleyker looked very promising and will defeinitley help out the field position battle this year.
3.  Receiving Needs To Improve
The receivers had a handful of fantastic plays. The one Bruin that really impressed with the play of Kenneth Walker. In previous seasons he was not a primary receiving target as he had trouble holding onto balls. Against the Aggies, he had six receptions for a game-high 115 yards which was topped off with a touchdown.
Other than that, there were several key drops by a few of the Bruins which would have put them in good position to score. Jordan Lasley dropped a catch the second half that could've gone for a touchdown but slipped out of his hands. Austin Roberts had a chance to lock up six points in the end zone late in the game, but also couldn't hold onto the ball.
4. Offensive Line Needs Work
There definitely needs to be some work with the offensive line as they were pushed around early. The Texas A&M defensive ends were aggressive and able to get around several blocks. The run game was hampered early by this and UCLA could not establish ground game.
They improved as the game went on especially in the fourth quarter when UCLA was able to make a comeback. If the O-line is able to start creating opportunities early in the game and not try to play catch-up, then at that point they will be able to dominate on offense.
5. Rosen Looked Like A Freshman
There's no way around it, Josh Rosen looked like a freshman. In last season's opener against Virginia, he came out with confidence and threw for over 300 yards. Against Texas A&M he looked unsure which caused him to hold onto the ball for too long, miss receivers in open lanes which led to him either throwing errant passes/interceptions or get sacked.
He also improved as the game went on, but he has to start every game in focus. We should be able to this next eek when the Bruins take on a lesser opponent in UNLV.
This article originally appeared on