UCLA Football: 5 Takeaways From the 2016 Season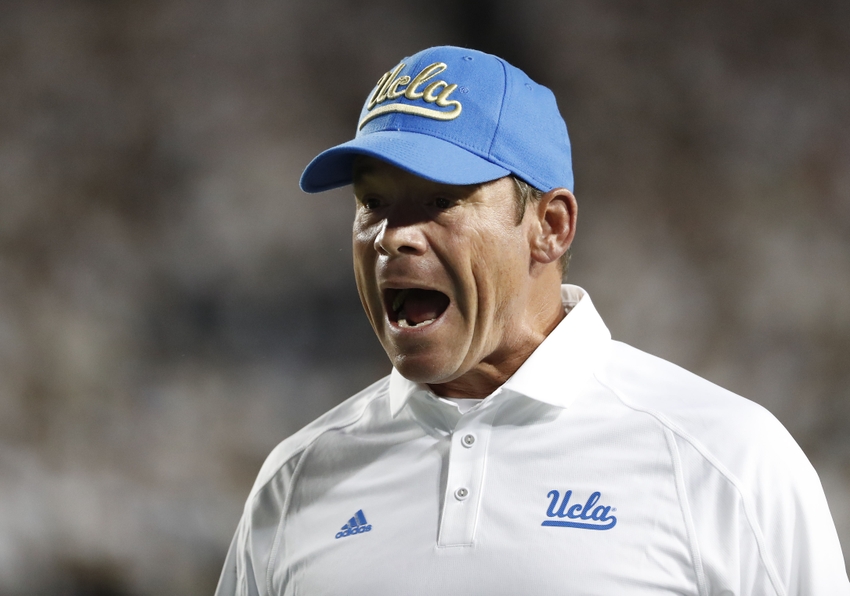 Here are 5 takeaways from the disappointing season that was for the UCLA Football team as they went 4-8 in 2016 and will miss the post-season.
Ok, so that happened. The UCLA Football team's season is over and it isn't even December yet.
The Bruins are done after a 4-8 season. There is no bowl game, Just spring practice to look forward to.
So now UCLA has to look ahead, and while they do that, let us look back at 5 takeaways from 2016 season.
1. The Offense Was A Failed Experiment
There were so much hope with Kennedy Polamalu becoming the offensive coordinator and bringing in a little bit of power to the offense. Some Bruin fans had reservations because of the quick change in scheme, but most were optimistic seeing as it would add a new dimension to the Bruins.
That didn't happen. From bad offensive line play to the inability to run the ball to the fact that the Bruin receivers had way too many drops was a sign that this was not working.
The Bruins also wanted to utilize more tight ends and add the fullback position to help out with this offense. Though the TE spot was often used, the fullbacks soon became nonexistent.
It was a good idea, the Bruins just could not execute this new style of offense after three years of the spread.
Unfortunately, Kennedy Polamalu, paid the ultimate price for it. A day after UCLA's final game of the 2016 season, he was relieved of his duties as OC and running backs coach. UCLA Football Head Coach Jim Mora now has to look for his third offensive coordinator in three years. That will not help stability.
2. The Defense Is Good Peoples
The Bruin defense made massive improvements from last season. In 2015, UCLA had a horrendous run defense which allowed teams to literally run over them, especially in the last half of the season.
This season, with a healthy roster and a dedication to stopping the run, Defensive Coordinator Tom Bradley made sure his Bruins were ready for 2016.
The Bruin defense proved themselves time and time again. With the offense not being able to run much of anything, the defense kept UCLA in games and kept them close. Unfortunately, with the D doing most of the work, they would get run down in games and eventually through the end of the season.
Still, going forward this is going to be the strength of the Bruins. No matter what happens with the offense, Bradley should have this defense clicking on all cylinders. He also has a lot of young guys that he can utilize next season so they should continue to improve in 2017.
3. The Revolution is Over, Time For Evolution
The gimmick is over. The revolution died right around the time the Bruins lost to Stanford for the ninth time. The offense didn't start a revolution, but it was revolting.
No more gimmicks, no more phrases, no more assertions and no more hashtags. Jim Mora, if he really wants to have success with this team, needs to buckle down and have his team playing some good football.
It will most likely be Josh Rosen's last season next year and, I hate to say it, but if UCLA has another season like this one, it could be Mora's as well.
It is time to start focusing on what is needed to make this team successful. There needs to be an identity. There needs to be a statement.
One of the things that Mora has been called out for is the fact that he has not won anything significant and fails to win big games. That needs to change. UCLA Football needs to evolve into a team that can compete for championships. Mora needs to make it happen now.
4. There Needs To Be A Lot Of Soul Searching
So what does UCLA want to do going forward?  What is the plan for 2017?
2016 seemed to be a year in which the UCLA Football team did not exactly know what was going on at all times. That was apparent with the offense and the overall attitude late into the season. The Cal game for instance (and I don't want to say that the players quit, but) there didn't seem to be a lot of motivation for winning that game. Despite not being bowl eligible, if UCLA got a fifth victory, there was a chance they could have been selected for a bowl.
That will not happen.
UCLA needs to reinvigorate themselves this offseason. There needs to be more confidence within this team. Hopefully a new offensive coordinator will help that. Maybe Mora will have less on his plate at work and in his personal life next season to be able to do that.
Right now, UCLA football seems a little stale so hopefully by next fall Mora can return the fervor back to UCLA Football.
5. Mora Has To Dedicate Himself To Greatness
Being picked to win the Pac-12 South Division at the beginning of the season gave the Bruins a little bit of confidence. Unfortunately they could not back that confidence up. Not only did they fail to win the division, but they missed it by four spots.
Mora has said that he wants to bring a national championship to UCLA. He has also wanted to conquer the Pac-12. 2017 has to be the year that he is completely focused on, at the very least, winning the Pac-12.
UCLA has the talent, and they have shown that they can build a solid defense and use a spread offense to be successful. As one of the earlier slides suggested, there needs to be an evolution and the Bruins need to evolve into a team that is going to make waves nationally.
How will he do that? First, Mora has to fiigure out what he wants to do on offense. Next, he has to find an offensive coordinator with a style that fits with the Bruins. Does he want more toughness upfront or should he focus on the spread?
Mora has all off-season to figure this out. Hopefully it works out for him and UCLA Football. Go Bruins!
This article originally appeared on