UCLA Football: 10 Years Later, Can the Bruins Play Spoiler Again?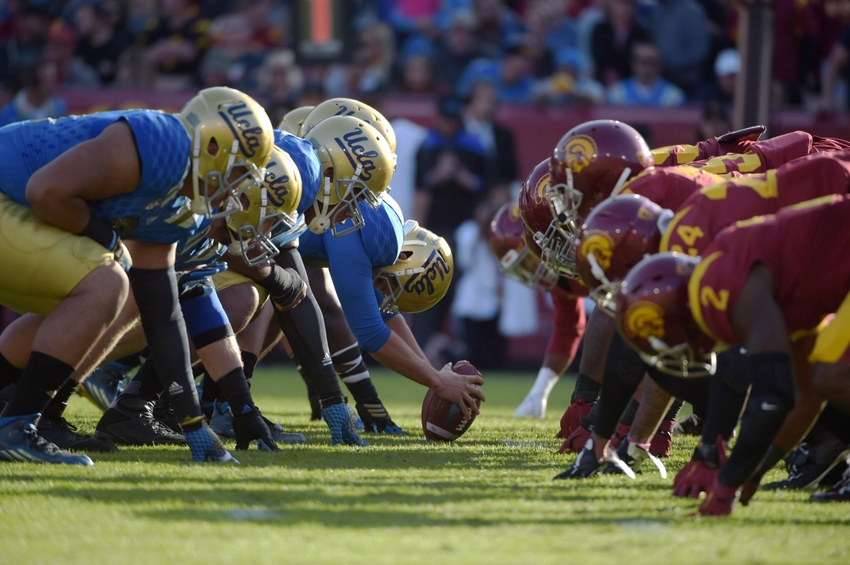 Ten years after their shocking upset of potential BCS Championship contenders USC, the UCLA Football team looks to play spoiler again.
The date was December 2, 2006. USC needed one win to book their ticket to the BCS National Championship Game. That was suppose to come against the UCLA Football team who was not having a great season.
The Trojans were 10-1 at this point, coming off of three straight wins against ranked opponents #21 Oregon, #17 California and #6 Notre Dame. USC and the Pete Carroll machine were rolling. UCLA was not.
UCLA was 6-5 at this point of the season under Head Coach Karl Dorrell. Though they were going to a bowl, there was something else on their mind. They did not just want to beat USC, they wanted to snap their seven game losing streak to USC.
If USC wins, they tie UCLA's record in the Crosstown Showdown for longest win streak. It seemed inevitable. The Bruins were decent on offense with QB Patrick Cowan leading UCLA, but did not exactly have a killer instinct. On the other side, the UCLA defense was up-and-coming behind 1st year Defensive Coordinator DeWayne Walker. They were emerging and about to have the nation take notice.
Still, no one expected to happen what happened. USC was on a roll. This was their year. Smash the Bruins (again) and use them as a stepping stone to the BCS National Championship Game. Behind QB John David Booty on offense and LB Ray Maualuga leading the defense, these Trojans were in championship mode.
The frustration was thick for UCLA fans. USC was unstoppable and it was annoying. The last seven years had been daunting. No one wants to lose that many games to their crosstown rival, especially when they were smugly flaunting their success in your face.
The Bruin offense struck first. Cowan was sacrificing his body for god, country and the UCLA way. He was running for his life in this game because he had a purpose. He scored on a keeper at the end of the first quarter. He was brutally met at the goal line by two Trojan defenders. It did not matter as he crossed the plane and got UCLA on the board first.
Many men would quit after a blow like that. Not Cowan. He even had another waiting for him later in the game from Maualuga. He got up and walked away from that too.
After a safety, USC's RB CJ Gable used two spectacular runs to take the 9-7 lead in the second quarter. After some back and forth in the third quarter, K Justin Medlock booted the Bruins back into the lead with a field goal to make it 10-9.

With just under nine minutes left in the game, Medlock hit another field goal, putting UCLA up 13-9. USC needed to score a touchdown as a field goal would not cut it here. The Trojans were forced to punt on their ensuing drive, but then forced UCLA to. The intensity was growing.
So when your friends ask you if this UCLA Football team can beat USC this Saturday and play spoiler for their Pac-12 aspiration, you can tell them, "Yes. Yes they can."
USC needed to put the ball in the end zone if they wanted to not only win, but get to the BCS National Championship. With 5:52 left in the game, they were close.
The Trojans killed 4:20 on that drive. They were precise, methodical, composed, but they did not expect McNeal.
With 1:15 left on the clock and the ball at UCLA's 19, Booty threw a zinger to WR Steve Smith on a comeback, except it it did not make it to its destination. Bruin LB Eric McNeal tipped the ball near the line of scrimmage, it popped up, he dove, caught it and all but sealed the victory. After a final drive, UCLA would be victorious. UCLA had slayed the giant. And the best part was the look on Pete Carroll's face after that McNeal INT. It hurt them. It hurt them bad.
UCLA would once again paint the Victory Bell back to its appropriate blue color and all was right in the world. USC would not tie UCLA's streak of eight straight wins and not play for the National Championship. And after further review, that 7-game win streak of USC's was reduced to a 5-game win streak, because of that whole Reggie Bush fiasco.
So when your friends ask you if this UCLA Football team can beat USC this Saturday and play spoiler for their Pac-12 aspiration, you can tell them, "Yes. Yes they can." You might have to wait until they stop laughing to explain why, but they'll get the picture.
This article originally appeared on