Brotherly love: Tragedy inspires AJ Pasquale to start anew at UCLA
WESTWOOD, Calif. — For all his gifts, AJ Pasquale never received his brother's singular vision and doggedness; he'll tell you that. Nick spoke little, reserved and humble with a sweet exterior, but internally he had some hardass to him. He fought his 5-foot-7 frame and a bone disease that left him with a disintegrating right femur at 8 years old to become a sophomore starter on San Clemente High's varsity football team and a UCLA Bruin. He didn't physically intimidate on a field, so he compensated with this fearless reluctance to give a damn.
Nick would have been 21 on June 20, another year closer to becoming a firefighter, the life his parents, Mel and Laurie, envisioned for him when he outgrew his youth. A physical, honorable job for a competitive, committed man.
AJ was different. He didn't lose himself at the bottom of specific dreams, more willing to let the world graciously offer its opportunities. He was intelligent, the brains, along with buddy Aaron Krempasky, behind a senior management project at Northern Arizona that devised an eco-friendly packaging solution for New Belgium Brewery. He was mature, the recent grad who grabbed a suit and rode with John Elston, family friend and the boss who hired him out of college at Yo!Dog Marketing, up to L.A. to pitch business because he had a gift for bringing warmth into those cold boardrooms.
He was curious, constantly surfing UCLA sites and later visiting Westwood to ask people, What, exactly, was Nick's life like up here? He was the likable and popular high school athlete who made time, a trait he shared with Nick, which is why among the first things anyone will tell you about the Pasquale brothers is, goodness, they have so many friends.
Culled together, that package of qualities meant AJ could do anything. He had what every kid grinds through college for – options. What he needed upon graduation in the spring of 2012 was more of his brother, another dollop of Nick's ferocity that cut fields of barbed wire to clear a path to his dreams.
If he did, maybe he wouldn't have taken that great digital marketing job out of school, where his branding intellect and social media sensibilities made him a rising star. Maybe he wouldn't have allowed few initial connections in the sports industry to derail his long-held dream of entering it before he even tried. Maybe. He doesn't know. All lives spar with hypotheticals.
The biggest one: If AJ Pasquale had always lived a little more like Nick, maybe he wouldn't be sitting on the shores of Lost Winds Beach now, pain gurgling, at that vulnerable early-20s age where his horizon is nothing but endless forks to take, feeling lost and wondering alone, What is my purpose in this world? What would my brother do?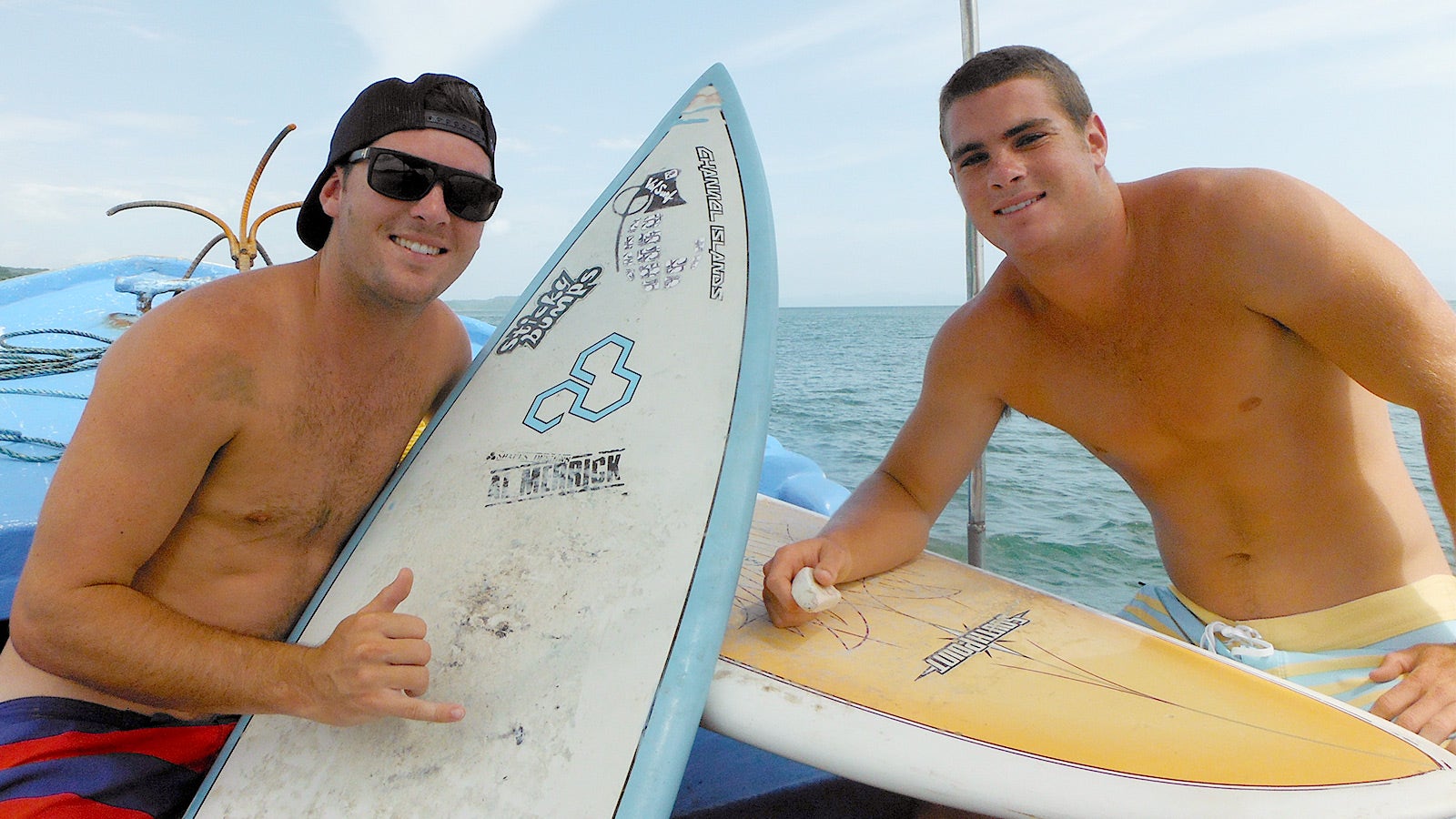 It's difficult to comprehend what AJ endures daily, but you can understand why he's sitting here, 75 miles north of where his old self was born and raised and hardened, baring his soul.
He's charming, even the times during our discussion about Nick when his eyes retreat underneath a UCLA hat and behind black-rimmed glasses and cheeks that could use a shave. Outside, it's one of those days at UCLA they plaster across postcards; high sky and bright, tank tops strolling by the groomed, beautifully green lawns. Inside, AJ breaks for lunch, recruiting work and small jobs piling up for another afternoon as a full-time football ops intern.
There's a torturous snapshot of his life we need to address.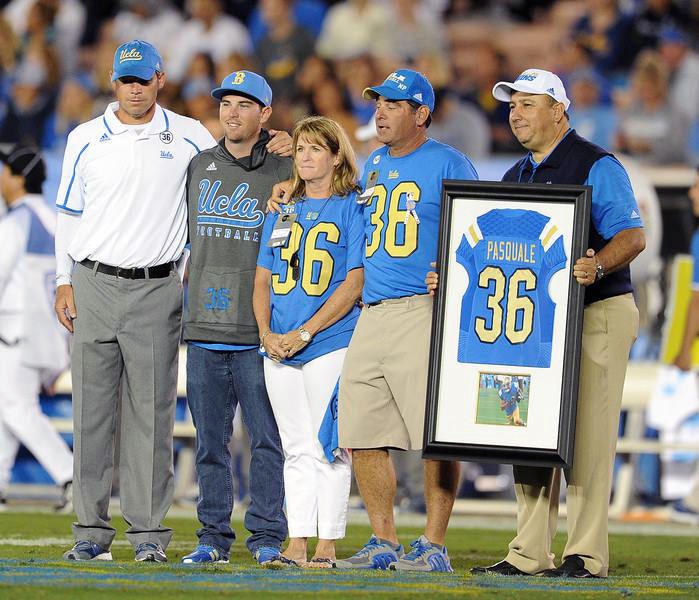 On September 7, 2013, AJ spent Saturday afternoon playing golf at Talega Golf Club in San Clemente with three childhood buddies — Krempasky, Brock Meastas and pro skateboarder Ryan Sheckler. They baked in the beating sun and slugged sweating beers. Around 5 p.m. back at the Pasquale house, AJ and Meastas told Nick, on his way to a friend's going away party, they'd be at Sheckler's later that night if he wanted to meet up.
Meastas awoke around 1:15 a.m. to a log of missed calls; Nick had been buzzing them, unaware they had called the night hours ago and went home. Six calls went to AJ's phone that he'd never answer.
When Meastas reached Nick, he was walking home from the party. They'd later learn Nick's blood alcohol content registered 0.26, more than three times the legal limit, but on the phone he sounded coherent and sober-minded. He talked about watching NFL games the following morning before he drove back up to UCLA. Meastas sensed no reason to be concerned about Nick during a phone call he'd later describe to police as a "professional conversation at a time professional conversations don't happen."
"Cool," he told Nick. "I'll see ya tomorrow."
In the 10 minutes between hanging up the phone and being reported dead at 1:27 a.m., a black Mercedes sedan struck Nick while he walked eastbound against westbound traffic on Camino de los Mares, a long four-lane highway with a 45 mph speed limit, periodic street lights breaking the darkness and a reputation for hosting frequent street races. The driver, who police determined was sober and released after questioning, reported the accident. The Orange County Coroner's report concluded Nick, 20, died at the scene of blunt force injuries to his head and chest.
Four hours and 18 minutes later, AJ learned this with a weeping father at the foot of his bed and a policeman at the door.
Now, like he did the other day when the afternoon turned slow in the office, he walks into the locker room at UCLA's on-campus practice facility and sits in a stall. A gold helmet sparkles above him. Nick dressed here before heading out to the field to play receiver on the scout team and give the defensive starters hell. AJ comes here for five quiet minutes with Nick and a self-appraisal.
Man, Nick worked his ass off, grinded. Do I do that, too?
He was so happy, that kid. Am I happy like he was?
He lifted our family's name, made it shine. Have I continued that?
I'm so proud he chased his dreams. Would he be proud I'm finally doing the same?
Look around. What did Nick leave me here? What opportunities?
Damn, this is … this is all real.
Why AJ soared in his marketing job didn't have much to do with actual marketing.
In his first couple weeks, Elston noticed, AJ took personal time to tour the desks and chat. He asked the 24-year-old code writer how he and his friends spend their free time. He asked the 45-year-old strategy executive what the kids are up to. He collected details about lives so he could genuinely engage them. Nobody had done that in John's office before. Now, it's required.
He never needed reminders about being on time. Elston didn't have to describe the appropriate way to dress when meeting clients; AJ knew when it was time to "suit up" and relished this new kind of game day. How to speak on the phone? How to craft a professional email? How to shake a hand? "He's 24 going on 34," his parents say, so those weren't issues either.
Elston never envisioned AJ leaving the business, not someone so naturally good with people. Someday, Yo!Dog would add a sports division, and AJ would run it, combining his marketing talents with his dream. But AJ didn't see Yo!Dog as his finish line, rather a wonderful place to earn experience and sharpen skills and stack blocks he'd hopefully climb.
Because AJ never sought that post-college life, simply accepting a good offer out of school when no sports doors opened, perhaps it was easier to shed as he sunk into his healing process after Nick died. Nobody possessed a booklet for swallowing incomparable loss, so AJ dealt with the crushing weight lowering on his lungs by feel alone.
He took the week off work and returned for two brutal days, sitting in a cubicle dressed with UCLA towels and pictures of his brother in a Bruin uniform and descending into the Internet's social corners, where he made his living and pictures of Nick swirled. Work was not a place of partial reprieve, but rather a vortex where the pain grew in heat and intensity.
An awkward pall hovered over the office while AJ was out, as his colleagues weren't sure how to respond upon his return. What could they say or do? Should they package up the memories at his desk so he didn't have to stare at them? Or would that make him angry, a stupid, misguided attempt at denial? No answers existed for the angst.
Before AJ entered the office on Wednesday morning to say he needed to ditch this part of his life, Elston prepared for it. He spent the previous two days with Mel and Laurie while they took time away from work — Mel is a natural limestone and marble salesman, Laurie a dental hygienist — and handled the arrangements for Nick. He knew AJ was coming to say, I'm sorry, but I need to get right.
As AJ left the office and drove, he felt immediate relief, neither of pain nor emotional burden but some sense of a pure decision made. He went to Lost Winds, where countless days were spent surfing with Nick, to sit alone in a safe, comforting place.
AJ wasn't doing with his life what made him happy, but he also was no longer doing what wasn't. A strange sensation rushed through him: freedom. He stripped away whatever complications had built in him over the previous 10 days and felt unchained from obligations and the petty burdens we harness on ourselves that create unnecessary stress.
The coming weeks would be spent with Tyler Wilde, a buddy with a pool business, outside crafting personal ponds in backyards around San Clemente, sports talk radio filling space between the telling of old childhood stories. He'd work out with Sheckler, surf with Krempasky, play golf with Meastas, drive to Westwood to see the other family Nick left behind.
A seed of opportunity would begin to sprout as AJ's most elusive question stalked him – What's my purpose? – but for now, sitting on the beach, he felt a lightness amid the sorrow. He'd done the difficult thing by realizing his unhappiness and making a change. He got up, setting out to search for what remained of his brother and his own, wayward self.
There are brothers who fight, brothers who compete and then the brothers AJ and Nick were. They adored each other. "Nick was following in AJ's footsteps to a point," Wilde says. "AJ was a water boy, so Nick was a water boy. AJ was a running back and corner back, so Nick was a running back and corner back. AJ got good grades, so Nick got good grades. Together, they probably have a million friends."
Their parents raised them to stick together, knowing that bond would eventually provide essential strength, so when Nick was 2, he propped himself up on a two-wheeler and took off, because the only thing worse than a fall was being left behind his brother. When AJ went off to NAU, he'd come home as often as possible during the fall, because the only thing better than college freedom was Friday night on his brother's sideline. AJ had parties and girlfriends awaiting, too, but after spending all that time talking ball with Nick and parsing his game film and cutting his highlight video to ship to schools, how could he ever miss his little brother leading the Tritons to the Southern Section Pac-5 title game as a senior in 2011?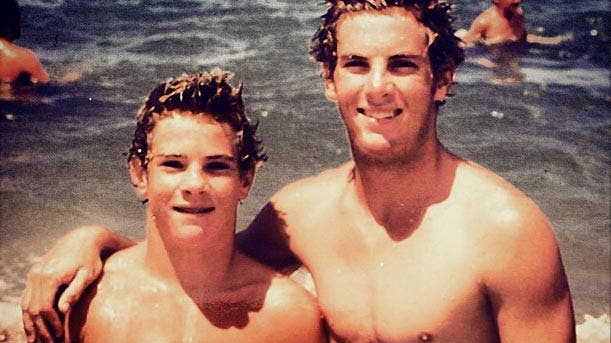 Elston, a father, envied their relationship. He couldn't explain how two competitive football players raised by a competitive football coach prevented fun verbal bantering and games of chicken in the pool and battles on the golf course from festering into something more vicious, but their competitive urges never lowered crosshairs on each other. As a family of four, the Pasquales enjoyed time spent together, and Elston appreciated that against the backdrop of others who didn't seem the same.
Nick admired AJ in every way, but as he became an accomplished high school athlete with a college future forming, those roles reversed. AJ likely could have played some level of college ball, but business-like college sports didn't appeal to him as much as experiencing normal student life did. For Nick, college ball meant everything, and AJ watched him grind daily for that chance — sacrificing far more than he ever would — and respected him. "AJ was in awe of how much Nick endured," Laurie says.
Both boys got the same message from Mel — Hard work pays off, no matter what. If you do a little bit more, if you go the extra mile, good s— starts happening. That's just the way it is. – but AJ understood Nick approached sports with higher degrees of seriousness and conviction. In time, the younger boy showed the whole family how interior walls get busted with a little fearlessness and pain tolerance. "Well, why can't I?" he'd say to challenges.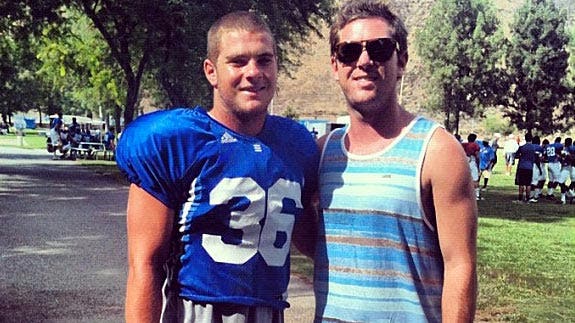 As much as AJ knew about his brother, a moat protected some of Nick's UCLA days. He didn't know Nick would take licks in practice and get up taunting the hitter, a defensive starter, by rolling the ball at his feet, his body language saying, Your weak ass better do more than that. Or how Nick trash talked the entire special teams unit and then beat it down the field, play after play. Or about SEALs training in Coronado and fighting six-foot waves to help teammates in a capsized boat, or how a walk-on's presence could reverberate through a program.
He didn't know any of this because Nick never volunteered much, good or bad, about Westwood. It just didn't cross his mind to divulge the details of another day spent working. Accomplishments were more like checkmarks – permission to pursue another rather than moments calling for praise.
But AJ longed for his brother's full life, so he felt pulled to UCLA in the days after Nick passed. The trips began on the eve of UCLA's first game without Nick. Around 5 a.m. the morning before the game, a car picked up the Pasquales at the W Hotel in Westwood and shuttled them to UCLA where they watched the team's walkthrough before entering a large meeting room in which head coach Jim Mora introduced them up front to 120 pairs of hurting eyes. They were given stuff — Nick's game helmet signed by the team, t-shirts, a big plaque — to take home. Mel spoke.
Go out and beat Nebraska, not only for Nick but for yourselves and the university. Bring the same tenacity and effort that Nick would.
The Bruins boarded a plane for Lincoln and beat Nebraska 42-21 the next day. Every week thereafter, the Pasquales would watch in person.
They had always supported the team, arriving hours early to tailgate, lining up single file for the pregame Bruin Walk. Could they stomach that without Nick? It was the same boys who loved theirs, right? What would failing to show now say about them? "We're a tough family, and I know our actions reflect off on friends in our community," AJ says. "So if we're licking our wounds and feeling sorry for ourselves, it doesn't bring off a good vibe."
At practices, supporters embraced Mel and Laurie while AJ lingered off to the side. Rip Scherer noticed him and was moved by something. Scherer didn't know Nick well, having joined the program as associate AD in the summer of 2013, but in little more than a month's time he felt connected to the kid. He had one 5-foot-9 son who played receiver at Penn State and another of similar size who played quarterback for him at Memphis, and since his first coaching job, a Penn State grad assistant in '74, to now, he's seen countless versions of the same mold. "I have a little bit of an affinity for the overachiever," Scherer says.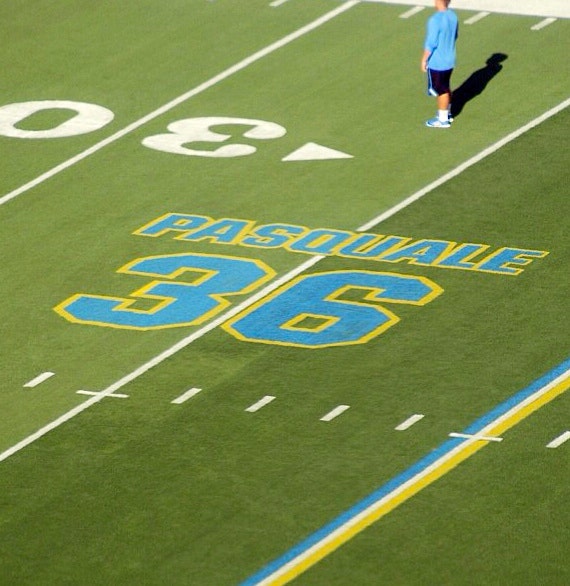 In AJ, Scherer felt so many things. His pain over the piece of himself ruthlessly yanked away; his reverence for what remained; his uncertainty about his future; his dissatisfaction and desperation. Three decades around the business made Scherer understand his ultimate obligation wasn't scribbling winning schemes on a whiteboard but helping grow and position the future. He had a career's worth of connections, and AJ needed one now, at a time when the first clouds cleared and he recognized the entry into his own dreams Nick had left him at UCLA.
Scherer handed AJ his card and an offer, telling him to call. If he wanted this life, the one he couldn't get for himself, Scherer could help. He'd be like all other young guys, overworked and underpaid, but he'd also, for the first time, feel his path firmly underneath his feet.
To understand why Aaron, Tyler and Brock surround AJ on a couch and reveal the most sensitive corners of their lives, begin with their past.
They found each other around fourth grade and bonded on fields. Mel ran football teams while Tyler's dad, Stan, coached baseball. Both squads won league championships. They stuck together as they entered San Clemente High and became the older kids who would become the young men they are now.
Brock fulfilled the role of fun-loving class clown, a smart and passionate kid who never feared getting a little goofy. Aaron provided an escape into a cooler world, with an older brother at San Clemente High, and could be counted on to engage Nick's aggressiveness when "Madden" games got heated at the house; he'd get on the Pasquale's living room floor and beg Nick to bring it, which he would. "He was a stinking little rat, flipping all over the place," Aaron says. "It was like trying to hold down a rabbit. You could see his tenacity and how bad he just wanted to beat us at anything."
Tyler was around to ride dirt bikes, something the other friends wouldn't do, so the boys and their dads took I-395 north past Kramer Junction, passing an old prison on the left and heading right to what they called their stomping grounds, Red Mountain.
AJ, always cool and reserved, stood out for his generosity. When a disabled student somehow found all of the friends' numbers in high school, he dialed them so often that the calls eventually became ignored, then blocked, but AJ always found time, even into college when he'd answer the kid's calls from the Philippines and casually fall into deep conversation.
The three friends share similar affection for Mel and Laurie. There's a joke around the San Clemente sports community about how well known Mel is, so they tease their childhood coach by calling him "Mayor." When Tyler was young, caught in a house with an alcoholic father and a marriage heading for divorce, Mel paid keen attention to him, and when Tyler grew older and developed handyman skills, he came over to help fix Mel's spa and tell him how things were going.
Laurie cared for them off the field, opening her home, cooking enchiladas, taking them to the beach. Tyler and Brock found her crying alone in Nick's room after he died, holding a blue Bruins blanket she thought he'd want at his service in her fingers, so they knelt beside her and wrapped her in hugs, a whole youth's worth of love being returned. "The Pasquales are like my family," Brock says. "[Nick's death] just rocked my world. When I think of the Pasquales, I think of four. Thinking of three just throws my mind crazy."
Aaron's heart can be explained in one photo, Tyler's in one video:
Reminded of these memories on a recent visit to UCLA, Mel quakes with emotion and chokes back tears. "They're great kids, I just feel so blessed to have them in my life," he said softly, describing precisely the regard with which they hold his second son.
Nick counted as a confidant among the older boys. They found inspiration in his many forms of toughness. How, when just a tyke, he'd come to their Pop Warner practices in full gear with friend and current Utah QB Travis Wilson and they'd knock the hell out of each other, relishing in the cheers their insanity evoked. How he'd say don't bail, grab rail when the San Clemente waves swelled and others backed out of barrels, or how he'd verbally jolt his closest allies – 10 total people, maybe – by lobbing a come on, you little bitch grenade when he recognized one of them copping out of a difficult task they were capable of completing. "He was a quiet, humble dude, but you didn't really wanna f— with him," AJ laughs.
In Nick, they'd say, God took a living legend out of San Clemente, so his death struck them with varying aftershocks. "Everyone took a step back and thought about what do I need to do to be happy, because Nick was so happy," Tyler says, who was happy in his pool business but realized family and friends time needed to be savored. Aaron lost two friends before – the first overdosed on pills in college, the second hung himself last year – but losing the third still shook him. "The world is such a tough place, it eats you up and spits you out whether you let it or not," he says. Life moved quickly in the marketing ranks at Oakley, and he heard the call to slow down.
Brock took a different brunt of the hit. He left Cal State Long Beach in 2012 with a communications degree and, with nothing lined up, took a job with a friend's mortgage company. He had no clue what "refinance" meant, but the money was nice and the future promising. He did quality control work, reported to the government and helped older colleagues with their computers. He kept records straight, the escrow companies and banks happy. But there was always a fundamental problem. "I was working half-ass, and money was the only motivation," he says.
So he quit. "After Nick died, we all told each other we never saw ourselves going to jobs where we sit behind desks all day. I realized my heart wasn't there. I was just chasing a paycheck and living for the weekend."
In November, with everyone attempting to harness their pain, Thursday nights at the house Tyler and Aaron share became group time. At halftime of the national college football game, the TV turned black and bibles opened. They always loved quotes, surfing the Internet in middle school for inspiration that applied to sports, so they could appreciate good words now. Scripture led to invested discussion in each other — friends asking real questions beyond our common frivolities.
When AJ spoke, asking for prayers to lift his parents, his charisma filled the room and sealed his words with a reassuring power. "Every time I've seen him speak, I've never seen a weary lip," Brock says. "It's pure, you know?"
The friends prayed for Mel and Laurie, that they released their anger and sense of responsibility for an accident they couldn't control. They prayed for AJ, that a door into UCLA opened, the place he'd come to see had everything he needed.
That door opened in February. Mel and Laurie sit outside the UCLA practice field now, trying to describe what it's been like since, and can't help toggling from happiness to sorrow and back.
They're ecstatic for AJ, who just completed his first spring learning the detail required for recruiting at the Pac-12's elite ranks. They told him to never worry about living on intern wages; if he needs money, they'll provide it, and soon enough he'll earn enough of his own. What they want for their son is for him to chase dreams without short-term obstacles. "He's at peace right now," Mel says. "I think he thinks this is it."
And yet being here, watching the players file out of the locker room for practice and give hugs as they pass, reminds them that Nick is not and how unprepared they were for this. After UCLA beat Nevada to open the 2013 season, Elston and Mel waited outside the Rose Bowl for their sons. Jake Elston planned to spend the night at UCLA with Nick, and as the two walked off into the night, everyone thrilled that Nick got on the field for his first collegiate play as a redshirt freshman, the dads looked at each other and said the same thing: Can you believe how great these next three years are going to be?
"You sit back as a dad and visualize what their lives will be like," Elston says. "We spent a lot of time visualizing. That's the tough part of all this – that's gone now."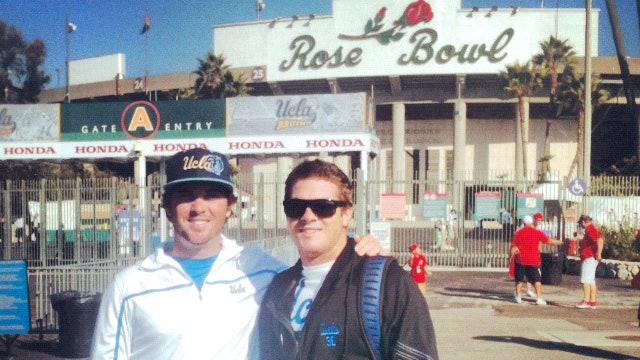 Music blares from the field as players begin to stretch.
What's not gone is Nick's presence; he's everywhere here. A No. 36 flag blows in the gusts above the entrance to Spaulding Field. Fans wear No. 36 T-shirts they can purchase in a campus store. Nick's name and face hang on walls inside the facility. AJ roams, and it's impossible to look at him and not think about his parents' two connections to this place: the chord to Nick and the promise of AJ's future. They need both to operate at max capacity, like two healthy, pumping lungs. "Being at UCLA is as close as we can get to Nick on planet Earth," Mel says. "And having AJ here is like having them both here in some ways."
That doesn't make it easier. As Mel and Laurie sit here shuffling through the hardest months of their lives, an uncomfortable tension takes hold. They stare out to the field, eyes moistening behind sunglasses, wanting to be over there, where practice begins and more love awaits, rather than here, considering what has changed.
"We've all changed," Mel says. "Um, yeah, we've changed. I think. Uh … don't you think?" He turns to Laurie, who nods but doesn't speak, reaching into her purse for tissues and starting to dab.
For a while, they were all very angry. That's subsided, mostly, but they're still caught in the year of firsts. Nick's first birthday without him. On Aug. 30, at Virginia, they'll toast AJ's first game as an official member of the program. On Sept. 8, of course, they'll gather and share their disbelief that it's been one year. They'll do their best to not make those days of sadness.
"Hey, we wake up every day man and it's hard," Mel says. "It's been … violent. But we try to take the silver lining out of it, and AJ is part of it. I think AJ sees that, and it's changed him a lot in a good way."
A horn blows, signaling the start of team drills, and Mel and Laurie walk into the field to join their son.
Every day AJ is here, he thinks about Nick. His friends notice how he's switched roles and is now following in his brother's footsteps, living a little more like him each day. He sometimes thinks what his life would be like with Nick still around, how they'd get married and have kids and grow the Pasquale family, but those daydreams become disrupted by all the signs of what Nick left him. He might have found his path into a career and life that fulfilled him, but he never would have found this one in Westwood without his brother.
"Nick brought us here, because of who he is and what he was, and AJ wouldn't have this opportunity if it wasn't for him," Mel says. "That's the honest truth."
Nobody knows what AJ's future holds, because so much of his life at 24 is still unsettled. The friends see each other less and less. AJ can't make group night anymore. Brock spends almost every day coaching varsity pitchers at San Clemente High, restlessly searching for his next move. Aaron and Tyler are succeeding in their jobs and shaping their adult lives. It's not like it once was, when they'd meet for Taco Tuesday, play golf on weekends and maintain a college lifestyle around full-time jobs.
"That closeness is gone a little bit, because we're moving on with our lives," Aaron says. "It's not a backyard, sandlot friendship anymore."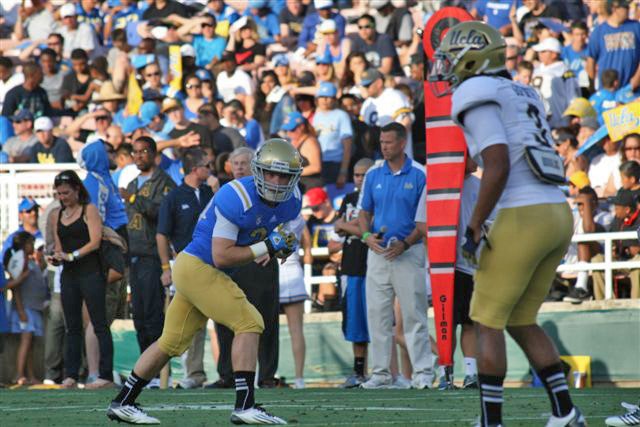 A bond will remain, solidified by an understanding of things most their age don't, about precious people and moments and the shelf lives that accompany them.
Every week, someone goes by the memorial on Camino de los Mares and dusts off the No. 36 Bruins shirt wrapped tightly around the light pole. They make sure the UCLA towel and pennant with 'RIP Nick Pasquale' on the lip rest flat on the curb, 16 aligned candles pinning them down, and the red heart and gold praying hands flank the beaming framed photo of Nick at his happiest, dressed in a UCLA football uniform. An eerie quiet settles onto the street in the absence of whirring tires ripping down the road, no pedestrian traffic, only thoughts.
They must, by themselves, think about the accident and all the things that could have made that night different. If they do, they don't say. "I don't know what kind of conversations we're supposed to have around Nick," Brock says. "We're never going to talk about how it happened or why it happened. If you want to hear the story of Nick, I'll tell it to you, but it has nothing to do with a car."
AJ will always battle his own mysteries, but he's not clinging to something that's gone; he's responding to the uncontrollable forces that have forever lurked, waiting to shape his path, and accepting those as reality has eased the burden in his pursuit of himself.
Last summer, after Nick returned from training camp in San Bernardino, they sat together in their spa and AJ asked how he managed the daily grind at UCLA. Pain is temporary, AJ, and there's always an end no matter what. Be positive. Those words lift the family now, and every visit to UCLA seems to unearth another lesson or memory Nick left them, all stitches of the greater silver lining.
Moving forward doesn't necessarily mean moving on, as Nick isn't a memory to hold dear. He's the track upon which their lives are now barreling into the future. He will always exist, materializing daily in small ways and himself becoming one of those forces AJ, Mel and Laurie have given themselves over to.
This strikes them hard at UCLA, where you should see their welcome.
Supporters come to practice to meet them, like the family with three young boys who came today. The kids recently pooled birthday money, about $500, and asked their parents to donate it to the Nick Pasquale Foundation instead of buying presents. The gift they wanted? To meet the Pasquales.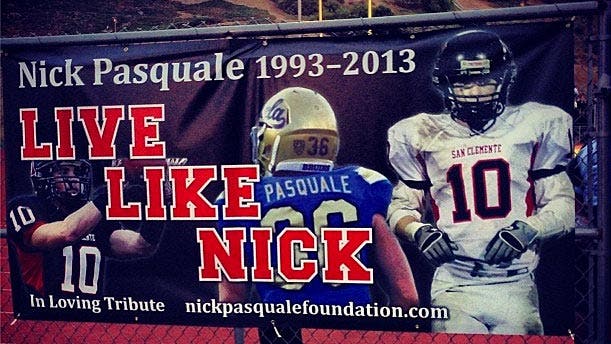 Laurie walks up to the youngest, a cute boy with blonde hair and a sturdy build, holding a wristband that will give him field access. She kneels down to his level. "I'm Laurie," she says. "Nice to meet you!"
The boy dips his eyes beneath his UCLA hat and won't look up. Laurie glows at his sweetness. He's 4 years old and already in love with football and the Bruins. It's easy to envision his parents looking ahead 14 years and seeing Mel and Laurie in themselves.
"Awww, don't be shy," mom says, placing her hand on the back of his Bruins hoodie. "Can you say hi? What's your name? Can you tell Laurie your name?"
He hides his head behind mom's leg when Laurie leans in a little closer. Everyone laughs, crooning over the innocence.
"Awww," mom says. "This is Nicholas."