UCLA Bruins: 10 Reasons Why It Is Better To Be A Bruin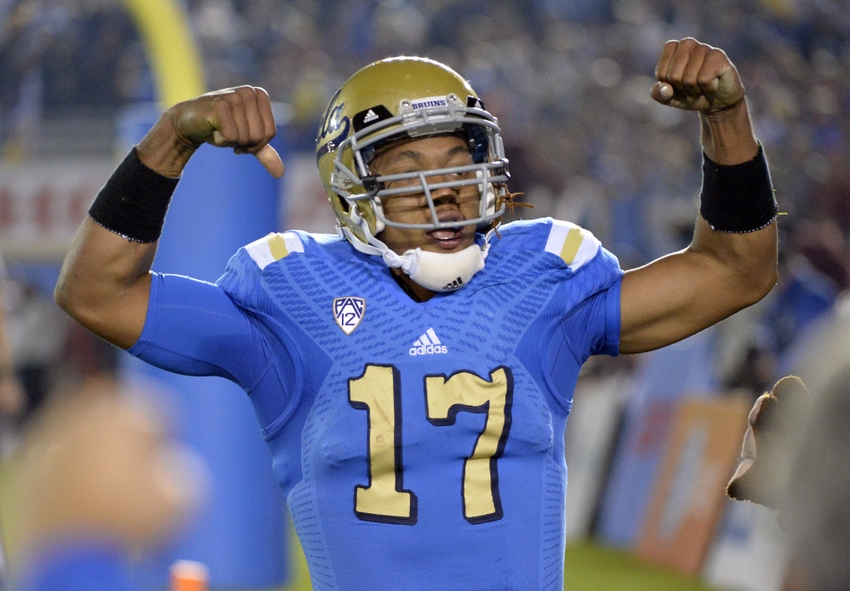 In honor of rivalry week, Go Joe Bruin gives you 10 reasons why it is better to be a Bruin than one of those pesky Trojans.
Let us get right down to it. the UCLA Bruins are a much better option for anyone than the USC Trojans. It is pretty much a well known fact.
But in case you did not know, here are 10 (out of a million) reasons why it is better to be a Bruin.
i mean, come on, it's UCLA!
1. The Rolling Hills of Westwood
Seriously, it is beautiful in Westwood. They have the beautiful hills throughout campus, excellent architecture and it has everything you need within a 20 minute drive.  That is a vast difference from the concrete jungle upon which USC resides on. Very uncomfortable.
2. Blue is Better Than Red, er, Cardinal
Red is so aggressive and Cardinal is just a duller version of that. Then you think of blue and how wonderful it makes you feel. It is so majestic that the sky had to give itself that color to brighten your day.  Now if the sky ever turned red, that's the sign of the apocalypse.
3. The Most NCAA Championships
If I was a high school athlete and wanted to go to the very best athletic institution in the country, then look no further than the school that has the most NCAA Championships. 113 and counting!
4. "This Is The Only Song We Know, It Is Boring And It Is Slow"
The USC fight song is just atrocious. And yet they play it 500 times a game.  It is not cheery or uplifting or makes me want to put it on the line for good ol' Troy. Now "Sons of Westwood" and "The Mighty Bruins", those are two fight songs that will get you out of bed in the morning! Fight, fight, fight!
5. USC Has a Bear Holding a Football
There is a bear holding a football on the side of a building on the campus of the University of Southern California. Further proof that Trojans secretly want to be Bruins.
I'm curious if anyone knows backstory of this bear clutching football on #USC Accounting building? pic.twitter.com/CZT7CTjUcX

— InsideUSC (@InsideUSC) February 7, 2014
6. Joe Bruin > Tommy Trojan
Both schools are in the great state of California, not in a land that was conquered by a big wooden horse. UCLA made the Bruin their mascot to honor the majestic beasts that call California their home. USC named their mascot after a civilization that was conquered by the Greeks and a really innovative trick.
7. Education
UCLA is one of the best institutions for higher learning on the planet. At UCLA you will receive a top-tier education that will take you far in life. At USC, you have a social network. *eyeroll emoji*
8. John Wooden's Pyramid of Success
One of the greatest tools an athlete can have in their arsenal is knowledge of the Pyramid of Success. If one truly wants know how to excel at athletics, the Pyramid can guide you. This guide to life and sports was created by one of the greatest coaches ever, John R. Wooden. Now you know.
9. Diddy Riese
The best cookies on the planet are in Westwood. *drops mic*
10. UCLA Did Not Produce O.J.
This one speaks for itself. O.J. Simpson, in this day in age, is not popular figure.  Because of him, parents stopped naming their children O.J. For those unfortunate kids who have to suffer through life with that name, maybe things won't be so bad for them. Right, OJ Mayo (who recently got disqualified from the NBA for 2 years for violation of drug policy)?
Alabama Football Fans Troll USC and Clemson Fans With Wild "O.J." Shirt https://t.co/vdxFEqW4s6 pic.twitter.com/xZ6rIrLLNh

— DJ Todd (@djtodd1) August 19, 2016
So you see America, this fall, make the right choice. Vote UCLA! Go Bruins!
This article originally appeared on