Tweets of the Game: SEC Championship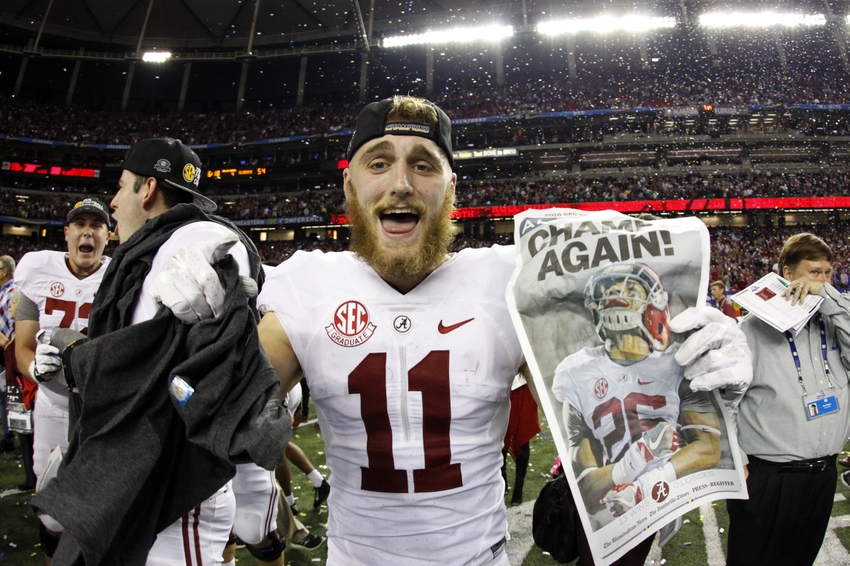 The SEC Championship Game delivered some classic tweets, both from the Alabama Football Nation and from Florida Gators fans.
The SEC Championship Game delivered yet again when it came to the world of social media. From players to fans to media members, all used their platform to chime in on the Alabama-Florida game.
PRE-GAME
Outside of a few, the current Alabama roster was surprisingly quiet on social media leading up to the SEC Championship game. Deionte Thompson tweeted out a subtle message to "Do it for 4", implying that the team would play for injured safety Eddie Jackson, while ArDarius Stewart tweeted out a screen shot of a face time call with fellow wide receiver Gehrig Dieter.
Florida wide receiver Tyrie Cleveland was upset that the media (and everyone else) was already writing the Gators off.
Alabama defensive line coach Karl Dunbar was excited to have his family join him in Atlanta.
The Atlanta Falcons caught up with former Alabama football star Julio Jones to reflect on his time with the Crimson Tide.
As the game was close to kicking off, Twitter took the opportunity to let the jokes roll in at the expense of both Florida and Tennessee.
THE FIRST QUARTER
The first quarter of the SEC Championship Game was perhaps one of the most bizarre quarters in Alabama football history. Florida immediately marched down the field and scored. A predictable overreaction was all over Twitter.
Florida State fans took the early scoring drive as an opportunity to tweet at former FSU commitment (and now Alabama commit) Vandarius Cowan, who had a hilarious reply.
Former Alabama DB Will Lowery had some interesting things to say about Minkah Fitzpatrick early on.
Everyone seemed to have some issues with Alabama offensive coordinator Lane Kiffin in the first quarter. One account thought Lane might be focusing on the women of Houston, Texas instead of the game.
A Minkah Fitzpatrick interception set twitter ablaze.
You knew an Applebee's joke was coming.
A Florida cheerleader was not happy with Austin Appleby. Aren't cheerleaders supposed to be supportive?
Finally, the first quarter came to a close and Twitter was mostly just confused by it.
THE REST OF THE GAME
Quarters 2-4 weren't quite as eventful as the first one, but they did provide some decent tweets.
One Falcons fan wanted the Crimson Tide defense to spend the night and show up on Sunday in a different uniform.
Backup quarterback David Cornwell gave an interesting signal to the offense.
I have to know what the pelvic thrust signal is. It's the signature Lane Kiffin deep ball, isn't it?
FSU writer Bud Elliott shook his head at Alabama's defensive depth.
Mark Ingram liked what he saw when Alabama made a goal line stand. Another fan gave the Alabama DL a hilarious nickname.
Alabama legend Cornelius Bennett was enjoying the Crimson Tide dominance.
Former Florida quarterback Treon Harris took to Twitter to blame offensive coordinator Doug Nussmeier, then quickly deleted it. Other users screen shotted it.
The Belk Bowl's official Twitter account sent out this hilarious message.
Chipper Jones and Shannon Sharpe also took to social media to share their thoughts.
POST-GAME
Many players and fans chimed in after the clock hit zero.
As Lane Kiffin's time with Alabama seems to be coming to an end, whether it be before the playoffs or after, this fan summed up how we all feel about the offensive coordinator.
These are the non-football related things that I will miss about Kiffin. This would only happen to him.
Joe Namath sent out his appreciation for the Crimson Tide program.
Tim Williams gave as quite the quote.
Several other notable twitter users sent out their thoughts.
And finally, the current Alabama players sent out their post-game tweets.
Lastly, lets all admire Chipper Jones replying to Colin Cowherd's comment that the SEC is "Alabama and garbage."
This article originally appeared on