Turning the Tide: How Alabama Week Can Change LSU's Fortunes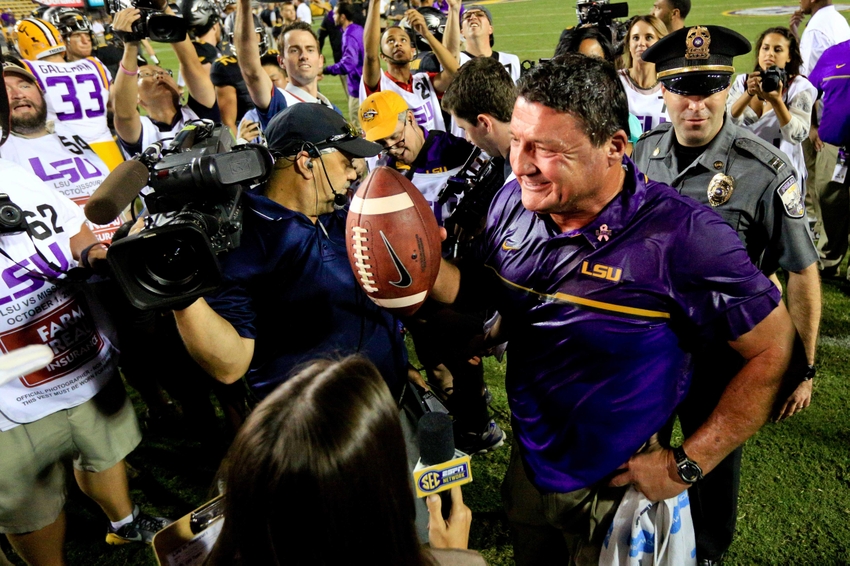 From 2011 to 2015, the winner of the LSU vs Alabama Game has gone on to participate in either the BCS National Championship Game, or the Playoffs, 4 out of 5 times. With 2 loses already on LSU's Record, it may be hard to get into the playoffs with an "upset" over Alabama. However, LSU still has a strong case for getting into a New Year's Six Bowl with a win over currently undefeated Alabama.
Things are changing, in a good way, for LSU Football, and I think that Coach Orgeron should get most of the credit for those changes.  LSU no longer looks like a bland, "I hope we can win" type of team.  They look more confident, brash, and explosive as an entire unit, and the tide has turned around the entire campus!  Not only is the team full of high energy and confidence, but the fans have gotten a boost of positivity in their atmosphere as well. It's almost an heir of superiority in the SEC.
So why put upset in quotes? Good Question! I know that Alabama is the #1 team in the nation and I also know that they are currently undefeated.
However, the biggest thing that I know is that Coach Saban is coming to Tiger Stadium! While our last home victory vs a Saban-led Bama team was back in 2010 (24-21 score), our losses were extremely close at home.  In fact, in our last two home meetings against Alabama, we had them dead to rights! That's when an ESPN Classic Moment would peak its ugly head. Those signature moments included the screen in 2012, and the kick in 2014.
2015 felt a little bit like 2011, in the fact that LSU went up against Alabama with a bad game plan. However, when that plan was exposed as being a bad one, no adjustments were made to put LSU into a winning position.  That is one of the biggest changes in this new regime.  Coach O is not stubborn enough to bang his head against the wall until the bricks break.  He, and his staff, come in with a plan, and adjust as the game plays out.
Given that fact, I am also confident in what Leonard Fournette can do in this game. He may not have a repeat of his record-breaking performance at Ole Miss, but I have faith in LSU's staff to make the adjustments needed for him to be effective.  Add to that a solid runner in Guice, a top-tier defense, and a QB who is turning into a decent game manager, and you have a great recipe for success.
I hope I have given you a reason to be optimistic Tiger Fans. Not only is Coach O turning the tide here in Baton Rouge, but if you look closely enough, you will also notice something else.  LSU has a massive D-line, with a strong LB corps, known for getting after the QB.  We also have a fast, ball hawking secondary.  The Tigers feature a two-headed monster in their running game, solid WR play, with a game manager at QB.  Sound familiar?
More from Death Valley Voice
This article originally appeared on