Tuberville, Coaching Staff Failing The 2016 Bearcats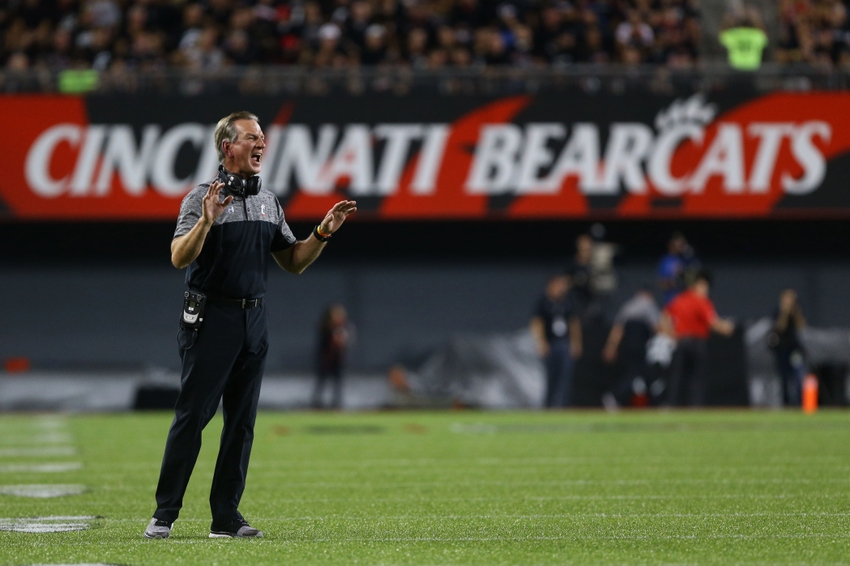 A once proud Cincinnati football program is crumbling under weak leadership, especially that of Tommy Tuberville.
It's no secret that the Cincinnati Bearcats have been struggling this year.  The Bearcats are off to an 0-3 start in American Conference play, the first time Cincinnati football has been that bad since 1999.  To be fair, the Bearcats are still 3-3, which still gives them a half-decent shot at a bowl game, as long as the ship can be righted at least somewhat.  I'm sure lots of teams would probably love to be 3-3 and 0-3 in a Group of Five conference.  Like the Miami RedHawks (0-5).  Or all of the FCS.  Or Xavier.  After all, head coach Tommy Tuberville claimed that lots of teams would love to be 3-2 following UC's second straight blowout loss in AAC play.
But for the second straight year, a good UC team that was expected to compete for a division crown, if not the league title, has laid back-to-back eggs and effectively ended its championship hopes before they started.  And this year, UC added a terrible loss to a terrible UConn team last week.
What's been the most maddening in this year's awful start is the inability of the coaching staff to make adjustments and stay competitive in the second halves of games.  UC has been competitive in all three losses for at least a half.  They led at UConn at the break, and even hung with Houston for three whole quarters.  But the numbers speak for themselves: after halftime, UC has been totally outcoached by its opponents.  UC mustered just six points in the second half against Houston, and then managed to get shut out in back-to-back second halves after that.  That's a 64-6 margin in the second half of league games.  Tommy Tuberville and Co. have made precisely zero meaningful adjustments or corrections and allowed themselves (and us as fans) to be embarrassed multiple times – two of which were night games at home (that used to pretty much mean an automatic win back in the good old days before Tuberville showed up in Clifton).
For three years, we've heard Tuberville spew excuse after excuse, such as "we don't have a Division-I roster," and "Look at all the transfers we've had to bring in."  For three years, Tuberville tossed player after player under the bus, basically saying they weren't good enough to compete at this level.  Now in year four of the Tubs era, not only have the Bearcats further regressed with a full roster of Tommy Tuberville's "D-I worthy" recruits, but the bus driving by Tubs continues.  The latest episode: Tuberville tossed the blame on a still-injured, not-100%, sophomore quarterback who only threw one interception all game (which was in the first half with a 9-0 lead).  Never mind that Hayden Moore had zero run game to support him and had to drop back like a sitting duck and toss the rock 56 times.  1 INT in 56 attempts actually seems pretty good to me, TT.  Hayden actually made some amazing throws into tight windows.  Tight windows that existed because the coaching staff still can't figure out how to get a running game going.
Look, I gave Tuberville the benefit of the doubt with all he had to say about Butch Jones's players, the lack of depth in the program, and so forth.  Butch Jones was, is, and will be a douchebag, and he did put this program is a bad spot when he left.  But it's clear that Tommy Tuberville made me look foolish.  He laid down the bait to blame somebody else for his failures as head coach, and I took it.  Tommy Tuberville fooled me.  Shifting blame is just what Tommy does. We know that now.
But the old saying goes, "Fool me once, shame on you.  Fool me twice, shame on me."  And we, Bearcat Nation, won't get fooled again this time, Tommy.  You once were a great, nationally renowned coach.  But it's not 2003 anymore, and neither Jason Campbell nor Ronnie Brown are walking out that door.  It's rare that a well-renowned coach takes over a perennial 10-win program and takes it backward, but that's what Tubs has done.  We've gone from competing for a league title in 2013 and sharing one in 2014 to complete and total mediocrity.  The UC Bearcats can now only beat bad teams.  UC only beat one winning team last year.  This year's three wins are against a 3-3 FCS team and two doormats who are a combined 3-7.
We are only a notch above UCF and Tulane now.  Actually, UCF won it's AAC opener, and is 3-2.  I guess they were one of the teams TT was talking about that would love to be 3-2.  They went 0-12 last year, 3-2 is fantastic.  But you don't go from 5 league titles in 7 years to thinking that being 3-2 (and 0-2 in league play) is acceptable unless you just don't care.  And I think that sums up the Tuberville era in a nutshell.  He's just here to collect a paycheck for another few years while living close to his wife's hometown.  And that sickens me.  We deserve better.
What's worse is that Tuberville continues to be cocky about it.  He's done nothing to fix and of the problems plaguing this program, but continues to defiantly make statements like, "I'm going to be here."  He has again shifted the blame from himself onto his players, the media, and even his fans.  TT actually even blamed fans for his recruiting failures, when he claimed that the criticism he's faced this season from fans and media is hurting his efforts with "big time recruits."  I don't know what big time recruits he's talking about, because he's been nowhere close to the top of even the G-5 AAC in recruiting.  Ed Oliver, the 5-star nose tackle that negated UC's entire running game against Houston – he's a big time recruit.  Tommy Tuberville hasn't gotten anybody even close to that.  But the one thing you can count on is that he'll find someone to blame that on.
Now is the time for UC to look for a replacement for Tuberville.  The last time UC needed a new coach in the wake of Butch Jones's departure, there just weren't a whole lot of options out there.  I guess that's what led UC to Tuberville.  But this year, there are some potentially big names out there to be snatched up.  Les Miles, a national title winner at LSU, is already available.  Charlie Strong and Brian Kelly are both rumored to be done at their schools.  National champion Guz Malzahn is on the hot seat, too.  Up-and-comer PJ Fleck has Western Michigan at 6-0, and his Broncos haven't committed a single turnover all year – sign me up!  UC has to make a move while these guys are still available or risk further damaging the program, perhaps doing irreparable harm if Tuberville is allowed to continue leading this team into a tailspin in 2017.  "Now it the time, this is the place."  Pull the trigger, Mike.
More from Cincy on the Prowl
This article originally appeared on