Trial By Fire For Trail, Bearcats Edge Miami Late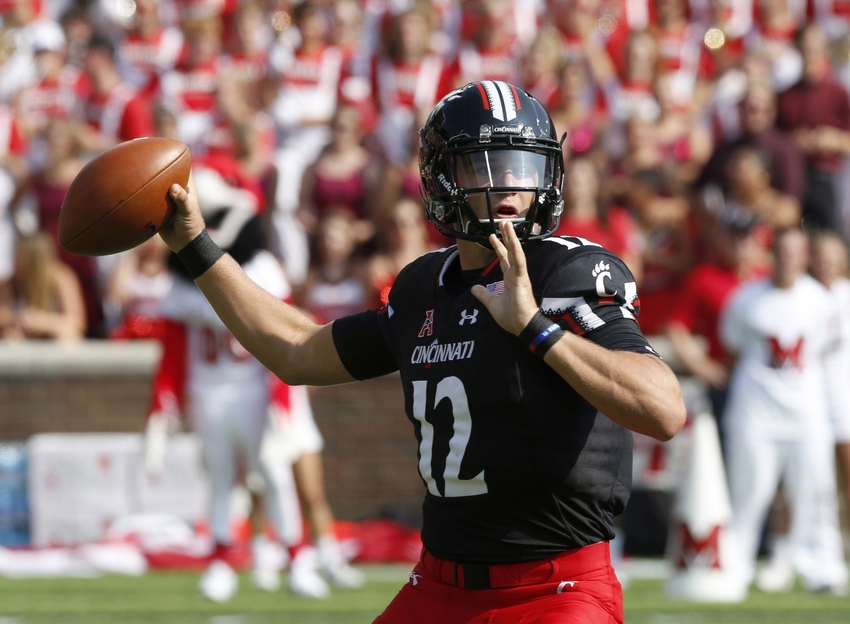 Bearcats redshirt freshman QB Ross Trail made his first career start and overcame a shaky first half to help UC retain the Victory Bell with a 27-20 win.
The Victory Bell will be staying in Clifton for another year, year 11 in a row.  Redshirt freshman Ross Trail made his first career start with Hayden Moore unable to go for UC, still nursing a bad ankle.  UC managed to keep the news of Moore's lack of availability private until kickoff on Saturday, and Trail's start came as a surprise.  Here's one that makes me feel old: the last time Miami beat UC, I was a freshman (and Ross Trail was in 3rd grade).  The year was 2005, and it was the first UC road game I ever attended.
Trail was shaky for the first three quarters of the game.  He struggled to be consistent, leading several long drives, but also throwing two picks and losing a sack-fumble.  He was bailed out by a Bearcat defense that is still being opportunistic and creating turnovers of their own in big situations.  And really, Trail's second pick was more an incredible play by the Miami corner than anything else.
UC's defensive line came up big twice, as Cortez Broughton halted Miami's momentum in the red zone by snatching a would be screen pass, and Marquise Copeland created a sack-fumble to effectively erase a the second of Trails interceptions just three plays later.
Trail did help move the ball very well for UC, throwing for 276 yards and showing mobility on an 11-yard TD run and an impressive scramble for a first down.  Although, Ross, if you're reading this, you generally want to spin away from the defense, not into them.  You might want to rethink the spin move next time and just slide, buddy.
Aside from turnovers, UC played a somewhat sloppy game on special teams again.  With Andrew Gantz out after suffering a setback with the same pulled muscle that kept him out of the season opener, backup Josh Pasley missed a 42-yard kick.  UC also gave up a monster 94-yard kickoff return that set the RedHawks up at the UC six yard line and led to a 2-play TD "drive."  Under Tommy Tuberville, UC continues to get very little out of kickoffs and cover them poorly, something that has become an alarming trend.
UC also gave up a few big plays on Saturday, including a 58-yard TD from Billy Bahl to Jared Murphy.  This was especially disheartening for me, as it was one of the only plays I got to see on Saturday.  I was kind of busy all day, but was able to stop for a few quick photos during the third quarter, which only made the perfect day even better.  Look, when the Twitterverse speaks, you better listen!  At any rate, I am a pretty lucky dude.
I digress…
Another alarming trend: Under Tommy Tuberville, Cincinnati football's average margin of victory over Miami has plummeted from 29 points under Brian Kelly and 34 points under Butch Jones to a scant 8 points over the last four years.  A school like UC that has Power Five aspirations should still be blowing out a MAC school just like the good old days.  Granted, UC has had quarterback injury problems in several of those games which necessitated playing inexperienced QBs.  Brendan Kay, Hayden Moore, and now Trail were all inserted into the lineup unexpectedly in the Miami game due to… well… due to the fact that UC just can't ever seem play an entire season with the same quarterback.  But there's no excuse for now putting away Miami.
The 'Cats must now ready themselves for the USF Bulls, who got off to a 3-0 start before being destroyed 55-35 by 13th-ranked Florida State.  In that game, USF QB Quniton Flowers only completed 5-of-14 passes, and the Seminoles ran the ball down the Bulls' throats for a staggering 478 rushing yards.  Next Saturday night's game will be pivotal in the AAC East division.  The winner will control their own destiny the rest of the way to play in the conference championship game on Dec. 3.  Hopefully the 7:00 start time will make for another great crowd, after 40,000+ showed up for Houston and 38,000+ turned out for J. Crew U.
More from Cincy on the Prowl
This article originally appeared on