Trevor Knight playing well enough to lead Texas A&M to wins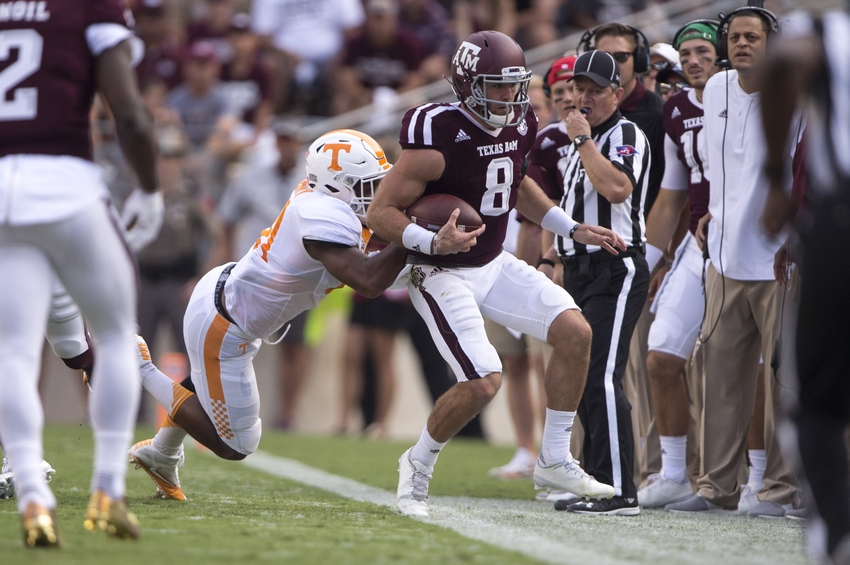 Trevor Knight is college football's Dr. Jekyll and Mr. Hyde. He certainly has his bad moments, but his good plays and scrambling ability outweigh the bad.
The Texas A&M Aggies finally broke the streak of 5-0 starts by beating the Tennessee Volunteers in double overtime 45-38, moving them to 6-0. The defense did its job forcing seven turnovers and the run game did its part rushing for 353 total yards. Quarterback Trevor Knight again did what was asked of him as he racked up five total touchdowns. However, he managed to complete below 60 percent of his passes for the sixth consecutive game.
Three weeks ago in my initial story on Trevor Knight, I talked about his progression from his time at Oklahoma. Now, it seems he's leveling off and that's not a bad thing. It just means the Aggies need to continue their offensive approach the way its been.
As a passer, Knight is the definition of inconsistent. He's tried to keep the interceptions low, but in games against top-tier teams he's struggled. In UCLA and Tennessee games, he completed 39-of-77 passes for 478 yards, three touchdowns and three interceptions. To be fair, he played well against Arkansas, which is in the top quarter of the league in terms of interceptions. He completed just 12-of-22 passes for 225 yards, two touchdowns and zero interceptions.
His biggest drawbacks are his inability to consistently hit easy, short passes. Also, when he's forced to throw a lot attempts an interception is likely to happen.
Smart Gunslinger
Nevertheless, he's done the one thing all gunslinging quarterbacks must do, outweigh the bad with good. He's by far done that. In total, he's thrown for 1,500 yards, nine touchdowns and just five interceptions. He's kept defenses from loading the box by tossing deep balls to Josh Reynolds and getting the ball into Christian Kirk's hands. He's been the distributor and leader the Aggies needed.
His running ability and protection of the football are what make him vital to the Aggies' success. People knew he was a great athlete before he came to A&M. He's taken it to a new level this season. The team's talented backfield of Trayveon Williams and Keith are opening huge holes for him. He's rushed for nine touchdowns in six games surpassing his career total at Oklahoma. He's perfectly masked his problems at Oklahoma so far. The rest of the season is still a question mark on whether he can continue his great play.
Luckily for him, he gets the best team in the country, Alabama, in two weeks. He did beat the Tide in the famous 2014 Sugar Bowl, but that was a bright spot on an otherwise checkered Oklahoma career.
More from Saturday Blitz
This article originally appeared on