Top 5 Tennessee Vols to Watch for vs Virginia Tech Hokies at the Battle at Bristol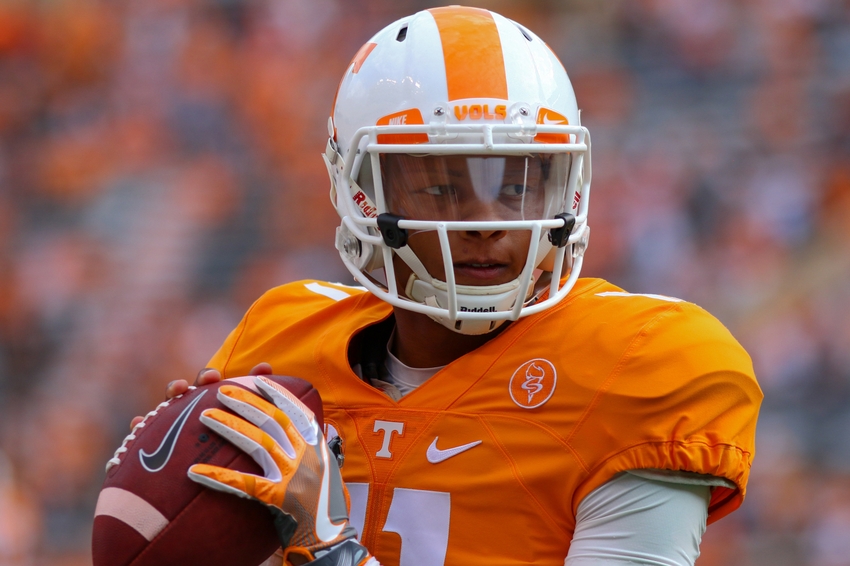 Here are the Top five Volunteers players to watch for in the Battle at Bristol Saturday between Tennessee football and the Virginia Tech Hokies.
---
Lots of things are finally here. The Vols finally kicked off their season, they made headlines for struggling, and the historic Battle at Bristol is set to follow.
But amidst all of that, there is actually a football game to worry about against Virginia Tech on Saturday. And Tennessee has a heck of a lot to work on.
After falling out of the Top 10 in both polls due to an ugly, overtime victory over the Appalachian State Mountaineers last week, Tennessee has a lot of work to do now.
The poor play of so many positions has scared the heck out of fans. And now everybody is questioning just how good this team is.
To be fair, Appalachian State is a solid team expected to win the Sun Belt.
Butch Jones and Co. will have a tougher test this week as they get set to face the Virginia Tech Hokies.
Looking ahead to the Battle at Bristol, there are a few extra factors coming into play this week. As such, we might have to change up our keys and previews.
After all, this is going to be the largest football game in world history. It will be in a primetime slot on Saturday night.
So the key players for the game will need to have some mental toughness and demonstrate an ability to handle a larger than life stage.
Let's take a look at the Vols who need to do that. Here are the five Tennessee football players to watch for when they face the Virginia Tech Hokies at the Battle at Bristol.
5
Jalen
Hurd
Running Back,

Junior
We said all last week that the Appalachian State Mountaineers rush defense would give the Tennessee football offensive line hell. As a result, we also said the Vols should use Joshua Dobbs's arm to win the game instead of Jalen Hurd despite him being a workhorse.
We were wrong.
Once again, Hurd proved himself to be that necessary workhorse in carrying the Vols to a 20-13 overtime victory. He had 100 yards on the ground, and he had the key fumble recovery in the end zone in overtime to secure the Tennessee victory.
It'll be even more crucial at the Battle at Bristol.
Virginia Tech still has a loaded defense. Last week, the Hokies shut down the Liberty Flames. Sure, it was Liberty, but even with the coaching change, they still kept their elite defensive coordinator in Bud Foster and returned nine starters from last year.
So there's really no magic bullet to beating this team's defense. That's where Hurd comes in.
The Vols proved against the Missouri Tigers last year that they can just go to Hurd whenever they need offense. They might want to do the same thing again in this game.
After last week, he has proven that you can always rely on him. Tennessee will need to do that once again.
And this time, he can't fumble like he did last week.
4
Kendal
Vickers
Defensive Tackle,

Junior
Despite a new offense, new coach, and a cluster of new players, Virginia Tech will have the same opportunities to give Tennessee hell with Justin Fuente at the helm. He showed with the Memphis Tigers that he'll run misdirection plays all day.
Vols fans need to expect him to do that on Saturday at the Battle at Bristol, especially after the way they struggled against it last week. And despite how loaded they are at defensive end, the tackles need to get off cut blocks to be able to stop the misdirection plays.
That puts pressure on Kendal Vickers. Many people may hype up Kahlil McKenzie, Danny O'Brien, Shy Tuttle, and even Alexis Johnson. But Vickers is the veteran guy who understands the nuances of playing all phases of the defensive line.
Therefore, he is going to be a key player for the Vols against the Hokies. Vickers has worked is way into the starting lineup with the Vols despite how loaded they are everywhere due to his intelligence. He's now a guy Tennessee and Bob Shoop rely on up front.
If Vickers can read the blocks, the Vols will do a much better job than they did last week at handling the misdirection plays. And it'll be a major improvement on one side of the trenches.
Now we have to move onto the other side.
3
Coleman
Thomas
Center,

Junior
Let's call it what it is: Coleman Thomas had one of the most embarrassing games ever last week. He struggled all day against the Appalachian State Mountaineers. It started with penalties in every way an offensive lineman could get them: holding, false start, and delay of game.
Then he blatantly missed assignments on multiple blocks.
And finally, he just got torched sometimes. After an offseason of wondering how Drew Richmond would struggle, Thomas was the one to embarrass the Vols offensive line last week.
Now, the junior center has to redeem himself. He's generated lots of hype at his position, and he's got to earn that hype.
This week, against Bud Foster's Virginia Tech Hokies defense, he'll have a true test. Foster's unit last week did not show itself to be adept at getting lots of sacks. But they did show an ability to get pressure.
And the rush defense as a whole was great. So Thomas has got to do his job this week as center in the Battle at Bristol, more than any offensive lineman, because the Hokies pride themselves on forcing turnovers. He has got to clear the way for Jalen Hurd as much as he can.
And with Virginia Tech able to intercept anything, he's got to give Joshua Dobbs time for his receivers to get open. And speaking of Dobbs…
2
Joshua
Dobbs
Quarterback,

Senior
Just like that, the world is concerned about Joshua Dobbs and just how much he can do. After all, against the Appalachian State Mountaineers, he struggled against an elite pass rush and was very questionable with his decision making.
Going into this week, Dobbs's play will have a huge impact on what the Vols do.
Virginia Tech, once again, has a loaded defense and an elite defensive coordinator. They pride themselves on forcing turnovers and creating ugly football games.
The Vols can't afford that.
If Dobbs makes the same mistakes he made last week, he'll turn into an interception machine. Part of that is indeed Coleman Thomas blocking better for him. But another part is him doing his job to make quick decisions.
After all, this is a preseason All-SEC quarterback with lots of mobility who is known as a great decision-maker. Even if the line isn't great, he has no reason not to be decent at the position.
Dobbs doesn't have to be a playmaker the way the Vols needed him to be one against Appalachian State, but he does have to be efficient. He can't afford to telegraph passes, take sacks, or make the wrong reads. And he does have to make a few plays.
That makes him, the quarterback, a crucial part of the game at the Battle at Bristol.
1
Jalen
Reeves-Maybin
Linebacker,

Senior
Essentially, the Battle at Bristol is the opening game for Jalen Reeves-Maybin's senior season. He got screwed with an unfair ejection in the Vols' opener against the Appalachian State Mountaineers.
And it played a huge role in almost costing the team.
Without Reeves-Maybin, the Vols got very thin at linebacker, and the Mountaineers were able to run the clock with their misdirection plays as a result.
The Virginia Tech Hokies will look to have similar success with Justin Fuente as head coach.
We already mentioned Kendal Vickers's importance in terms of stopping misdirection plays. Reeves-Maybin has just as much of a crucial role.
He is the elite senior linebacker for the Vols and the quarterback of the defense. Without him, calling plays on the field is left to Cameron Sutton. Although Sutton is great, he showed he's not a great play caller on defense.
That responsibility has to stay with Reeves-Maybin. And against the Hokies, he has to do the job.
This is likely to be a defensive struggle, so the defense that makes the most plays wins. To hang on in the struggle, Reeves-Maybin has to make sure he keeps the defense in the right position on misdirection plays.
And as the Vols' primary playmaker, he needs to force a few sacks or turnovers.
As a result, he's the most important player in the Battle at Bristol for the Vols.
More from All for Tennessee
This article originally appeared on