Top 30 Most Overlooked High School Recruits to Go Pro Since 2000
Zach Bigalke/FanSided via Saturday Blitz

Fansided
Recruiting is an inexact science. Which unheralded high school recruits blossomed into stars at the college level and made the NFL?
Every February, thousands of high school seniors around the country sign National Letters of Intent to play scholarship football at an FBS institution. Hundreds of recruits matriculate at powerhouses after having been highly rated by the scouting services. Others, however, are not nearly as highly touted.
Sometimes that is because of untimely injuries. Sometimes it is because they are undersized. It could be a matter of weak statistical production, or it could be the result of being rated at a position outside their best fit. One way or another, though, plenty of players slip through the cracks.
Recruits can have a decent college career despite a low rating. Rarer, though, is the case when one of these diamonds in the rough manage to break through and win a job in the NFL. Click through to see our choices of the 30 best players who have played professionally despite failing to garner much interest coming out of high school.
Our list begins in New York, where Chandler Jones was an All-Region selection playing defensive end and tight endduring his senior season at Union-Endicott High School. As such, he was one of the more highly touted recruits in New York and in the northeast. Both Scout and Rivals had Jones rated as a two-star prospect at tight end in the class of 2008, and he was the 92nd-ranked player at the position according to the 247Sports composite rankings. He was given a look by Buffalo and Connecticut, but once Syracuse showed interest Jones moved 90 minutes up the I-81 to play for the Orange.
Jones never saw the field in 2008, the last season for Greg Robinson, and once he got playing time in 2009 it was for Doug Marrone. There was never much thought of putting Jones on offense, as he began to show his potential on the edge with 52 total tackles and 1.5 sacks. A year later, he notched four sacks, three forced fumbles, and a fumble recovery to go along with 57 total tackles. As a senior injuries limited him to just seven games, but in that span he had 4.5 sacks and two forced fumbles. It was enough for Bill Belichick and New England to take a chance on him with a first-round pick in the 2012 NFL Draft. Jones racked up 11 sacks in his first year in Arizona in 2016 after amassing 36 in four seasons as a Patriot.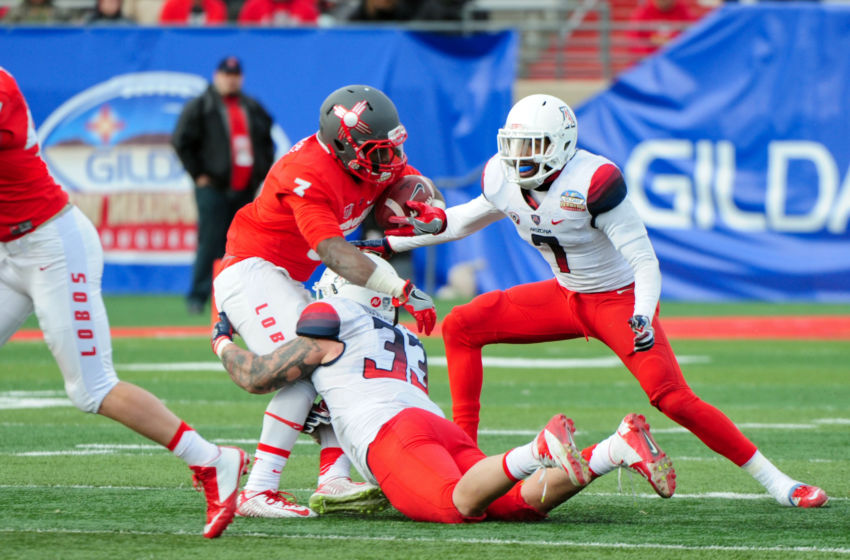 At Cardinal Newman High School in Santa Rosa, California, Scooby Wright was a four-year varsity player who played both ways at linebacker and running back. Wright earned All-State honors both of his final two seasons with the Cardinals, but none of the recruiting services rated him as more than a two-star prospect at linebacker. He was still given a look by UCLA, San Diego State, and Boise State. None, though, offered Wright a scholarship. Only Rich Rodriguez offered Wright an opportunity to come play FBS ball at Arizona.
Wright made an impact immediately with the Wildcats, starting all but one game during a true freshman season in which he racked up 83 total tackles and an interception. As a sophomore, Wright burst onto the national scene in 2014. With 14 sacks, 29 tackles for loss, six forced fumbles, and 163 total tackles, Wright swept the Nagurski, Bednarik, Lombardi, and Lambert Awards for defensive players and earned unanimous All-American honors. As a junior he dealt with knee injuries and played just three games, but even in that time he notched two sacks and 23 tackles. Cleveland took a chance on Wright in the last round of the 2016 NFL Draft, and he has since landed full circle to play with the Arizona Cardinals.
Kyle Wilson was part of a celebrated Piscataway High School team that won three straight New Jersey state championships between 2002 and 2004, bookending the stretch with undefeated seasons. He was a first team All-State selection as a wide receiver, playing both ways for the Chiefs. Though he received just two stars from the recruiting services, Wilson was offered scholarships by Rutgers and Delaware but opted instead to go play for Dan Hawkins at emerging mid-major powerhouse Boise State.
Wilson was redshirted during Hawkins' last season before leaving for the Colorado job, but once he took the field for Chris Petersen he quickly emerged as a defensive leader. His 10 tackles against Oklahoma helped Boise State win the 2007 Fiesta Bowl, foreshadowing his rise to the NFL. He ended his Boise State career with 11 interceptions, two of which were returned for touchdowns, and had been a backbone of some of the best-rated defenses during the mid-to-late 2000s. The New York Jets picked Wilson with the 29th overall pick in the 2010 NFL Draft, and he spent his first five seasons with the team before signing with New Orleans in 2015.
At Bedford High School in Ohio, Rodger Saffold was a mainstay on both the offensive and defensive lines. As a senior he was an All-District player and an honorable mention at the state level, but that translated to only two stars from the major recruiting services. Rated 270th among offensive line recruits in the 247Sports composite rankings at the position for 2006, Saffold was ultimately offered scholarships to several other Big Ten schools as well as Kansas. He decided to stay closer to home to play for Terry Hoeppner.
Saffold only got one season with Hoeppner before the coach passed away from brain cancer, but by that time he had already taken over the left tackle spot as a true freshman. As a sophomore he helped lead the Hoosiers to their first bowl game in 14 years, and he eventually started 41 games in total while in Bloomington. An All-Big Ten selection during his junior and senior years, Saffold entered the 2010 NFL Draft as one of the more highly touted line prospects on the board. He eventually went to St. Louis with the first pick of the second round, and he continues to play for the Rams after their relocation to Los Angeles.
Born in Louisiana, Ike Taylor moved to North Carolina in his youth before relocating to play his high school football at Abramson High School in New Orleans. He did a bit of everything in high school, lining up at several places on defense along with running the ball on offense and taking placekicking duties. Without a single scholarship offer on the table, Taylor assessed his grim options. He stayed in state and went to Louisiana-Lafayette for a chance to walk on for Jerry Baldwin and the Ragin' Cajuns.
In Taylor's case, he was academically ineligible to play for his first two seasons of college. He walked on and quickly earned a scholarship opportunity in 2001. Taylor played at tailback that first season with ULL, rushing 70 times for 323 yards and three touchdowns and adding 18 kick returns for another 280 yards. As a senior, he asked to move to cornerback and the rest was history. He forced two fumbled, knocked down eight passes, and piled up 46 tackles that final year. Despite his limited experience in college, Pittsburgh took a chance on Taylor in the fourth round of the 2003 NFL Draft. He played 12 years with the Steelers and won two Super Bowls before retiring after 2014.
Originally born in Cleveland, Aqib Talib moved to Texas as an adolescent, he became a three-sport letterman at Berkner High School in Richardson. With the Rams, Talib was the team's top defensive back as a senior as he earned first team All-District honors. Rivals and Scout each rated Talib as a two-star prospect, and he was ranked 230th in the 247Sports composite rankings at defensive back from 2004. Arizona and Baylor offered Talib scholarships along with Wyoming and Tulsa, but he ultimately decided to play for Mark Mangino at Kansas.
In Lawrence, Talib was redshirted before getting his first taste of action in 2005. As a freshman, he put up 54 total tackles and two interceptions. As a sophomore, he added six more picks to his career total. It was as a junior, though, that he did a bit of everything for the Jayhawks. In addition to his cornerback duties, where he returned two of his five interceptions for scores and racked up 66 tackles, he also caught eight passes for 182 yards and four touchdowns. He helped lead Kansas to the 2008 Orange Bowl, where he returned one of this two pick-sixes of the year and earned MVP honors. Leaving school early, he was picked 20th overall by Tampa Bay in the 2008 NFL Draft and has also played for New England and Denver.
A two-sport star at La Salle High School in Cincinnati, Brent Celek was an All-District player as both a junior and a senior. Celek was especially adept on passing plays, breaking the school record with an 89-yard touchdown reception in his senior season as he hauled in19 passes for 384 yards He also participating in throwing events as a track and field letterman, showcasing his athleticism in several guises. But he was low on the list among two-star tight end recruits, ranked 97th in the 247Sports composite rankings at the position from 2003.
Only one school was willing to give Celek a chance to play on scholarship in college. Rick Minter, at the time the head coach of Celek's hometown Cincinnati Bearcats, offered the local star a shot. As a freshman in Minter's last season, the youngster caught just two passes. He broke out as a sophomore under new coach Mark Dantonio, hauling in eight of his 22 receptions for touchdowns. After finishing his four years at Nippert with 91 catches for 1135 yards and 14 touchdowns, the Philadelphia took a flyer on Celek with a fifth-round pick in the 2007 NFL Draft. He has been a consistent target for the Eagles ever since, with 33 career touchdowns in the pros.
Despite starting three years at quarterback for Wylie High School in Abilene, Texas, Case Keenum never did get much of a look from the schools in the Lone Star State. A 31-11 record as a high school starter, nearly 9000 combined passing and rushing yards, and 89 total touchdowns seemed to offer little traction. Not even leading the Bulldogs to their only 3A Texas state championship in history was enough to merit much notice. The two-star recruit ended up taking the only scholarship offer he received from Art Briles at Houston.
Keenum redshirted as a freshman in 2006, but once Kevin Kolb graduated the door opened. He was far more of a running threat for Briles before the head coach left for Baylor after the 2007 regular seaosn. Under new head coach and former Oklahoma offensive coordinator Kevin Sumlin, everything changed for Keenum. He threw for over 5000 yards and 44 touchdowns in both 2008 and 2009, winning 18 games in two years. A torn ACL took Keenum out early in 2010, but a medical exemption allowed him to return for a second chance at a senior year in 2011. He nearly helped the Cougars bust the BCS as a senior, and he landed as an undrafted free agent with the Houston Texans.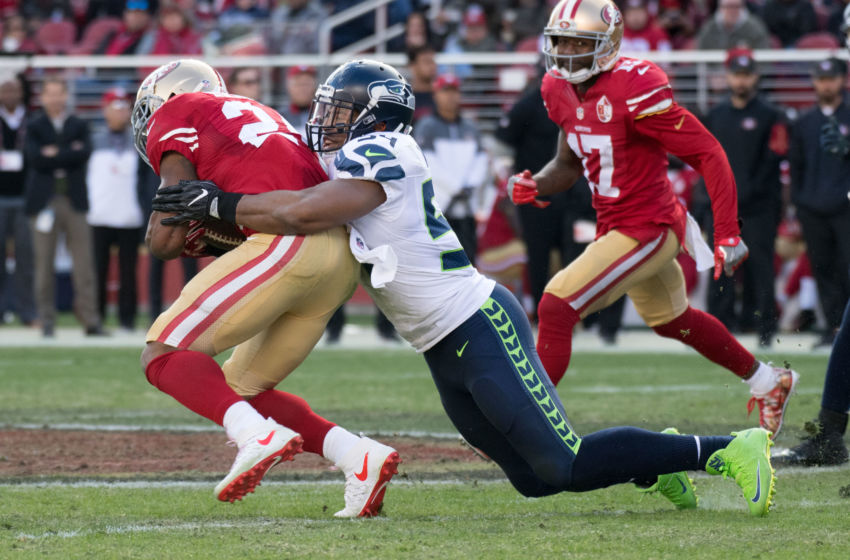 A product of Colony High School in Ontario, California, Bobby Wagner was a two-way star at linebacker and tight end. During his senior season, he racked up 125 total tackles and four sacks and added 37 receptions for 595 yards and 11 scores the other direction. After helping the Titans win a California division title in 2007, he waited in vain for scholarship offers to come in. Graded as a two-star linebacker prospect by Rivals, only one school came calling. He left California for Utah State and the unfamiliar world of the WAC.
A true freshman playing a reserve role during Brent Guy's final season at the helm in Logan, Wagner was unleashed once Gary Andersen took over in 2009. Over his next three seasons, Wagner notched at least 100 tackles every year. As a senior in 2011, he was part of the first Aggies to go bowling in over a decade. His 147 total tackles, four sacks, 11.5 tackles for loss, and two interceptions were enough to open the eyes of NFL scouts. No longer among the unheralded recruits, Wagner was selected by Seattle in the second round and has become a critical piece of the Seahawks defense and set the team's single-season record for tackles in 2016.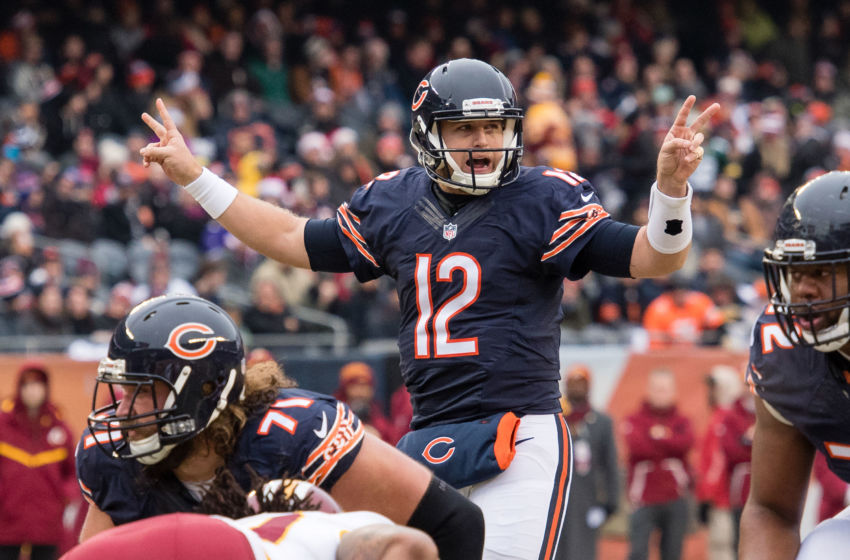 One of the NFL's best interior linemen was barely recruited out of high school. Josh Sitton starred as a two-way lineman at Catholic High School in Pensacola, Florida, excelling in protection and run blocking while also notching six sacks and 50 tackles as a senior. In the talent-rich Sunshine State, Sitton was a second team All-State offensive lineman in 2003. Yet he was ungraded on offense and ranked just 288th among 2004 defensive line recruits according to the 247Sports composite of recruiting rankings. Over offers from Nicholls State and UAB, Sitton stayed in state to play at UCF.
With the Knights, Sitton played in every game as a true freshman and started three games at right guard. By his sophomore year, he was the starting right tackle as UCF went from a winless 2004 season to eight wins and the first bowl appearance in school history. After the team regressed back under .500 in 2006, Sitton's senior season was especially noteworthy. He was part of the line that helped Kevin Smith nearly break Barry Sanders' single-season rushing record, as the Knights won 10 games for the first time and their first C-USA championship. After being selected in the fourth round by Green Bay at the 2008 NFL Draft, he has emerged as a four-time Pro Bowl guard.
Jairus Byrd was one of those players in high school who did a little bit of everything on the football field, and it seemed to blind recruiters and scouting services to his talent at any given position. At Clayton High School in the suburbs of St. Louis, Byrd led the Greyhounds to the Missouri 4A state championship and earned state offensive player of the year honors. Schools mainly looked at him for his defensive skills, however, and thus his high school exploits had little bearing. He was ranked 157th among defensive backs in the 247Sports composite from 2005, and went to Oregon as an unheralded two-star athlete.
With the Ducks, he took the field for the first time in 2006 after a redshirt season and immediately earned second team freshman All-American honors. Switching between cornerback and safety in Nick Aliotti's defense, Byrd started 37 of a possible 39 games and earned defensive MVP honors at the 2008 Hoilday Bowl with a 39-yard interception return in his final college game. Forgoing his senior season, Byrd declared for the 2009 NFL Draft. Buffalo selected Byrd in the second round of the draft, and he racked up 22 interceptions and 11 forced fumbles with the Bills before signing as a free agent in 2014 with New Orleans.
A product of Westwood Regional High School in New Jersey, B.J. Raji featured as a two-way starter on both the offensive and defensive lines from 2001 to 2003. As a senior, he earned All-State honors as he recorded 7.5 sacks and four forced fumbles along with 75 total tackles. Yet despite getting selected to play in the Governor's Bowl between the top senior recruits of 2004 from New York and New Jersey, Raji was largely overlooked. After receiving interest from Rutgers and Wisconsin, the two-star lineman decided to play for Tom O'Brien at Boston College. Raji played a backup role as a true freshman, but it wasn't until his sophomore year that he began to take over as a starter at nose tackle.
As a junior Raji began to open eyes with 3.5 sacks and 16.5 tackles for loss. Academic issues sidelined him for the 2007 season, but Raji returned for his senior year stronger than ever. The defensive lineman notched nine sacks and 99 total tackles on his way to All-ACC honors. The Eagles went 9-5 that year and won the ACC Atlantic for the second straight season. It was enough for the Green Bay Packers to select Raji ninth overall in the 2009 NFL Draft, and in his second season his interception TD against Chicago in the NFC Championship Game put the Packers into Super Bowl XLV, which they won against Pittsburgh.
Playing for California high-school powerhouse De La Salle during the latter part of its record 151-game winning streak, T.J. Ward nevertheless received little attention from colleges since he only got the chance to start one season. Ward fell completely off the radar of recruiters when that season ended early due to injury. He was nowhere to be found in the scouting service lists of the top defensive back recruits, and without a star to his name Ward was forced to walk on at Oregon. There he slowly developed under defensive coordinator Nick Aliotti into a fearsome defender.
He earned a scout team role as a redshirt freshman in 2005, but didn't see the field in a game until 2007. playing a reserve role in the secondary. He became a starter the following year, and finished the season with 101 total tackles, an interception, and a sack. Ward was injured early in his final year with the Ducks, but managed to come back to help lead Oregon to its first Rose Bowl appearance in 15 years. Drafted 38th overall in the 2010 NFL Draft by the Cleveland Browns, Ward has been a mainstay in the pros. After moving to Denver in 2014, he was a key player in the Broncos' Super Bowl 50 win over Carolina as he finished with seven tackles, an interception, and a recovered fumble.
After moving to the United States as a youth, Mike Iupati began playing football at Western High School in Anaheim, California. There he played for the Pioneers on both the offensive and defensive lines, and he also featured on the wrestling team and competed with the track and field team as a shot putter. Though he was named a first team All-California Interscholastic League selection in his junior year, few teams recruited Iupati in 2005 due to academic issues. Eventually Idaho offered Iupati his only Division I opportunity, and there he blossomed into an impact guard.
Recruited by Nick Holt's staff, he eventually played for Dennis Erickson and Robb Akey while in Moscow. As a senior in 2009, Iupati helped the Vandals to their first winning season in a decade and their first bowl win since 1998. He was an Outland Award finalist and a consensus All-American selection, becoming the first Idaho player in more than three decades to receive the honor. He entered the 2010 NFL Draft as one of the highest-graded prospects at offensive guard, landing in the first round as the 17th overall selection by the San Francisco 49ers. The four-time Pro Bowler now plays in Arizona after signing as a free agent with the Cardinals in 2015.
Coming out of Lake Gibson High School in Lakeland, Florida in 2007, Bilal Powell ranked just 123rd among all running back recruits according to the 247Sports composite rankings for that year. Lightly sought by most teams, the two-star prospect was brought in by Steve Kragthorpe at Louisville to play Big East football. Over his first three years with the Cardinals under Kragthorpe, Powell was used mainly as a complimentary back.
Once the coach was fired and Charlie Strong was brought in to lead the team for his senior season, Powell burst forth with a senior year that elicited long looks from the NFL. Including the first bowl appearance of his career in his final college game, Powell rushed for over 1400 yards and 11 touchdowns in 2010. He also added 158 yards and three scores on 18 receptions, boosting his stock heading into the 2011 NFL Draft. Ultimately selected in the fourth round by the New York Jets, Powell has slowly evolved into a solid NFL back and broke out with a strong campaign late in 2016.
As a two-way star at Palo Alto High School, Davante Adams helped lead the Vikings to the California Interscholastic Federation state championship in his senior year. During the 2010 season he hauled in 64 receptions for 1094 yards and a dozen scores, and also registered 44 tackles and an interception on defense. The scouting services didn't even rank Adams among the top 200 potential recruits at receiver, though, and he landed at Fresno State after receiving varying degrees of interest from San Diego State, Hawaii, and Cal.
He sat out on a redshirt year in 2011 before breaking out immediately as a freshman in 2012. With Derek Carr throwing to him, Adams finished his rookie season with 102 receptions for over 1300 yards and 14 scores. The following year he hooked up with Carr for 131 catches totaling 1719 yards and 24 touchdowns. That year the Bulldogs threatened to bust into the BCS in its final season of operation, eventually settling for a Mountain West title and an 11-3 finish. With over 3000 yards and 38 scores in just two seasons of work, Adams was selected in the second round of the 2014 NFL Draft by Green Bay.
Over his four years at San Marcos High School in Santa Barbara, California, Alex Mack distinguished himself not only on the football field but also on the wrestling mat and in the classroom. He was rare among recruits in that he could have gone anywhere he wanted on his academic merits alone. Graduating in 2004 with a 4.2 GPA, the two-star center prospect drew attention from Northwestern and Stanford. Instead, he decided to go to the flagship school at Berkeley to play for Jeff Tedford and the Golden Bears.
After redshirting and then playing a backup role as a freshman, Mack started 39 consecutive games for Cal from 2006 through 2008. He became the school's first winner of the Draddy Trophy, the National Football Foundation award often referred to as the "academic Heisman," and finished on the first team of the All-Pac-10 list all three years as a starter. Mack entered the 2009 NFL Draft as the highest-rated center, and he ended up going 21st overall to the Cleveland Browns. In 2016 he signed with the Atlanta Falcons as a free agent, and became a key cog in helping lead them to their first Super Bowl appearance in two decades.
Dennis Pitta had a long path to the NFL. At Moorpark High School in California, Pitta was a three-sport letterman who played wide receiver and cornerback. His scholastic record and on-field prowess landed Pitta interest from Dartmouth and Yale in addition to Navy, Oklahoma State, Oregon, and Utah. Yet because he was unrated among the 2003 recruits at either of his positions, none of the schools offered scholarships. Pitta decided to walk on under Gary Crowton at BYU, where he was soon moved to tight end to take advantage of his size.
After grayshirting in 2003, Pitta took over starting duties after Daniel Coats was injured, and he finished with 17 catches for 176 yards and two scores. At this point, though, the LDS member decided to take his two-year mission. Returning from the Dominican Republic in 2007, Pitta caught 204 passes for over 2700 yards and 19 touchdowns over the next three seasons. He was a Mackey Award finalist in his senior season and a unanimous All-American selection. Leaving the pass-happy school as the all-time record holder in receptions, Pitta was selected in the fourth round of the 2010 NFL Draft by the Baltimore. Since then, he has been a mainstay with the Ravens and caught a touchdown to help them win Super Bowl XLVII over San Francisco.
Doug Baldwin was a two-sport star at Gulf Breeze High School in Florida, competing in the jumping events in track and field in addition to playing receiver for the Dolphins. In his senior year, Baldwin hauled in 42 catches for 682 yards and six touchdowns. According to the 247Sports composite rankings of players from the class of 2007, this put Baldwin just 158th among receiving recruits. The two-star prospect found a lifeline in the form of new Stanford head coach Jim Harbaugh, who brought Baldwin to play for the Cardinal.
In Palo Alto, Baldwin played immediately, catching 11 passes for 93 yards. His main contribution was on special teams, where Baldwin returned 24 kickoffs for 555 yards. As a sophomore, he gained more playing time on offense but scaled back on special teams. He was relegated to the scout team as a junior after feuding with Harbaugh, but returned as a senior after injuries forced Harbaugh's hand and responded with 58 catches for 857 yards and nine touchdowns. NFL teams remained skeptical of his temper, and he went undrafted in the 2011 NFL Draft. Seattle signed him as a free agent, and he has repaid the Seahawks with nearly 5000 receiving yards and 36 TDs in his first six seasons.
Kickers are rarely going to garner much attention from college recruiters. As a result, rare is the kicker that receives more than three stars from the recruiting services. Matt Prater didn't receive even that much attention after a successful high school career at Estero High School in Florida. Rated as the 37th-best placekicker available among the recruits of the class of 2002, Prater stayed in his home state and went to play for Mike Kruczek at UCF. There he immediately won the starting role and never looked back.
For most of his time in Orlando, Prater was often one of the Knights' most dangerous scoring weapons. He also took on the bulk of punting duties as a sophomore, averaging over 47 yards per punt. He was on the roster for the entirety of UCF's 17-game losing streak between 2003 and 2005, though Prater finally got the chance to play in a postseason contest when the Knights qualified for the 2005 Hawaii Bowl in his last game of eligibility. Prater finished his career with 108 extra points and 50 field goals for UCF, and emerged as a pro prospect as a senior. Though he went undrafted in the 2006 NFL Draft, Prater is now an 11-year veteran of the league.
Doug Martin is yet another testament to the ability of Boise State to find hidden gems and develop them into stars. As a two-sport letterman at St. Mary's High School in Stockton, California, Martin rushed for nearly 3200 yards and 32 touchdowns in his junior and senior years. Though he was ranked among the two-star recruits at running back, Martin did receive some interest from Pac-10 schools California and Oregon State. Instead, Martin decided to play for Chris Petersen and the Broncos.
Arriving in Idaho the season after the historic win over Oklahoma in the Fiesta Bowl, Martin redshirted his first year of college. Taking the field in 2008, Martin did not receive much playing time during his first two seasons as he bided his time behind first Ian Johnson and then Jeremy Avery on the depth chart. After notching 15 rushing touchdowns in 2009, he took over the lead duties in the backfield as a junior. With the Broncos going 24-2 in his final two years, Martin helped Boise State transition from the WAC to the Mountain West before exhausting his eligibility. After amassing over 4000 yards and 48 total touchdowns, Martin was selected 31st overall by the Tampa Bay Buccaneers in the 2012 NFL Draft.
During his last two seasons as the starting quarterback at Helix Charter High School in La Mesa, California, Alex Smith helped lead the Scotties to two San Diego CIF championships and a 25-1 record. Playing alongside future USC sensation Reggie Bush, Smith went largely unrecognized despite setting several school records and earning multiple conference honors. Rated as the 99th-best quarterback in the 2002 class under the 247Sports composite rankings, Smith received no major offers and ended up going at Utah to play for Ron McBride.
Smith reached the field just twice during his freshman year, and after the season McBride was replaced by Bowling Green coach Urban Meyer. Under Meyer, Smith blossomed into one of the top quarterbacks in college football. He finished fourth in the 2004 Heisman voting after leading the Utes to a 12-0 regular season and their second straight Mountain West title. In the first appearance by a smaller school in a BCS bowl, Smith earned Fiesta Bowl co-MVP honors after completing 29 of his 37 passes for 328 yards and four TDs against Pitt. The win vaulted him in draft projections, and Smith was eventually selected first overall by the San Francisco 49ers.
Ryan Clady was a two-sport star at Eisenhower High School in Rialto, California where he competed in the shot put and discus in addition to lining up at offensive tackle for the Golden Eagles. Clady was a first-team selection at the league, county, and state levels, yet he was nowhere to be found on the scouting lists of the nation's top offensive line recruits. Rivals gave Clady just two stars. He received just one FBS scholarship offer, eagerly jumping at the chance to play for Chris Petersen at mid-major powerhouse Boise State.
Clady redshirted in 2004 before taking over the starting position at right tackle in 2005. He moved over to protect Jared Zabransky's blind side as a redshirt sophomore in 2006. Starting all 13 games that season, Clady earned second team All-American honors from Sports Illustrated and was named as an All-WAC selection. That year Boise State capped a perfect season with its landmark Fiesta Bowl win over Oklahoma, and Clady had the key block on Ian Johnson's winning two-point conversion. After displaying his skills on a national stage, scouts took notice during his last year in Boise. He became the highest-drafted player in Boise State history when the Denver Broncos selected Clady 12th in the 2008 NFL Draft.
It is hard to believe now, but 6'3″, 245-pound Clay Matthews III was an undersized high schooler who only began to hit his growth spurt during his senior season. His father, the defensive coordinator at Agoura High School in Agoura Hills, California, gave his son limited playing time due to his size, and the result was a complete lack of attention. Unranked by either scouting service among linebacker recruits, Matthews received limited interest from FCS programs and was not offered a single FBS scholarship. Instead he followed in the family footsteps by heading to USC, where he walked on to the Trojans team under Pete Carroll.
Matthews redshirted his first year in 2004, taking advantage of the extra time to develop further physically. He first reached the field in 2005, and was awarded a scholarship by Carroll after his freshman campaign. Yet he remained mostly a special-teams player until his senior season. That year, playing a hybridized edge-rushing role in the USC system, he notched 4.5 sacks and two forced fumbles. Much more physically mature than he was entering college, Matthews was selected by Green Bay with the 26th overall pick acquired from New England. In his second year he was named NFL Defensive Player of the year as the Packers won Super Bowl XLV.
Coming out of high school, Antonio Brown bounced from one school to another before settling at Central Michigan. An all-purpose athlete at Miami Norland High School, Brown had mostly played quarterback while moonlighting as a receiver and running back. He was most lethal as a return man, however, and yet he struggled to land a scholarship offer. A year at North Carolina Tech Prep did not help his prospects any more, and after trying to enroll at Florida State and Alcorn State he was expelled from his lone scholarship offer at Florida International.
Brown made his way to Mount Pleasant after Central Michigan reached out and offered him a chance to walk on to the team. Within a month, he was on scholarship and on his way to earning MAC Freshman of the Year honors. In three years with the Chippewas, Brown set a new school record with 305 receptions. He finished his college career with 31 total touchdowns (22 receiving, four rushing, five on returns) and waived his senior eligibility in favor of trying to go pro. Pittsburgh eventually took a chance on Brown with their sixth-round pick in the 2010 NFL Draft, and with the Steelers he has evolved into a perennial Pro Bowler and one of the most dangerous receivers in the league.
Like many other unheralded players, Jordy Nelson wasn't even expected to play his current position when he first arrived at college. As a three-sport star at Riley County High School in Kansas, Nelson played quarterback for the Falcons. More renowned for his track and field work, though, Nelson was among the overlooked recruits in the 2003 recruiting class. With no scholarship offers on the table to play football, Nelson decided to walk on at nearby Kansas State under Bill Snyder.
Arriving in Manhattan, Nelson thought he would be playing defensive back in college. The spring after his redshirt year, however, Nelson was moved from defense to offense. Using his combination of size and speed, Nelson quickly took to the position. He did not see the field as a freshman, but burst onto the scene as a sophomore with 45 catches for 669 yards and eight touchdowns. An injury-plagued junior year put Nelson off most people's radars, but he returned to dominate his senior season in 2007. Snagging 122 receptions, Nelson finished the year with over 1600 yards and 11 touchdowns. He also threw for two scores and ran back two punts to the house. His reward was a second-round selection by the Green Bay Packers in the 2008 NFL Draft.
Khalil Mack thought he would be going to college on a basketball scholarship. Then a patella tendon tear in his sophomore year forced him to rethink his plans. He took up football at Westwood High School in Fort Pierce, Florida, racking up 140 tackles and nine sacks as the Panthers won a district championship. Despite being named third team All-State as a senior, though, his lack of playing experience led to being lumped in with other two-star recruits by both Rivals and Scout.
The one offer he received was from Turner Gill at SUNY Buffalo. Mack eagerly jumped at the opportunity to play top-level college football, and with the Bulls he evolved into a defensive dynamo. After redshirting in 2009, he quickly became one of the defensive leaders of the team as soon as he took the field in 2010. By his senior year, Mack would pile up 100 total tackles, record 9.5 sacks and 19 tackles for loss, force five fumbles and recover three, and even snag three interceptions. His 16 career forced fumbles set a new NCAA record. No longer among the faceless recruits, his four dominant years of college earned Mack the fifth overall pick in the 2014 NFL Draft by the Oakland Raiders.
As a three-sport star at the Collegiate School in Richmond, Virginia, Russell Wilson helped guide the Cougars to the state championship as a senior in 2006. The dual-threat quarterback threw for over 3000 yards, rushed for 1100, and piled up 52 total touchdowns on the season. Even after such a prolific year, though, few schools came calling once Rivals and Scout put Wilson among the two-star recruits at QB. After receiving football offers from just two schools, Wilson decided to head to Raleigh to play for Tom O'Brien at NC State. After a redshirt season in 2007, Wilson won the starting job by midway through his first year on the field.
With the Wolfpack, Wilson scored 76 passing touchdowns and 17 rushing scores in three seasons. He decided to report to spring training with the MLB's Colorado Rockies in 2011, and soon found himself released by O'Brien from his scholarship. Wilson took the opportunity to transfer to Wisconsin, where he was able to play immediately under the graduate transfer rule. With the Badgers, Wilson completed 72 percent of his passes for 3100 yards, 33 touchdowns, and just four interceptions. The new QB led the Badgers to a Big Ten title and an 11-win season in his only year in Madison. The success led to a third-round selection by Seattle and a Super Bowl in his sophomore season with the Seahawks.
Largely unheralded after earning all-league honors at Mariposa High School in California, Logan Mankins was glossed over by most every I-A team in the country. After failing to get much attention among offensive line recruits, he ended up making the 72-mile drive south to play for Pat Hill at Fresno State. There he redshirted during the 2000 season before starting all 14 games guarding David Carr's blindside as the Bulldogs beat Colorado, Oregon State, and Wisconsin to start an 11-win campaign. He was a stalwart at left tackle, but was forced to sit out 2003 after tearing his ACL in preseason practice.
Over the stretch between 2001 and 2004, Fresno State won at least nine games every season and went 29-11 when Mankins was protecting the blind side for either Carr and then Paul Pinegar. After returning from the injury, Mankins earned first team all-WAC in 2004 after not giving up a single sack or quarterback pressure and recording a school-record 82 knockdown blocks. As a result, Mankins was given a longer look by NFL scouts than he had been by college recruiters. New England snagged him with the 32nd pick of the 2005 NFL Draft, and he played nine years under Bill Belichick before a 2014 trade to Tampa Bay.
J.J. Watt took a circuitous route to becoming one of the most dominant defensive players in the NFL. As a senior at Pewaukee High School in Wisconsin, Watt played both ways at defensive end and tight end. Coming out of high school, he was nowhere among the highly-rated recruits at either position and was ranked at two stars by both Scout and Rivals. Ultimately he made just three official visits, eventually arriving in Mount Pleasant to play for Butch Jones at Central Michigan. During his one year in the MAC, Watt caught just eight passes for 77 yards.
When the Chippewas staff suggested Watt move to offensive tackle, he instead returned to his home state to walk on for the Badgers. He redshirted during the 2008 season, then evolved into a defensive nightmare during his two years of intercollegiate play in Madison. As a redshirt sophomore in 2009, Watt piled up 4.5 sacks, 15.5 tackles for loss, and 44 total tackles. In his final season at Wisconsin, he improved with seven sacks, 21 tackles for loss, 62 total tackles, and an interception. Forgoing his final year of college eligibility for the 2011 NFL Draft, Watt went from walk-on to the 11th overall pick by the Houston Texans. There he earned NFL Defensive Player of the Year honors three times in his first five years as a pro.
This article originally appeared on