Top 3 Reasons FSU Football is Better Job Than LSU Football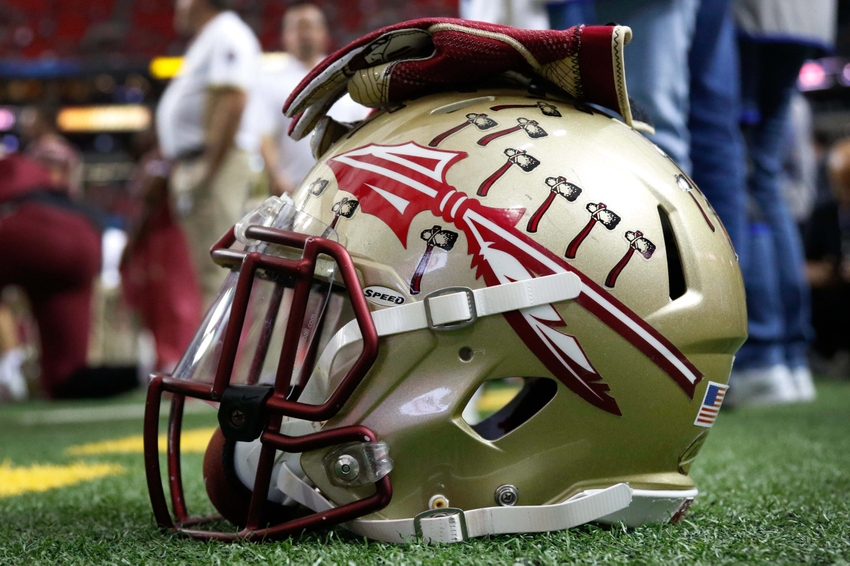 With the continuing reports that FSU football head coach Jimbo Fisher may depart for LSU after the season, we look at why the 'Noles are a better job.
For much of the last calendar year, it's been the story in college football that won't go away. Ever since the LSU Tigers went on a slump to end the 2015 season, rumors have swirled that Les Miles was going to be out of a job and FSU football head coach Jimbo Fisher was going to replace him.
Even when Miles was kept on, people said it was only a matter of time. Even when Miles was fired and interim coach Ed Orgeron was winning games, some thought it was a matter of time before FSU football would be needing a coach of their own.
Now, the rumors have gotten louder and louder to the point that some fans of the 'Noles are legit wondering if FSU will have a new coach during the 2017 season. However, when you look at it, Fisher would be crazy to leave Tallahassee for Baton Rouge.
Here's the top three reasons why FSU football is a much better job than LSU right now.
No. 1 – The 2017 roster for the Seminoles is beyond stacked
Yes, the 'Noles will be without record breaking running back Dalvin Cook, defensive leader DeMarcus Walker and (likely) top receiving target Travis Rudolph next season – but the lineup will still be chalk full of amazing players.
Deondre Francois has showed a leadership at quarterback that can only be match by his toughness at points. He's built a relationship with young receivers like Auden Tate and Nyqwan Murray while Jacques Patrick won't be inexperienced at the running back spot.
On defense, you get Derwin James back for a secondary that may be the best in college football with James and Tarvarus McFadden – along with a defensive line consisting of Josh Sweat, Brian Burns and a linebacker unit led by Matthew Thomas after his impressive 2016 season.
LSU will lose their top players at multiple positions – including running back, wide receiver, defensive back, defensive tackle and middle linebacker. Yes, the Tigers will still have talent – but it will be more rebuilding that what Fisher would have to work with in Tallahassee.
No. 2 – The Playoff Path in 2017 is much easier in the ACC
Entering the 2017 season, the Seminoles are likely going to be the favorite to win the ACC and make it into the College Football Playoff – in part due to their talent and in part because teams like Clemson, Miami, Virginia Tech and even Louisville are going to be losing key players.
In all likelihood, FSU football will be the favorite in every game they play except the opener against Alabama (as even non-conference teams like Florida and Louisiana-Monroe shouldn't be much of a challenge). Even a loss to the Crimson Tide won't hurt if the 'Noles win out.
On the other hand, LSU will be losing all that talent and have road games at Alabama, Tennessee, Ole Miss, Mississippi State and now Florida in the conference alone. The Tigers are fully capable of losing all five of those games and heading to the Music City Bowl if they are lucky.
No. 3 – Fisher would be on the hot seat the second he got to Baton Rouge
LSU is becoming a program on the level of the Texas Longhorns, USC Trojans and even the Georgia Bulldogs: teams who think they are better than they actually are based on tradition and don't realize they aren't as good as they once were.
FSU Football at Syracuse In-Depth Recap: What We Learned
No, the Tigers are not on the level of a team like Alabama at this point – so if Fisher was to go there and lose his first three games against a better Crimson Tide team, some fans will be calling for his head.
In Tallahassee, Fisher has earned a level of credibility and a "get out of jail" free card after winning the 2013 national title. In the eyes of many Seminoles, he will forever get a pass since he led the 'Noles back from the lost half decade and coached the 'Noles to their third title.
That doesn't mean everyone is willing to over look the fact that he has had four seasons in his seven years with at least three losses – but it would be nothing considering the heat he would get in Baton Rouge by fans who think the Tigers are national title contenders just because.
This article originally appeared on