Top 10 FCS quarterback matchups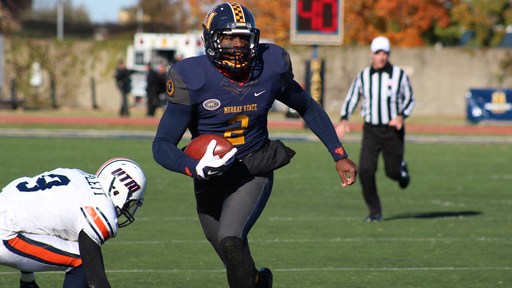 (STATS) – The Big Man on Campus sometimes has to share the spotlight.
On a Saturday of college football action, perhaps the most exhilarating secondary matchup occurs between two top quarterbacks whose teams are squaring off. The field generals may not share the field at the same time, but each is well aware of what the other is doing.
Many top quarterbacks return across the FCS this season. Here is a countdown of the 10 best QB matchups:
10. Devlin Hodges (Samford) at Antonio Bennifield (Chattanooga), Sept. 24 – Don't sleep on this early season showdown which oozes with potential. Hodges was as good as any Southern Conference quarterback over his final five starts as a freshman last year. Bennifield, a lefty dual threat, is replacing the signal caller (Jacob Huesman) who actually has been the SoCon's best over the last three seasons.
9. Aaron Bailey (Northern Iowa) at Jordan West (Eastern Washington), Sept. 17 – It's a rematch from UNI's 38-35 win last September, when Bailey was still sharing time under center before he went on to become the Missouri Valley Football Conference's newcomer of the year. This pick is assuming West holds on to the EWU job. A 3,000-yard passer usually does, but he has competition on his hands.
8. Kevin Anderson (Fordham) vs. Peter Pujals (Holy Cross), Nov. 12 at Yankee Stadium – The venue isn't all that Patriot League fans should be anticipating. Pujals ranked fourth and Anderson 11th in the FCS in total offensive yards per game last season.
7. RJ Noel (Sacred Heart) at Dillon Buechel (Duquesne), Nov. 12 – Buechel is considered the best passing QB in the Northeast Conference, having thrown for 7,455 yards and 52 touchdowns in his career. But Noel – not Buechel – has been voted as the NEC's first-team signal caller each of the past three seasons.
6. Eli Jenkins (Jacksonville State) at Bennie Coney (Eastern Kentucky), Oct. 22 – Jenkins won All-America first-team honors while running and passing for Jacksonville State's national runner-up squad last season. Coney responded when EKU turned him loose last season. He completed as many as 44 passes in an Ohio Valley Conference game.
5. Easton Stick (North Dakota State) at Aaron Bailey (Northern Iowa), Oct. 29 – As a redshirt freshman, Stick was relatively mistake-free while he beat a who's who of FCS powers in last year's playoffs, including UNI. But that was in the Fargodome. Winning at the UNI-Dome is a lot different, and Bailey and the Panthers want some revenge.
4. Jeremiah Briscoe (Sam Houston State) vs. Zach Conque (Stephen F. Austin), Oct. 1 at NRG Stadium in Houston – The annual "Battle of the Piney Woods" also is a battle of two of the better QBs in the FCS. Briscoe was a playoff star in Sam Houston's run to the national semifinals, while the 6-foot-5 Conque is in his third season starting for his father, Stephen F. Austin coach Clint Conque.
3. Kyle Lauletta (Richmond) at Steve Cluley (William & Mary), Nov. 19 – A rivalry series that dates to 1898 could decide the CAA Football title again. Lauletta finished second in the FCS with 3,598 passing yards last season. Cluley figured it out as a junior after some earlier struggles, and he's surrounded by a veteran offense.
2. Eli Jenkins (Jacksonville State) at KD Humphries (Murray State), Nov. 12 – While Jenkins received offensive player of the year honors in the OVC, Humphries led the nation in passing yards (3,778), passing attempts (532) and completions (330). Murray State isn't on JSU's level, but being at home will help the Racers.
1. Brady Gustafson (Montana) at Case Cookus (Northern Arizona), Oct. 22 – Gustafson was good enough to beat North Dakota State last season. Nobody was good enough to beat NAU in its Walkup Skydome, where Cookus passed for 24 touchdowns in five games. He went on to throw for 37 TDs – an FCS record for a freshman.