Three Stars of the Game: Iowa Hawkeyes 14, Michigan Wolverines 13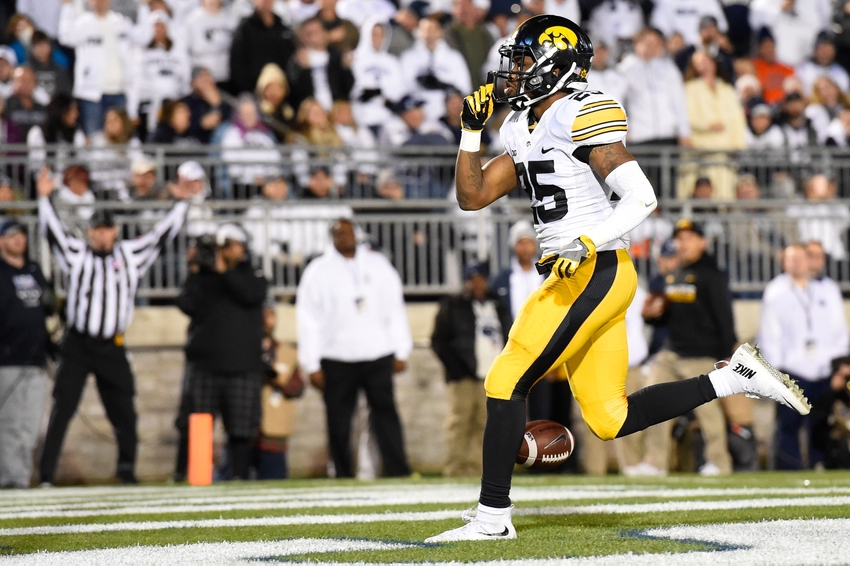 Three stars for Iowa during their upset win over Michigan
Upsetting the third-ranked team in the nation isn't done by just one or two players. The Iowa Hawkeyes played their best game of team football on Saturday, and it showed. Michigan clearly has more star power, although Iowa's best players, who can hold their own against anyone in the nation, stepped up.
Usually a 14-13 win isn't pretty, but this time Iowa looked sharp and focused. They continued their streak of scoring exactly 14 points following a loss, and contrary to popular belief before the game, it was just enough to beat Michigan.
As previously mentioned, everyone who stepped on the field played a factor in Iowa's win on Saturday night. No one made a catastrophic mistake that would have given Michigan the edge or the momentum. Iowa simply played sound football for 60 minutes and looked like the better team.
That being said, three players did stand out above everyone else. Whether it be for one play or the way they carried Iowa at times, here are the three stars of the game for the Hawkeyes.
Akrum Wadley
23 Carries, 115 Yards, 5 Receptions, 52 Yards, 1 TD
Coming into the game, Michigan allowed a mere 3.1 yards per carry. Team simply didn't run on Michigan, and if they did, it was for inconsistent chunks of yards. On Saturday, Akrum Wadley had arguably the best game of any running back against Michigan this season.
Wadley became Iowa's workhorse back by averaging five yards per carry and 10.4 yards per reception. LeShun Daniels Jr rushed for 3.9 yards per carry, a feat that shouldn't be overlooked. Although, Wadley gave the Hawkeyes' offense an aspect that Daniels couldn't — speed and elusiveness.
Michigan Football Loss At Iowa Hurts Like An SOB For Two Reasons
Iowa's physicality gave Michigan problems, but they didn't try to punch the Wolverines in the mouth by running up the gut every play. Instead, Iowa called a lot of outside runs for Wadley. Despite Michigan's speed, Wadley got to the corner more often than not and made Michigan defenders look silly.
He put them on skates with his spin moves and jukes. For every move he did to get past a Michigan defender, the crowd kept getting louder. With the way he ran, it was surprising that he never broke a long touchdown run. It seemed like a matter of time before he burst through the defense for a touchdown.
That being said, he did rush for 27 yards on Iowa's touchdown drive. Outside of a four-yard pass to Riley McCarron, Wadley gained every yard for Iowa on that drive. Plus, to top it off, a little shovel pass from C.J. Beathard is how Iowa scored, which shows the versatility Wadley has.
Michigan had no answer for Wadley. In a way, he looked like Saquon Barkley from a week ago against Iowa. He ran with speed, power and elusiveness, and also was a factor in the passing game.
Wadley accounted for 70.1 percent of Iowa's rushing yards and 78.8 percent of their receiving yards. Iowa's offense went as he went, and Wadley proved why he's a budding star.
Keith Duncan
2/2 FG
Because of Iowa going for two after their touchdown, Keith Duncan only had two kicks all game. He started the half off by making a respectable 25-yard field goal, and then showed that he has ice in his veins late in the fourth quarter.
Duncan nailed a 33-yard field goal as time expired to give Iowa a 14-13 win. 33 yards might not seem long, but remember the circumstances.
Iowa is on the verge of upsetting the third ranked team in the nation. Duncan is just 1-of-2 from kicks longer than 30 yards this year. Plus, this is the last play of the game, therefore if there is a bad snap or if he misses it Iowa loses. To top it off, Duncan is a true freshman who has never had to kick a field goal to win a game in college.
Iowa centering the ball helped Duncan, though. Duncan's kick was far from straight down the middle, which shows the nerves he had. Although, in the end, it doesn't really matter how pretty the kick was. All that matters is the kick went through the uprights.
Duncan has three more years as Iowa's kicker, however this might be his career-defining moment. Barring a game-winning kick in a big bowl game or Big Ten Championship Game, kicking a 33-yard field goal as time expired to upset the third ranked team in the country is how many will remember Duncan.
Manny Rugamba
 4 Tackles, 3 Pass Deflections, 1 Interception
Manny Rugamba has seen more and more playing time this year. The true freshman had a big interception against Minnesota earlier this year, which makes his interception against Michigan unbelievable.
Late in the fourth quarter, with Michigan up 13-11, the Wolverines were driving down the field and looked poised to score a touchdown to put the game away. They had already converted two third downs and Iowa's defense looked gassed.
On third and nine from Iowa's 38, Wilton Speight threw a pass to Jehu Chesson for what would have been a first down. Instead, Rugamba, who had a fantastic game overall, ripped the ball out of Chesson's arms and came up with the interception. Iowa ended up throwing an interception on the ensuing drive, but it changed the momentum of the game and field position.
While Rugamba's game saving interception is what he will be remembered for on Saturday, he had a great game overall. Just like most teams, Michigan did not want to test Desmond King. Amara Darboh had one catch for five yards as King smothered him on defense.
That left Speight trying to pick on Rugamba. Mostly on Chesson, Rugamba held him to just two catches for 30 yards. Most of the time Rugamba was right on top of Chesson and was able to get a hand on the pass to bat it away.
Speight only completed 11-of-26 passes for 103 yards and an interception, as Michigan's pass game went missing quickly.
When it comes down to it, the secondary had to play well for Iowa to win, and Rugamba stepped up. He gave the Hawkeyes a reliable second option alongside Desmond King, and it paid off. Manny Rugamba now has more interceptions than King in 2016.
This article originally appeared on