Three reasons each why Notre Dame or Texas will win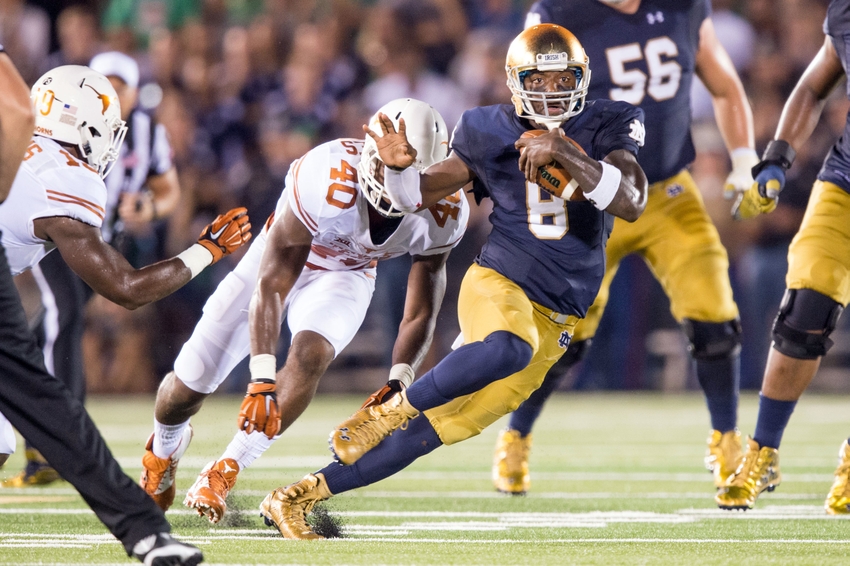 With only a few hours left until kickoff, here are three reason why Notre Dame will win tonight's game against Texas. And three reasons why Texas will win.
Think of these as the keys to the game. They are really more three reasons why each team should win than absolute certainties. But if either side can effectively limit the impact of any of these reasons, then we should have ourselves an interesting matchup.
Ultimately, both sides are too much in a state of flux to call it definitively either way, and while Irish fans may be tempted to think the team's surplus of talent will be enough, the opening week of college football can be weird, and Notre Dame has lost to worse teams before. (South Florida 2011, anyone?)
Why Notre Dame will win
Any combination of Malik Zaire and DeShone Kizer is better than Tyrone Swoopes and Shane Buechele. Just look at the stats from last year. Zaire had 313 passing yards and three touchdowns. Swoopes had 93 yards and no scores. Kizer threw 21 touchdowns in 11 starts last year, while Buechele has yet to play a snap of college football. Notre Dame has to decide between two elite quarterbacks. Texas has to choose between two mediocre options.
The defensive line is still very very good. Sure, the Irish lost Sheldon Day, but they are a loaded unit, with Daniel Cage, Isaac Rochell, Jarron Jones and Jerry Tillery all returning, not to mention Andrew Trumbetti, Jay Hayes and true freshman Daelin Hayes. This is a group that will be able to impose their will at the line of scrimmage and put lots of pressure on whomever is at quarterback for Texas.
The ground game is primed to explode. Tarean Folston and Josh Adams have a thunder-and-lightning dynamic that should make them hard to stop. Dexter Williams is a fantastic third-string option with all sorts of speed. In front of them, the Irish have an incredibly experienced line, with Mike McGlinchey and Quenton Nelson forming probably the most fearsome left side in the nation. The rest of the starters all have at least three years experience in the program.
Why Texas will win
Off-field issues for Notre Dame may affect the Irish more than their coaches have let on, especially among a young defense. It was only two weeks ago when five Irish players were arrested, after all. Since then, the line coming out of South Bend has been that the team has put the incident behind them, but the fact remains that the arrests robbed them of a starter, Max Redfield, and could leave a psychological mark.
Ready to exploit that potentially weak defense are the Smash Brothers, D'Onta Foreman and Chris Warren. Two big, burly backs with impressive speed and quickness for their size, Foreman and Warren should be able to wreak havoc once they get past the defensive line, and the Longhorns return some decent depth on their own offensive line.
Texas hasn't lost a home opener since 2000, and the Longhorns will have a sellout crowd on their side Sunday night. Notre Dame hasn't started a season on the road since 2006 and is 5-8 in true road games over the past three years. It's a bit of a stretch, to be sure, but homefield advantage could be a very real thing in this game.
This article originally appeared on