Three keys to another Oregon run to College Football Playoff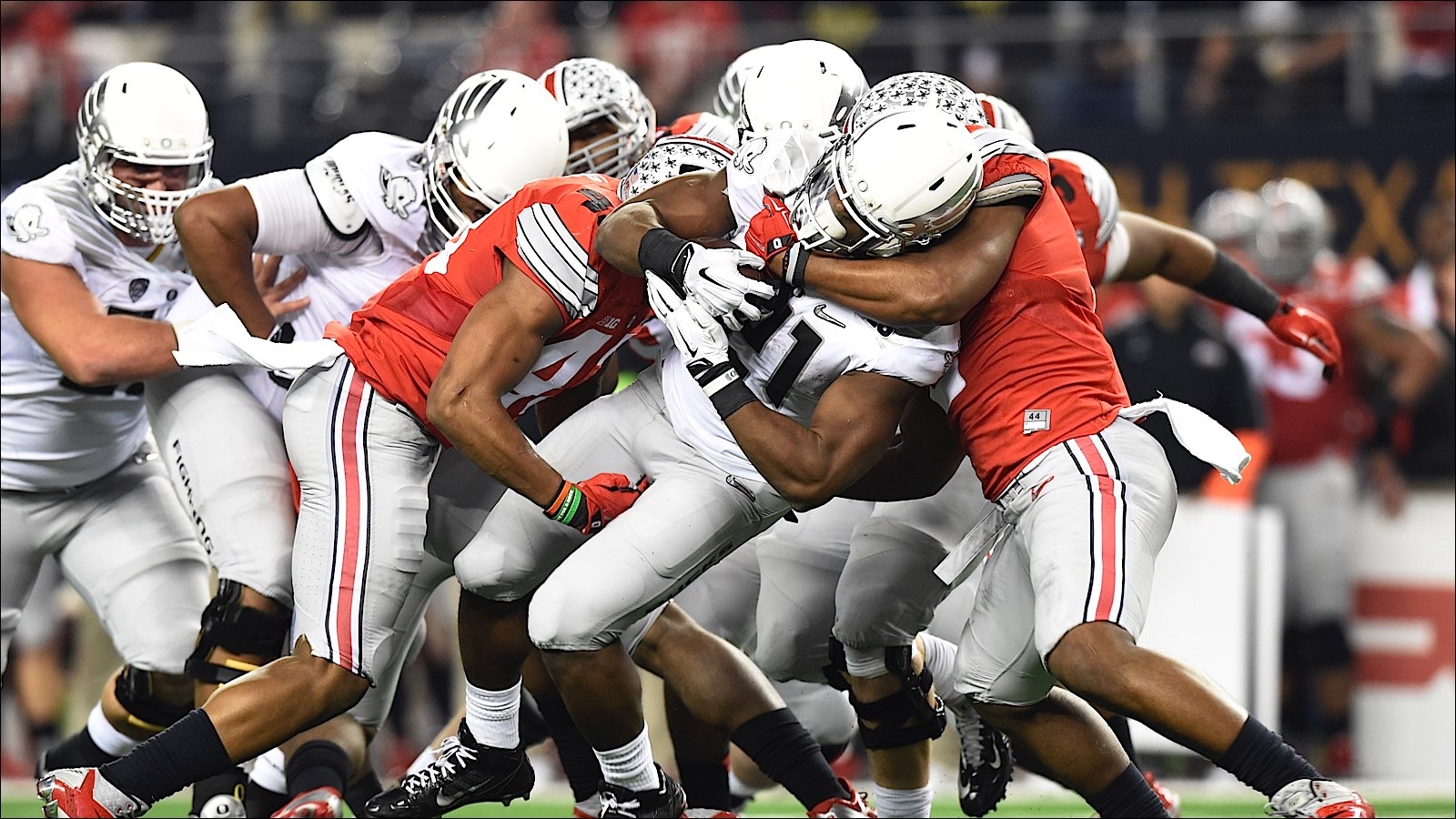 A year after making it all the way to the inaugural College Football Playoff national championship game, the Ducks are solely focused on making a repeat appearance. However, without 2014 Heisman Trophy-winning QB Marcus Mariota, the road to the playoff looks to be a bit tougher.
That being said, FishDuck.com's Charles Fischer believes the Ducks can and will make it back to the College Football Playoff this season. But, in order to do so, Fischer believes there are three components the Ducks must focus on: Keeping the offense balanced, defending the counter play and playing Charles Nelson on both sides of the ball.
Here's a deeper explanation for all these keys from Fischer:
On keeping the offense balanced:
"Whenever people throw stats at me — it's hard to keep from nodding off, but bear with me a touch as I condense my assertions to a few pertinent points. When you compare last year (2014) to (former coach Chip Kelly's) final year as a coach, it is evident that Oregon is a more balanced offense under head coach Mark Helfrich. Oregon is not going to an all-passing attack such as the Air Raid offenses of Cal and Washington State, but it's clear that the Ducks have been shifting to the passing side gradually.
"Oregon's average rushing yardage per game still led the Pac-12 last year, but dropped by 81 yards (315 to 234) from 2012 (Chip's final year). Conversely, the Ducks have watched their passing yardage increase by 90 yards per game (312 vs. 222) in the same time period, for a slight overall yardage increase of nine yards a game to 546 yards versus 537."
On adjusting to the counter play:
"Many of you recall when I introduced Oregon's "Hidden Bear" defense on this website about a year-and-a-half ago and how it contained the Texas offense in the Alamo Bowl. One of the most painful analyses I ever had to create was explaining how Ohio State gouged the Ducks with their Counter Play in last year's National Championship game.
"We as fans needed to know how they analyzed our tendencies and took advantage of them. An adage about football coaches? They throw something at you until you prove that you can stop it, hence Oregon will see the Counter Play every game until they can recognize it and defeat the blocks or run some variations to the 4-0-4 defense to keep an opposing offense from running the Counter Play continuously.
"To me … this is as much drama as anything associated with the season. How much of the "Hidden Bear" will Pellum retain? Will he add some surprises to it? Will the players be able to recognize the Counter Play as it is developing and defeat their blocks better than the NC game? This is why I pay money to watch — and it is so fun to ponder. (I'd bet on the Ducks!)"
And finally, on Charles Nelson:
"Everyone knows this guy is insanely talented, and I was completely sold on Nelson moving to defense — until the spring game. This guy has football speed that few do, and his ability to cut or stop-on-a-dime is unique; shouldn't he be on offense as he is such an impact player? But he appeared to be a natural at corner?
"You cannot play him entirely both ways for the season as he would wear down, but what about using him both ways only when he can make the most impact? How about bringing him in on both offense and defense when it is 2nd-and-long, or 3rd-and-long? I would bet that there would be enough overall plays to please him, and he would still have a comparable number of picks on defense and touchdowns on offense as other skill players."
(h/t FishDuck)
Photo Credit: Tommy Gilligan-USA TODAY Sports