Three Keys for Duke Football to Upset UNC in Rivalry Game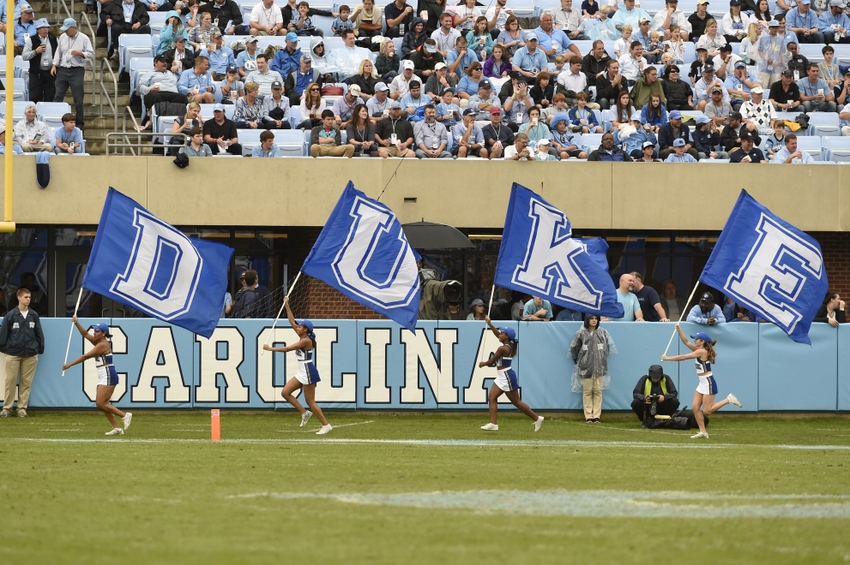 Duke Football will face off against 17th-ranked North Carolina in a crucial rivalry game for both teams. What do the Blue Devils need to do to get a win?
Duke has a very tough road ahead if they want to become bowl-eligible for the fifth straight season, but it starts with a win tonight over North Carolina. They are double-digit underdogs to the 17th-ranked Tar Heels, so what three things do the Blue Devils need to do to upset UNC and get their first ACC win?
1. Be Prepared to Adapt Defensive Game Plan
The versatility of UNC's offense makes them extremely difficult to stop. Quarterback Mitch Trubisky has excelled so far this season totaling 2707 yards and 19 TDs with only 2 interceptions. He's joined in the passing game by a talented group of wide receivers, who claim people were sleeping on them, led by All-American receiver and return specialist Ryan Switzer. On top of that, the Tar Heels also excel in the running game led by RB Elijah Hood.
2. Finish the Game
Duke has had an opportunity to win in almost every game this season, and aren't as bad as their record suggests. This has been especially evident in the last three games where the Blue Devils have been competitive against top teams but can't come away with the win. Duke has a 10-point loss at #7 Louisville, a 3-point loss at Georgia Tech, and another 3-point loss to #19 Virginia Tech. If tonight's game against UNC remains close and comes down to the wire, then Duke will need to avoid mistakes and execute late in the game to prevent another tight loss.
3. Control the Game Offensively
Big games are nothing new for the Blue Devils this season, playing at Northwestern, Notre Dame, Louisville, and hosting #19 Virginia Tech last week. Tonight's rivalry game will be a much different test though. Duke Football had a short week to prepare for the #17 Tar Heels, and will be featured nationally on ESPN in a rivalry game. The offense will need to control the game using a game plan similar to Louisville and Virginia Tech where they dominate the time of possession and call a mix of run and pass plays.
Last year was a disaster for the Blue Devils, who had a historically bad performance in Chapel Hill. Duke has lost two in a row to UNC after winning the previous two straight, and will need to win this game to keep their postseason hopes alive. Make sure to check out the Blue Devils and the Tobacco Road rivalry tonight at 7:30 on ESPN and Go Duke!
This article originally appeared on