Three Keys for Duke Football to Continue Momentum vs. Pitt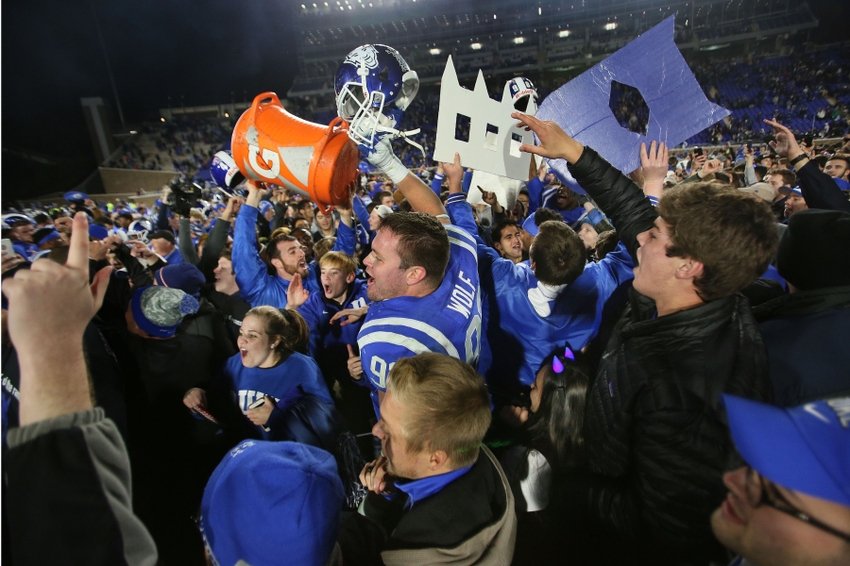 Duke and Pittsburgh are coming off upset wins against ranked conference opponents last week. What do the Blue Devils need to do to win on the road today?
Last week in college football saw a number of huge upsets over ranked teams, including Duke beating #17 UNC and Pitt over #2 Clemson. Duke and Pitt meet today, so what do the Blue Devils need to do to continue their momentum and push for bowl eligibility?
1. Protect the Ball, QB on Offense
Pittsburgh has one of the best defensive lines in the ACC this year, which has recorded 31 sacks for -241 yards this season. The Blue Devils' offensive line has struggled to protect Daniel Jones at times this season, and it will be crucial that they can hold off the pass rush today. Jones also tends to make poor decisions or force costly turnovers when he is under pressure, which keeps the Blue Devils from controlling the time of possession. Pittsburgh is an underrated and tough football team, with Coach Cutcliffe noting:
"They are as physical a football team in all three phases as there is in this country."
2. Continue Success on Defense
The Duke defense was excellent in last week's game against the Tar Heels after getting off to a slow start. They were able to limit UNC's high-powered offense and create turnovers against a team that normally takes care of the ball. The Blue Devils were able to record two interceptions against UNC QB Mitch Trubisky, who only had two all season before the game. Pitt also has a very talented and balanced offense that can create big plays, but Duke will need to find a way to limit the Panthers if they want to win.
Additionally, starting senior cornerback Breon Borders has been ruled out again with a hip injury that prevented him from playing against UNC. Freshman Mark Gilbert will make his second straight start for the Blue Devils.
3. Run the Ball
Duke Football had success running the ball against UNC, which helped them upset the 17th-ranked Tar Heels. Pitt is one of the best teams in the conference at defending the run, allowing only 105.4 rushing yards per game and limiting Clemson to only 50 yards on the ground last week. The Blue Devils will need to continue giving the ball to running backs Shaun Wilson and Joseph Ajeigbe and use QB Daniel Jones in the run game to help open things up on offense and control the game.
Technically Duke Football only needs to win one of their last two games to potentially become bowl-eligible, but winning both ensure them a bid. Be sure to check out the Blue Devils taking on Pitt at 3:30 as they push to continue their streak of consecutive postseason appearances.
This article originally appeared on