Three Keys for Duke Football Against Wake Forest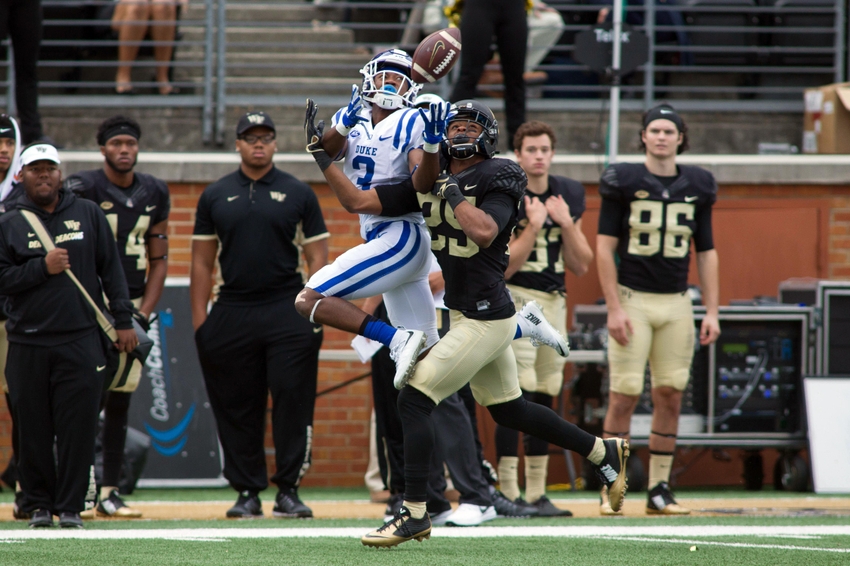 After dominating in the opener against NCCU here are three things Duke Football needs to improve on heading into their first ACC game against Wake Forest.
1. Can Duke limit mistakes and turnovers?
Duke excelled in their season opener against NCCU, but one of the major problems throughout the game was turnovers. The Blue Devils gave away five fumbles against the Eagles last week after losing only nine total last season. Most of those were self-inflicted errors on special teams and the offense. The NCCU defense only forced one of the fumbles, and the Duke turnovers led to all six of the Eagles' points. The Blue Devils will need to clean up the missteps heading into tougher competition and conference play, facing teams that will me more likely to capitalize on their mistakes.
2. How will the team handle early conference rivalry pressure?
Earlier this week, Coach Cutcliffe praised the early ACC game on the schedule for the Blue Devils saying he likes playing in big games early in the season. He also expressed some concern, adding he's "anxious to see that we practice and play with an ACC intensity." This will be the first big game and ACC matchup of the year for the Blue Devils who did not have as much time to prepare for conference competition this year.
Despite the recent success of the Blue Devils in the rivalry winning the last four in a row, Duke-Wake Forest has a big football rivalry that goes back to 1889. The Demon Deacons narrowly defeated Tulane in their season opener, but they're a team on the rise trying to emulate the improvements that Coach Cutcliffe has brought to the Duke Football program.
3. Can the offense play consistently for four quarters?
Duke had a historic first half in their season opener breaking the school record for points scored in a half. However, the Blue Devils scored all 49 points before halftime but did not score at all in the second half. This may partially be due to the changing lineups with the lopsided score, but Coach Cutcliffe was still not satisfied citing a lack of focus in the third and fourth quarters. Duke won't be able to afford scoreless halves going forward so fans should be on the lookout to see how the Blue Devils perform in the second half of the game this weekend.
Duke Football will take on in-state ACC rival Wake Forest this Saturday at 3:30 pm. Luckily the game will be at home so redshirt freshman quarterback Daniel Jones and the Blue Devils will have the home crowd to help alleviate some of the pressure off their first conference game of the year.
This article originally appeared on