Three Blue Devils Earn All-ACC Football Honors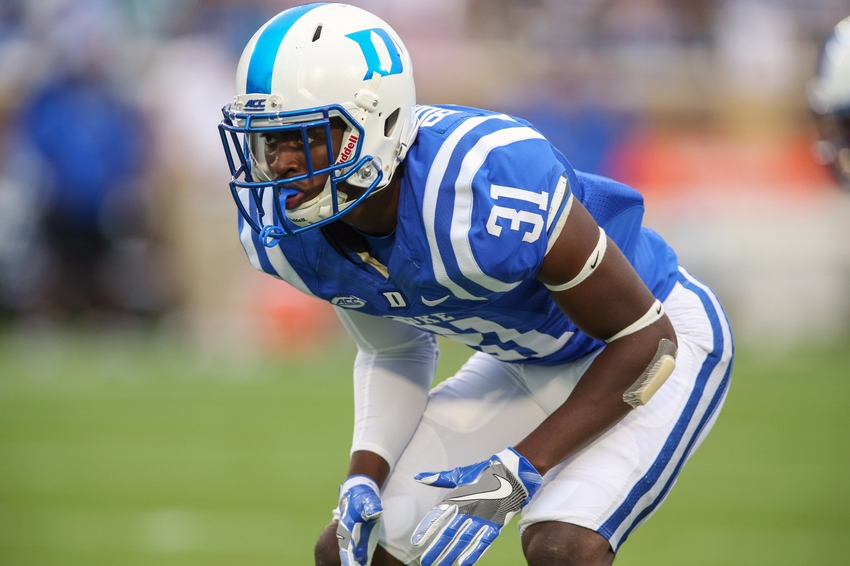 Duke Football had three defensive players selected to the 2016 All-ACC Football teams for their performances this season.
The Blue Devils struggled this season due to injuries to key players, but several players excelled in competition this year and were recognized by earning All-ACC Football selections from the conference media. Duke defenders Breon Borders, Joe Giles-Harris, and Ben Humphreys were all honored with all-conference accolades this season.
Senior cornerback Breon Borders received Third Team All-ACC honors. Borders led the conference in pass breakups per game with 1.3 per contest and 11 total. He also recorded two interceptions, 27 tackles, 2.5 tackles for loss, and one fumble recovery this year as Duke's top secondary defender. Unfortunately Borders suffered a hip injury late in the season, and his absence played a key role in the Blue Devils' collapse over the final two games of the regular season.
Sophomore linebacker Ben Humphreys was also named to the All-ACC Third Team this season. He compiled 106 total tackles, 11.0 tackles for loss, 4.5 quarterback sacks, one interception, two fumble recoveries, one pass breakup and four QB pressures for the Duke defense this season. Cutcliffe regards Humphreys as the primary leader and playmaker on defense at the middle linebacker position and displayed his improvement this season.
Redshirt freshman linebacker Joe Giles-Harris earned All-ACC honorable mention after exceeding expectations this season. As a first-year starter he led the team with 107 total tackles and finished fifth in the conference in tackles per game with 8.92. Giles-Harris also recorded 9.5 tackles for loss, 4.0 quarterback sacks, an interception, a fumble recovery, two pass deflections, and four QB pressures this year.
Congrats to the Blue Devils on earning All-ACC honors this season! Duke fans will have a lot to look forward to with Humphreys and Giles-Harris returning with the potential to become the top linebacker duo in the conference over the next few seasons.
More from Ball Durham
This article originally appeared on