Third Down Efficiency Key to USC Football's 2016 Turnaround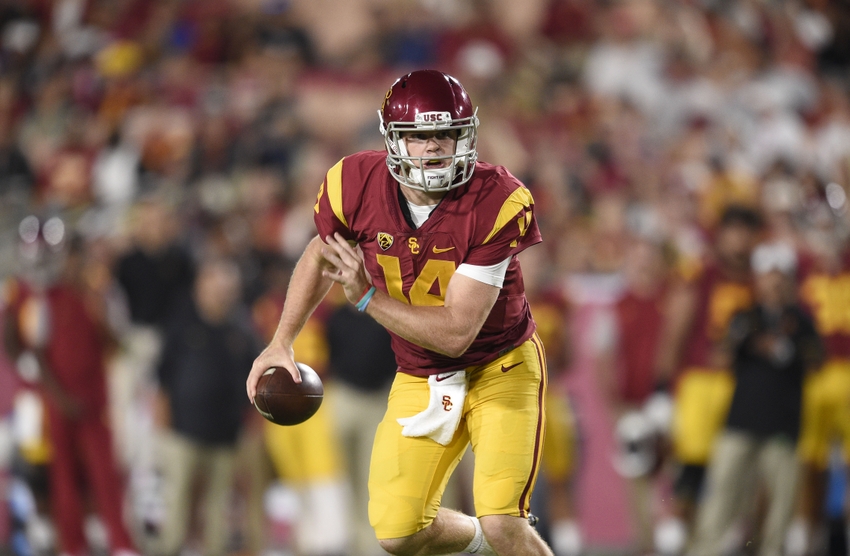 While quarterback Sam Darnold and the USC defense are getting praise during the Trojans' seven-game winning streak, much improved third down efficiency has paid dividends the past two months.
Football is a simple game.
If you move the chains for first downs more often your opponent, you'll likely gain more yards on offense, and increase time of possession.
If you gain more yards and control the clock compared to the team you're playing, the chances are you will create more scoring opportunities. That leads to more points and eventually the improved likelihood of winning.
For the suddenly red-hot 2016 USC football team, driving down the field for extended opportunities comes down to succeeding when it matters most: on third down.
The Trojans are converting 58.3 percent of third downs in November, the highest rate among Power 5 teams. It's up from 46 percent in October, and 39.6 percent during a disastrous 1-3 September.
Against UCLA this past Saturday, USC was a staggering 12-of-21, plus a perfect two-for-two on fourth down. It led to nearly 44 minutes of possession and contributed to a game control that paralyzed the Bruins' comeback attempt.
Why the sudden uptick in third down performance?
First there's doing the little things right, like Sam Darnold's magical ability to escape pressure, and the Trojans' eighth-ranked 6.14 yards per carry average on third downs.
Then there's Darreus Rogers and his Pac-12-leading 100 percent conversion rate on third down catches. He had one on each of USC's three touchdown drives vs. Washington two weeks ago.
"The strength of his hands at the point of contact when the ball hits, you just know it's going to come down," head coach Clay Helton said of Rogers' third down abilities. "It's usually man coverage or some type of drop-seven or drop-eight where you know there's going to be tight windows. And time and time again, he's come up with huge plays for us this year."
But for offensive coordinator Tee Martin, the rise in efficiency is more so a result of comfort, which has had its effect on play calling.
"Go back to the Stanford game, it was like a third down nightmare," he said. "Third-and-15, third-and-12, third-and-20. Those are hard. We've [now] been able to manage first and second downs better, to give us third-and-managable."
It's no surprise the Trojans are at their best when they're not forced to go for broke in long yardage situations.
The numbers bear it out, as the Trojans have been particularly successful in the passing game on second down.
As a team, they rank first in FBS with a 72.5 percent second down completion percentage, while Darnold –who first started in Week 4– boasts a passer rating of 193.1 on second down.
That kind of success early within a set downs goes beyond just setting up simpler distances for third down conversions.
It keeps USC within what Football Study Hall calls standard downs, or situations like second-and-6 or third-or-3, in which both a run or pass could be called. In turn, opponents have to defend honestly.
Given a roster full of playmakers like Ronald Jones and JuJu Smith-Schuster, it's no surprise the Trojans are at their best when they're not forced to go for broke in long yardage situations. After all, Helton does preach balance for a reason.
On standard downs alone, USC's offense ranks eighth nationally in S&P+, and has a success rate of 53.1 percent, good for 17th.
All told, it makes Martin's life significantly easier as a play caller. Not to mention, he and Helton have matured together.
Back in September, critics were the hardest on Helton over his conservative approach with not going for it on fourth down.
As the season has gone on, he developed his habits in a way that have fostered a growth in confidence around him.
"[He] has done a great job of letting me know, 'Hey, you've got four downs here,'" Martin said. "That's helped in the planning of third downs."
Together, with Helton's freeing up pressure on the back-end of downs in various situations, and Darnold and company excelling early, the Trojans have found a rhythm on offense which keeps them on the field for longer.
TRENDING: 10 Things USC Fans Can Be Thankful For in 2016
The result is that 79.4 percent of USC's drives in 2016 have featured a first down or a touchdown, up from 72.8 percent last season.
It all makes for more scoring opportunities, which when matched up with a newfound dominant defense, allows for more favorable outcomes and victories.
This article originally appeared on