The Weirdest Possible Scenario for the CFP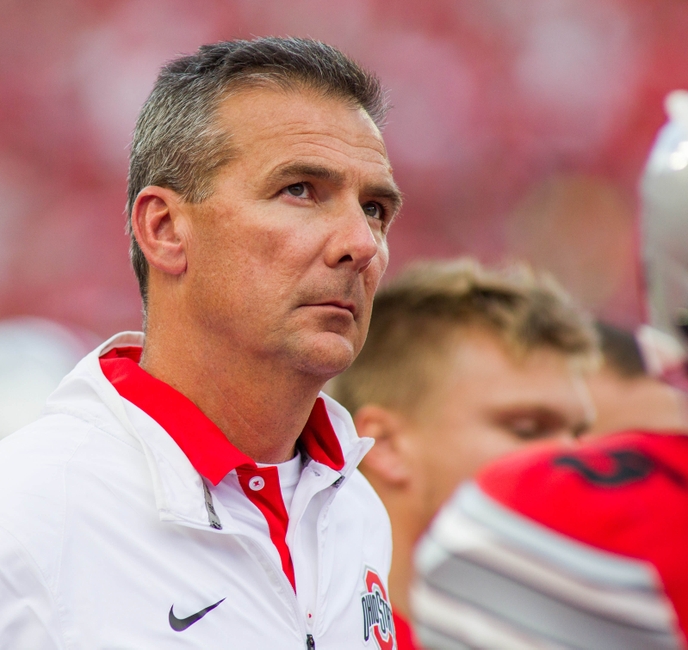 CFP possibilities?
So at this point in the season – it's pretty easy to predict the likely teams that'll be playing in the College Football Playoff. Alabama, Clemson, OSU/Michigan & Washington are the typical teams that people put in the CFP. However, college football is unpredictable, so what is the weirdest, and kind-of realistic possible situation?
Let's start with the Big Ten. 
So 4 teams are still alive in the B1G. Ohio State, Michigan, Penn State and Wisconsin. Here's the weirdest possible situation for the Playoff Committee to handle: Michigan loses at Iowa this Saturday, Penn State wins out, and Ohio State wins out.
This would result in a 2-way tie between Ohio State and Penn State, and Penn State would win the tiebreaker – making the Big Ten Championship.
If Penn State wins the B1G championship, do you put them in? I mean – they lost to Pitt and got destroyed by Michigan – but regardless, are Big Ten Champions. And how do you keep Ohio State out?
The Buckeyes will have only had 1 blemish on their schedule, a road loss in arguably the most hostile environment in America to (what would be) a top-10 opponent.
This makes for an awkward situation but check out what could happen down south.
What about the SEC?
Everybody has been writing in Alabama as the number 1 seed since last year's championship. But wait…. Alabama still has work to do.
With a match-up next week against Mississippi State, who just beat the #4 ranked Texas A&M Aggies, the Crimson Tide can't start preparing for their CFP run just yet. After their game vs the Bulldogs – Alabama has their annual Out-Of-Conference blockbuster game – a home game vs Chattanooga (*sarcasm*).
It'll be tough to recover from just a tough opponent, but the Tide had better turn around fast. Nick Saban's squad has a test in the last week of the season.
The Alabama Crimson Tide will likely be playing in a pseudo-SEC championship game. Surprisingly, Auburn has had a really good season. They've only lost 1 game – so with a win vs Alabama they'd have the tiebreaker and would represent the SEC West in the conference championship.
Against whoever decides to win the SEC East. So what if this happens? What if Auburn does win out and locks out Alabama from the SEC championship?
I mean – obviously ESPN is going to want both Alabama and Auburn to be in the playoff, but what really happens – who knows…
Is there any debate about the representative from the Pac-12?
Yes. I think I'm the only one left that isn't a full believer in Washington. But THEY HAVE PLAYED NOBODY.
Washington's Out-Of-Conference schedule contained Rutgers, Idaho and Portland State. All at home. So no – I am not sold on them yet and think they'll lose to Washington State the final week of the season.
What if I'm right? (I'm usually right.) Well, the Pac-12 probably won't be a part of the 2017 College Football Playoff. Washington will be exposed as a pretender and won't even be considered as a one loss team. Bye, bye Huskies!
To be honest, I think this one is very realistic.
Could we see 2 teams from the ACC?
No. We will either see 0 or 1 teams from the ACC. The obvious choice here is Clemson. Clemson probably  won't be losing for the rest of the regular season. The Tigers have Pitt, Wake Forest and South Carolina left on their schedule.
But what if they lose to North Carolina in the ACC Championship? By beating Louisville and keeping them out of the ACC Championship – they locked the Cardinals out of the playoff.
And if they were to lose to North Carolina in the ACC championship – they'd lock themselves out of the playoff. No, North Carolina will not make the playoff under any circumstances.
Like I said 0 or 1 teams from the ACC will make the CFP. Personally, I don't see Clemson losing to North Carolina – So it'll probably be 1 – but you never know!
The Big 12 is locked out, right?
Right. Barring a remarkable collapse of the top teams in the country, no Big 12 team will even sniff a CFP Final Four ranking. Oklahoma is the highest ranked Big 12 team and they have a VERY slim chance.
The Sooners are the only Big 12 team with even a 0.25% chance to make the playoff and they even have work to do themselves. Bob Stoops' team must beat 3 straight ranked opponents and have at least 5 teams in front of them lose in the next 3 weeks. Not happening.
Not to mention – the Big 12 doesn't have a championship game, so they can't even get 1 final resume booster.
I'll bet my life savings that a Big 12 team doesn't make the Playoff this year. Even though that's not very much money…
So if all of the weirdest – but kind of realistic things happen – what is the playoff going to look like?
My 'Weird Playoff':
Clemson
Ohio State
Auburn
Alabama
More from Scarlet and Game
Okay, before you start tweeting angry things at me – let me explain. I'm going off of the weird scenario that Penn State wins the Big Ten, but OSU still wins out. That combined with Auburn winning out, including a win against Alabama and a Washington loss at Washington State.
Let's face it – If Alabama loses to Auburn, it'll be a fluke – and the CFP committee won't drop them out of the Top-4. Although I believe that it will give Auburn the rights to jump over Alabama because of the head-to-head win.
Penn State's losses will be too much to overcome, and OSU's loss isn't that bad – The Buckeyes aren't moving down if they win out – only up.
Let's be real. This probably isn't happening – but I wouldn't quite rule it out yet. All of these scenarios are semi-realistic. But it would we a shame if 2 SEC teams got to the playoff when you consider how horrible the conference is this year.
What does your improbable CFP look like?
This article originally appeared on