The Truth About Arkansas Football and the West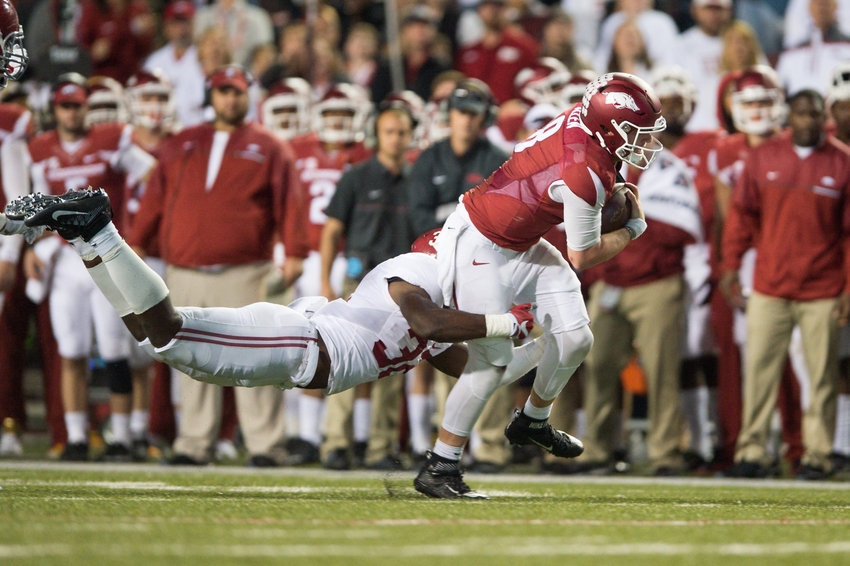 Listen to some sports talk shows in Arkansas and you will hear plenty of excuses as to why Razorbacks football is struggling. One excuse is that Arkansas has to compete in the SEC West.
Some sports personalities get special treatment from their respective program that they cover and don't want to rock the boat. I understand that and you gotta protect the bread. That said, how honest are they with the fan base as to what is going on?
We've all heard how hard it is to compete in the SEC west and I'm not saying that it's not. What I am saying is that there is a perpetuated myth that the SEC West is a collection of nothing but top 5 teams. Yeah, I said it, the SEC West being that amazing is a myth.
It's Alabama and sometimes LSU. Yeah, Ole Miss has beaten Bama but they haven't gone to any playoff in that time. A&M is finally on track to contend this year but has traditionally been a trash team. Let's look at what these powerhouses did out of conference just real quick. LSU lost to Wisconsin who lost by 7 to Michigan and Ole Miss crumbled against a bad Florida State.
Arkansas can't compete with middle tier teams and that is the truth. The thing about being in a conference is you should be competing in that conference. That is the whole point of being in that conference in the first place. That has gotten worse in the past few years. Under Bielema, Arkansas has finished outside of dead last in the SEC one time.
Last year they came in at 3rd under Bama and Ole Miss. I am not going to get into how lucky they were last year with the Ole Miss and Auburn games but if we're being honest with ourselves, we know it could have easily been another year in the gutter. Competitive is not getting lucky 1 out of 4 years to come from the bottom to 3rd place. Competitive is middle of the pack with a down year every once in a while. Arkansas is not competitive and hasn't been in 5 years. This is a simple truth and it doesn't look like this year will be much different.
More from Razorbackers
This article originally appeared on