The Ten Best Egg Bowls of My Life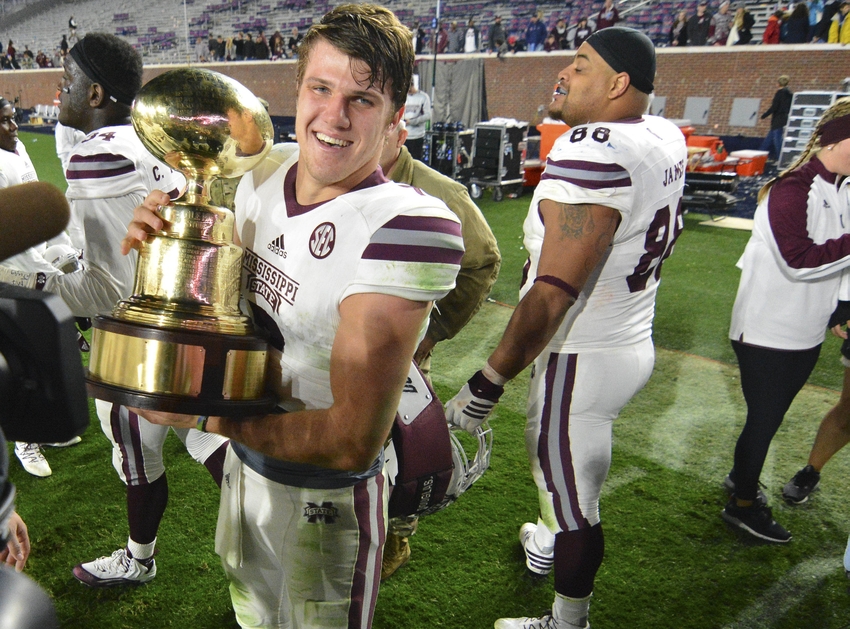 Here is my list of the ten greatest Egg Bowls of my lifetime and not surprisingly, they are all Bulldog wins.
I attended my first Egg Bowl game as a child back in 1969. The game was played in Starkville and as I recall, Ole Miss won rather handily. While the game itself was one sided against my beloved Bulldogs, it was the verbal abuse I took as a nine year old kid from an intoxicated Rebel fan that solidified my dislike of Ole Miss.
The game wasn't called the Egg Bowl back then. It was known as the "Battle for the Golden Egg". The name "Egg Bowl" was coined some years later by the Clarion-Ledger sports department to address the fact that neither team had played in a bowl game in some time. The C-L created the "Egg Bowl" as a way to create some hype for the Mississippi State vs. Ole Miss game. The name stuck.
While I haven't been to EVERY Egg Bowl game since 1969, I have been to quite a few. Here's my list of my ten favorite Egg Bowls.
Keep in mind that these lists were created from my range of my experiences. These are games that occurred during my lifetime that I either attended in person or watched on TV. (Games marked with * are one I personally attended.) These are not necessarily the greatest games of all time, but they are the ones that stick out in my mind, for better or worse.
Honorable mention:
* 2009 – MSU 41, Ole Miss 27 (Starkville).  In Dan Mullen's first Egg Bowl, the Bulldogs avenged the 45-0 embarrassment of the previous year with a decisive win over the Cotton Bowl bound Rebels.  This was the first of three consecutive Bulldog wins in the series, the first time that had happened since the 1940's.
*10. 2011 – MSU 31, Ole Miss 3 (Starkville)
Ole Miss limped into the final game of Houston Nutt's tenure with a 2-9 record, while MSU at 5-6 was playing for bowl eligibility.  On a cold & rainy night, MSU dominated the Rebels for a very satisfying 31-3 win.  Those who remained for the entire game were rewarded with a late bonus.  Instant replay reversed an apparent Ole Miss touchdown on the next-to-last play of the game. The video of it is above.
9. 1991 – MSU 24, Ole Miss 9 (Starkville)
In Jackie Sherrill's first Egg Bowl, the Bulldogs earned a Liberty Bowl bid win a dominating performance over the Rebels. I remember paying $29.95 for the pay per view on this game, which was a lot of money to me back then. But it was well worth it. *8. 1974 – MSU 31, Ole Miss 13 (Jackson)
The Sun Bowl bound Bulldogs, led by QB Rockey Felker and running backs Walter Packer and Terry Vitrano, slashed and gashed the Rebel defense with their vaunted Veer offense and rolled to an easy win to cap off an 8-3 regular season.  The Bulldogs went on to defeat North Carolina in the 1974 Sun Bowl.
*7. 1970 – MSU 19, Ole Miss 14 (Oxford)
In the first SEC road game I ever attended, the Bulldogs scored the upset over the Gator Bowl bound Rebels to finish at 6-5, their first winning season since the 1963 Liberty Bowl season.  The Rebels were playing without star QB Archie Manning, who had broken his arm earlier in the season.  That mattered little to me.
*6. 1980 – MSU 19, Ole Miss 14 (Jackson)
Ten years later, we had a second 19-14 Egg Bowl.  In this one, freshman QB John Bond capped a nine win season with an impressive performance against the Rebels.  In a game where the score was much closer than the actual game, Bond was unstoppable with 163 rushing yards to lead the way.  This win was made even sweeter by the fact that the Bulldogs had already registered wins over then-#1 ranked Alabama, Auburn and LSU. This Egg Bowl win gave them their ninth win of the year for only the second time since 1941.
*5. 2007: – MSU 17, Ole Miss 14 (Starkville)
In Ed Orgeron's final game as the Rebel head coach, Ole Miss pretty well dominated the first 50 minutes of the game and held a commanding 14-0 lead.  But a failed fourth down conversion by the Rebels seemed to re-energize the Bulldogs. Derek Pegues' electrifying 75 yard punt return tied the game and a last second field goal secured the win in a game that for the Bulldogs had seemed hopelessly lost just minutes earlier.  This essence of this game was masterfully captured by this video:
4. 2016: – MSU 55, Ole Miss 20 (Oxford)
This game has staying power. MSU was a 10 point underdog and beat the Rebs by five touchdowns. After all the off-season talking about the NCAA investigation and the talk about Ole Miss leaving State behind, it didn't happen. In fact, it was a no-doubter by MSU featuring Nick Fitzgerald setting the school rushing record and Ole Miss giving up more total yards than they have in program history (566). I've been waiting 50 years for a beatdown like that.
3. 1998: – MSU 28, Ole Miss 6 (Oxford)
This game wasn't close and although convincing wins over Ole Miss are always sweet, this one ranks as #3 for me primarily because of the significance of the victory. The Bulldogs earned a spot in the SEC championship game with this win. Above are highlights from the game.
*2. 1999: – MSU 23, Ole Miss 20  (Starkville)
Played on a damp and cold Thanksgiving night before a national ESPN TV audience, Ole Miss entered the fourth quarter with a commanding 20-6 lead.  But this MSU team had a knack for come-from-behind wins.  State scored two touchdowns in that fourth quarter, the second one with just seconds left in the game play to it at 20. Ole Miss Coach David Cutcliffe chose not to play for overtime, opting instead to have QB Romero Miller throw deep. But the pass was broken up and the ball ricocheted off Robert Bean's foot into the hands of Eugene Clinton, who raced down the sidelines to the Ole Miss 27 yard line.  With just eight seconds to play, MSU's Scott Westerfield came on and kicked a game winning 44 yard field goal.
*1. 2013 – MSU 17, Ole Miss 10 (Starkville)
Seriously, can it get any better than last year's Egg Bowl?   Rebel fans were SO sure they had this one in the bag.  State was forced to start a third string quarterback and the Rebel narrative for weeks was that Mullen's recruiting had caught up with him and that the program was headed south.  But Dak Prescott surprised everyone by coming off the bench in the fourth quarter and leading the Bulldogs to first tie the game in regulation, then score the go ahead TD in overtime.  And if that wasn't good for you, what happened on the final play had to be one of the most memorable finishes of all time.
More from Maroon and White Nation
This article originally appeared on