The REAL Issue in Bret Bielema's Coaches Poll Ballot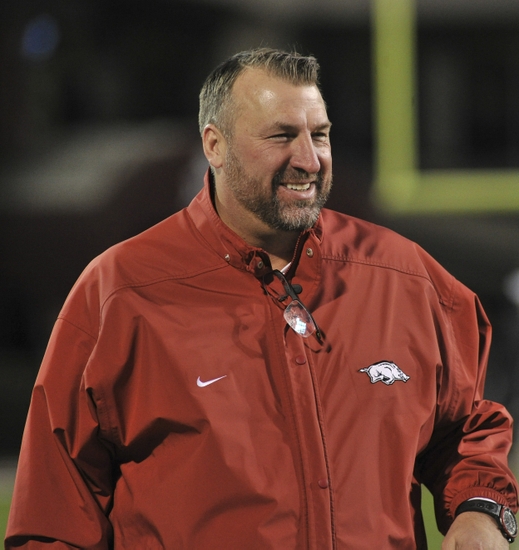 It's bowl season so with that comes all the drama of coaches and or players taking shots at the opposing teams. In the case of Bret Bielema, it always seems a small thing is blown.
It was December 2014 and Bret Bielema is doing a pregame press conference for the Texas Bowl with Texas head coach Charlie Strong. After the coaches are done at the table, it's picture time. It's at this moment that Bielema does a hand twitch while shaking Strong's hand which looks to be a "Horns Down" hand sign.
It was later explained by Bielema as a hand twitch and he apologized for the misunderstanding. Fast forward to December 2016 and what do you see when you search Bret Bielema or the Belk Bowl new? All new bowl season drama. This time over a coaches poll snub by the head Hog but explains it was an accident for which he has already apologized.
It all started when Bielema submitted his coaches poll votes, which with it being the coaches poll, makes it already meaningless. I mean, who actually cares about this poll? When the Communications Director accidentally left out the Hokies from coach B's ballot, it was only fitting that less than 24 hours later, Arkansas would be paired with them in the Belk Bowl. Pretty soon after the bowl selection was announced, Arkansas released a press statement which explained the mixup.
Later on Sunday, during his evening Bowl reaction press conference, Bielema was quick to address the mistake and saying where he intended to actually have Virginia Tech ranked. According to nwaonline.com, the coach said, "I don't want to speak out of turn, but I think I had them at 17 or 21? But they are in there. If they aren't, then we need to file a grievance."
Want your voice heard? Join the Razorbackers team!
To help move everyone along and off the "issue", Virginia Tech Football twitter tweeted they had accepted coaches apology.
The best reply I saw about this whole thing was, "is this actually a thing?" I don't think Hokie fans actually cared in the first place but well, some media had to blow it up. I love some good Bielema controversy as much as the next sports writer but this one was just a paper tiger of an issue.
Now that both sides have moved on and acknowledged that this was a misunderstanding blown out of proportion, let's get back to the real news. In my opinion, the real story here is what WAS on the coaches ballot. Kentucky at 24 and Michigan over Penn State at 5th and 6th? Now that's a scandal. I guess the playoff committee aren't the only ones that don't reward conference champions.
I don't expect a statement anytime soon for this debacle but I would love to hear his reasoning on his choices here. Oh well, I guess we will go ahead and get back to real team coverage. Arkansas takes on the Hokies in the 2016 Belk Bowl on December 29 at 4:30 p.m. in Charlotte, North Carolina. Make sure to follow us on twitter @RazorbackersFS for news and analysis leading up to the game. Also, for Hokies insight, @GobblerFighting. Woo pig!
More from Razorbackers
This article originally appeared on