The Perfect Plan For LSU's Upcoming Coaching Decision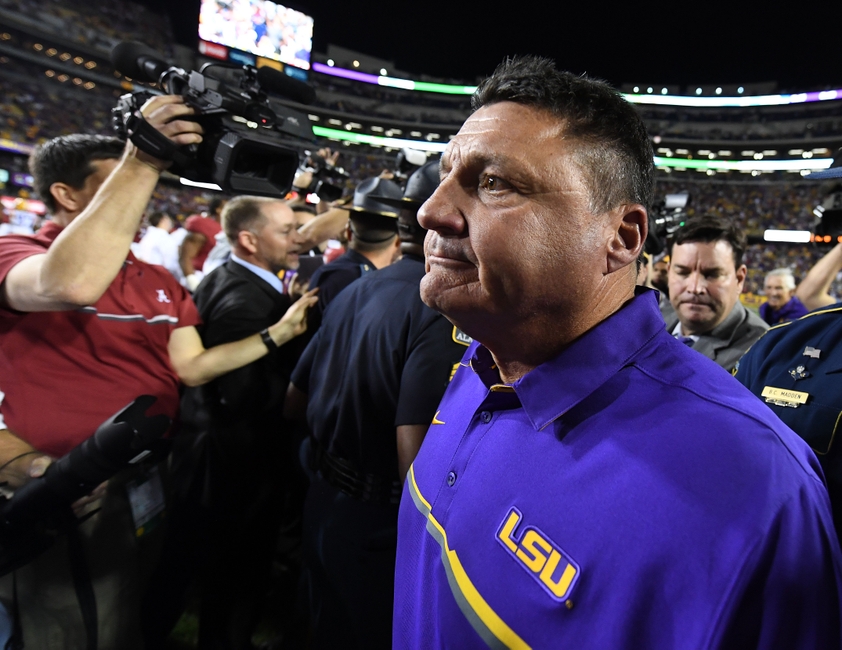 With Saturday's loss against the Alabama Crimson Tide, LSU is all but officially eliminated from any kind of championship picture. There are still games left to be played, and if all goes right, the Tigers could play in a premier bowl game. But, the big story since the game has been the head coaching position, as many are re-examining the options after Ed Orgeron failed to beat Alabama.
LSU was shutdown by the Tide defense, and would end up losing by a final of 10-0. That had a lot of people once again thinking that the program needs to bring in one of the country's top offensive minds to be the next head coach. For years under Les Miles, we saw a team that could never find a way to put up points against Nick Saban and Alabama, and Saturday night's game brought flashbacks to the minds of many fans.
While the feeling is understandable, I think a lot of people are writing Ed Orgeron off too quickly. We seem to forget that in the three games prior the loss, LSU's offense was one of the hottest in the nation. They lit up the scoreboard in three consecutive games, blowing out Missouri, Southern Miss, and Ole Miss.
The pitiful performance against Alabama is concerning, but it's not the end of the world. Orgeron still has three games to prove himself. If he can win down the stretch, I believe it could open the door to a possible scenario that, in my opinion, would be the best course of action for this program to take.
The process starts by giving the head coaching position to Ed Orgeron. He has proven that he is a fantastic leader, and his ability to inspire his players on a weekly basis is incredible. Coach O has shown that he is not stubborn, and is very willing to change his approach from week to week. He keeps everyone focused, he lets his staff do their job, and he has his team prepared.
By opting to go with Orgeron rather than one of the big-name coaching candidates, the Tigers would also save probably somewhere around three million dollars. Guys like Tom Herman and Lane Kiffin would likely want at the very least six million or so, and with his love for the program, I guarantee Orgeron would work for half of that, if not less.
LSU would then use that excess money to give defensive coordinator Dave Aranda anything and everything that his heart desires. Aranda has only been here for a brief period of time, but his impact is already being felt. He has built the LSU defense into arguably the best unit in the country, and the team must do whatever it takes to keep him around. With the success he has had, he will likely get some great job opportunities, and the Tigers need to give him whatever is necessary to keep him from leaving.
Now, the team takes the remaining money saved by signing Orgeron, and along with the rest of the funds in the staff budget, LSU signs the best offensive coordinator available. I don't have a specific name in mind, but the Tigers would go out and throw a lot of money at a big-name offensive mind.
By doing this, LSU makes everyone happy. Superstar defensive coordinator Dave Aranda is kept in town, which is absolutely vital to the future of this program. The people clamoring for major offensive change and better quarterback development get an elite offensive mind who can help to transform the team on that side of the ball. To top it all off, the Tigers have the perfect head coach to make it all work. Ed Orgeron is neither an elite offensive mind or defensive guru, but what he is great at is overseeing, delegating, and motivating. Coach O seems to be perfectly fine sitting back and letting his staff do their jobs, and with this plan, he would have one of the best minds in the game at both coordinator positions. All he would have to do is sit back and captain the ship.
More from Death Valley Voice
This article originally appeared on