The Palmetto Bowl: Inside the Numbers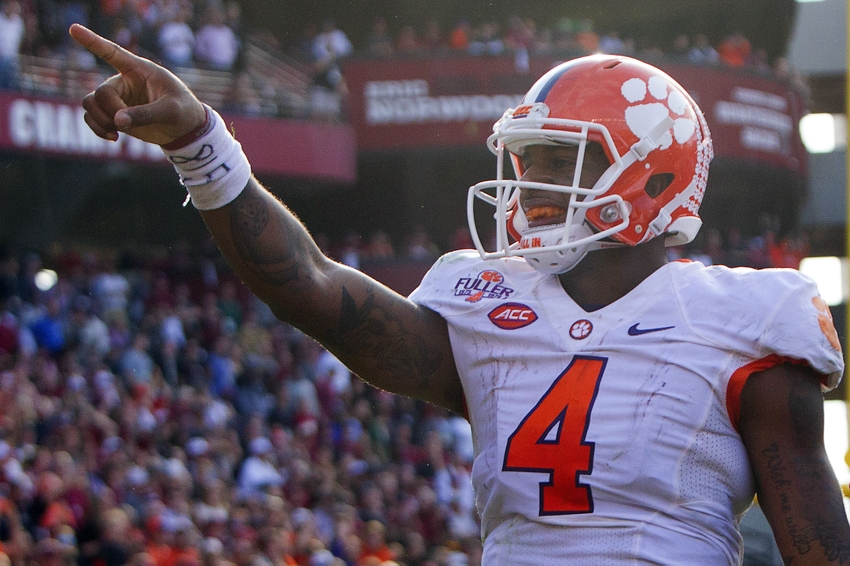 It's finally here. Fourth ranked Clemson (10-1) will host South Carolina (6-5) Saturday night in Death Valley for the 114th addition of what is now called the Palmetto Bowl. This particular day is my 3rd favorite day of the year, falling ever so slightly behind Christmas and my birthday. This is the 2nd longest running rivalry in the country. The Tigers and the Gamecocks have played uninterrupted since 1909. Actually, the first game in the series took place in 1896. However, in 1902, guns and bayonets were drawn after the game and the governor put a seven-year halt to the annual match-up.  There have been so many key moments to this rivalry, so many stories and legends that it would take a library to document them all. So, today we'll concentrate on this years game and look at a few historical numbers as they relate to the upcoming contest.
Clemson leads the all time series 67-42-4. However, South Carolina will always be able to say that they won the first one. In 1896 Walter Riggs brought his Clemson Tigers to Columbia and lost 12-6 to WH "Dixie" Whaley. Football back then looked nothing like it does now. No helmets, the ball was even different. Fast forward quite a few years and the rivalry became quite a spectacle, with its association with the South Carolina State Fair. The game was played on the Thursday of the Fair and was coined "Big Thursday". It wasn't until legendary Clemson head coach Frank Howard made a push to have a home and home series that "Big Thursday" ended and Clemson hosted the Gamecocks for the first time in 1960, 64 years after the first game was played.
More from Rubbing the Rock
You hear people all the time saying, "Well, you can just throw the records right out the window when these two teams play" Honestly, that hasn't historically been the case. The team coming into the game, with a better record, has won over 78% of the time. Will this year be any different? Let's look at how the teams stack up on paper.
The South Carolina offense was dreadful early in the season. Ranking sometimes dead last out of 129 FBS teams. Currently after 11 games, and the emergence of freshman quarterback Jake Bentley the Gamecocks now rank 114th in total offense. They average 347.2 total yards, and 20.4 points per game. The Gamecocks have found the endzone, through the air, only eight times this season. The lack of a vertical passing game has hindered their offensive production. On the bright side for Gamecock fans, Bentley has tossed six of those touchdowns in the five games he's played versus only one interception. Bentley's numbers through five games look like this: 86 completions on 130 attempts. That's a 66.3 completion percentage. He's thrown for 989 yards, or 197.8 yards per game. A total QBR of 143.7. You may think those numbers don't have a WOW factor to them,
but comparatively Perry Orth in five games threw zero touchdowns, two picks and averaged 132 yards per contest. So, as you can see, it's a vast improvement. The Gamecock rushing offense has improved as of late as well. Freshman running backs have toted the load for the Gamecocks lately. Rico Dowdle and AJ Turner have been getting the majority of the carries. Dowdle has 116 carries for 684 yards and 6 touchdowns. He averages 5.9 yards per rush and 97.7 yards per game. Turner has 98 carries for 433 yards and 2 touchdowns. Deebo Samuel, Hayden Hurst and Bryan Edwards are the three most relied upon receivers. They are all clumped together with around 400 yards receiving, Samuel leads the pack with 579 yards receiving, but he has zero touchdown catches this season. Look for Hayden Hurst to create a matchup problem. He's big, mature, and can run.
The Clemson defense that will be taking on the aforementioned South Carolina offense has had a pretty good season. They give up on average 17.9 points per game and a tough 315 yards per game respectively. The Tigers only allow 129 rushing yards per game and 186 passing yards from their opponents. Clemson ranks 13th nationally in total defense despite having played five of the nation's top 50 offenses. The unquestioned emotional leader of the defense is Senior Linebacker Ben Boulware. Good ole' number 10 has totaled 88 tackles this season, 6.5 tackles for loss
including 2 sacks, one interception and two forced fumbles. He's a beast. Tackles for loss is a huge stat for this Clemson defense. They average 3.5 sacks per game, and 9 tackles for loss per game. There are 10 Clemson defenders with five or more tackles for loss this season. Christian Wilkins leads that pack with 12. Senior defensive tackle Carlos Watkins leads the team with 7.5 sacks while Jardar Johnson leads the team in interceptions with 4. Collectively Clemson has picked off their opponent 15 times this season, two of those have been returned for touchdowns. Clemson's defensive line has been the make or break for the defense this season. When they wreak havoc in the opposing backfield, the Tigers roll. Troy, NC State and Pitt are the only offensive lines that have handled the Tiger defenders this season. Those games were obviously nailbiters.
The Gamecock defense has been the backbone of their team this season. Ranked 50th in total defense, the Gamecocks have played 4 top 50 offenses this season. They give up 22 points and 387.6 yards per game. South Carolina has been stellar defending the pass. They only give up 189.1 yards passing per game. However, that stat may be skewed a little. They have only faced two teams in the top 50 nationally in passing (East Carolina 5th, and Mizzou 18th). ECU threw for 400 yards and Mizzou threw for 302 against the Gamecocks. So, as I mentioned, the stats are skewed. They haven't really faced incredible passing offenses in the SEC East. They did hold UGA to 29 yards passing. However the Dawgs rushed for 326yds. The one thing the Gamecocks
really good at is being opportunistic on defense. They have recovered 11 fumbles and caught 13 interceptions on the season. They are +10 in the turnover margin. That's a big reason they are 6-5 and not 3-8. TJ Holloman, Chris Lammons and Jamarcus King each have three picks, and Darius English leads the team with 2 forced fumbles. English leads the team with 11.5 TFLs as well. The Gamecocks average 5.5 TFL per game. That number will have to drastically improve if the Cocks want to disrupt the Clemson offense.
The eyes of the nation have been on the Clemson offense after last season's National Championship appearance. The running game has seen a slip in production. Wayne Gallman who rushed for a school record 1.527 yards a year ago was averaging 20 rushes a game. That number is down this season to around 14 carries. Gallman should still eclipse the thousand yard mark for the season. Currently he has 831 yards and 13 rushing touchdowns on the season. The Tigers average 165.27 yards per game on the ground.
Clemson quarterback Deshaun Watson has a plethora of receivers to choose from. Evident by his numbers. Watson is 279-420 3279yds 28 touchdowns against 13 picks. He averages 298.8 yards per game through the air with a 67% completion percentage. His QBR is 147.8. The Tigers will roll out the 9th ranked passing offense in the nation against the Gamecocks. Clemson is the 18th ranked offense in the nation. Those receivers I mentioned, pick your poison. They compliment each other so well. Mike Williams (73-1014-7) can climb the ladder and pull down most any ball thrown his way. Jordan Leggett (31-530-4) is a 6'5″ tight end match-up nightmare. Deon Cain (28-514-9) is Mr. Touchdown. He actually has more touchdown receptions
than the entire South Carolina offense (8). And don't forget about Artavis Scott (55-467-4) he is the steady hand in all of this madness.
Inside the numbers, especially this late in the season can give you a snapshot of what to expect. I could break this article down in a paragraph, but what fun would that be. I never add a prediction to the end of these "stat articles". However, this week is different. It's the Palmetto Bowl for heaven sake.  So, in closing, if Clemson doesn't turn the ball over, the game has the possibility to get ugly. South Carolina simply does not have the depth of talent that Clemson has on either side of the ball. I expect Clemson to be able to run the football on the SC defense. I also expect the Clemson defensive line to have a big game and put pressure on Bentley.  Add in 80+ thousand Orange clad Tiger fans, in Death Valley, at night and that sounds like a recipe for a Tiger win. Will Clemson cover the 24 point spread? That's a big number, so I'll say no. But, if Clemson doesn't beat Clemson…This one should be over late in the 3rd quarter.
This article originally appeared on