The Opening Drive: Meet the Utah Utes, the pluckiest program in college football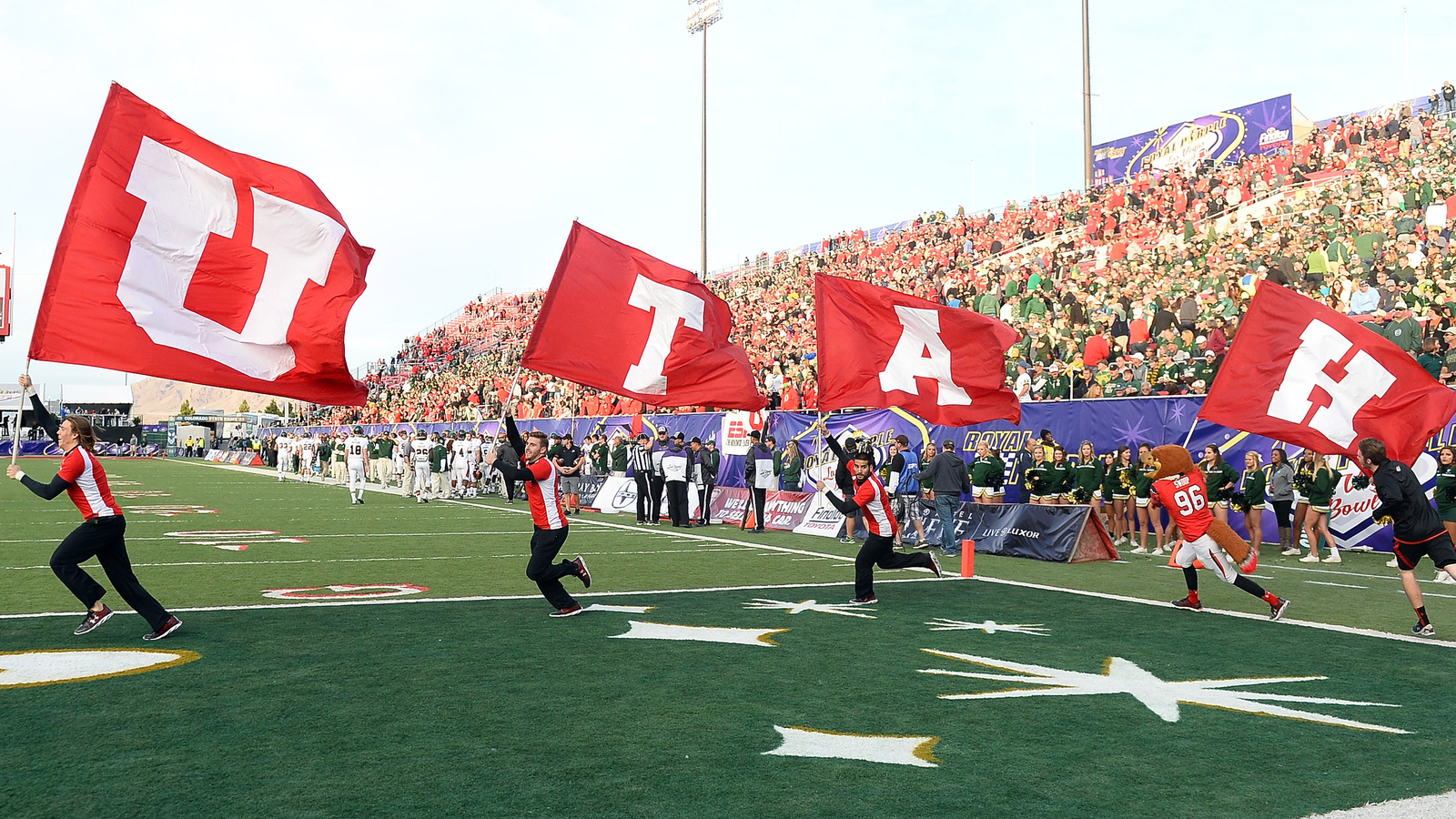 The #FS1OpeningDrive tour bus has arrived in Salt Lake City for the big game! We have provided almost two weeks of news, commentary, tidbits and whimsy surrounding our tour stops, and we're ready for Michigan vs. Utah, 7 p.m. ET tonight on FOX Sports 1. Get excited!
There's nothing in the world that compares to riding on a tour bus that's dressed up to look like Michigan head coach Jim Harbaugh. Every time we would veer off at a truck stop in Kearney, Nebraska, or Winchester, Virginia, invariably the locals would stare at this egregiously large vehicle adorned in the garb of one of America's most famous coaches.
"Is (Jim) Harbaugh in there?" a truck driver would bellow in my direction after I'd exited the bus in need of a bathroom break. "No," I would always reply. "But there are five HarBros."
This is all part of the hype that is Michigan vs. Utah, the official kickoff for FOX Sports' 2015 college football programming calendar. We — the collective making up the HarBros, plus a robot and yours truly — are a moving college football pep rally. From having former Utah Utes Jordan Gross throw khakis at college students and Jamal Anderson shutting down terrible attempts at the Dirty Bird, to Gus Johnson reliving his Detroit childhood appreciation for Michigan's Anthony Carter, this tour has brought out a spirit in people that I could never imagine.
The culmination of this campaign is the contest between a blue-blood program in Michigan and the plucky upstart in Utah that's arguably been better (123 wins versus 119, respectively) since 2000.
NO ONE WANTS TO PLAY THE UTAH UTES
This is the reality of much of the general public, as the state of Utah is viewed with general curiosity and flat-out ignorance by many people. The Mormon community, ski resorts and the NBA's Utah Jazz franchise are what immediately come to mind. When you get here, you realize that Salt Lake City and the communities that surround the crown jewel of the state are just football-loving people like the rest of America.
The rest of the world should be aware by now, but just in case, let's all remember the following:
–2001: Then-head coach Ron McBride's swan song was in Utah's 10-6 Las Vegas Bowl victory over a USC team that featured future Heisman Trophy winner Carson Palmer and current Seattle Seahawks head coach Pete Carroll.
–2003-04: The Urban Meyer era put everyone on notice, which included two straight Mountain West Conference titles and a 2005 Fiesta Bowl win over Pitt. With Alex Smith under center, the Utes went 22-2 and became the first player from a college in the state of Utah to be drafted first.
–2008: Current head coach Kyle Whittingham found a way to one-up Urban Meyer's 12-0 campaign in 2004 with a 13-0 season in 2008. Moreover, Utah's defeat of Nick Saban's Alabama Crimson Tide in the 2009 Sugar Bowl proved to the world that the Utes probably should've been in the national championship game over a 1-loss Florida Gators team that was coached by … Urban Meyer.
In reality, the Utah Utes and their fans have every right to feel disrespected.
Their program's resume looks flat-out better than Michigan's over the past 15 years; they beat Michigan in Ann Arbor 26-10 during a lightning storm; Las Vegas has the Utes as 3-point favorites over Michigan; and they're serving as hosts for a college football nation that will get another chance to see what type of raucous environment Rice-Eccles Stadium can be on a Thursday night…
…and yet everyone's here to talk about Jim Harbaugh and the Michigan Wolverines.
This is how you earn the title of being the pluckiest program in college football. Fans of the program are OK with you continuing to overlook them.
"I can't wait for Michigan to show up on Thursday night," said Canada. "This is just another opportunity to put a notch on our bedpost. Word to (Utah Utes' alum) Steve Smith."
The Schedule
The tour is complete. Use the hashtag #FS1OpeningDrive and follow us on Twitter at @edthesportsfan, @yardbarker and @FOXSports1 for more updates on the tour, as we prepare for Michigan vs. Utah, Sept. 3 on FOX Sports 1.
More from The Sports Fan Journal: