The LSU Tigers Have Wasted Leonard Fournette, And It's Les Miles' Fault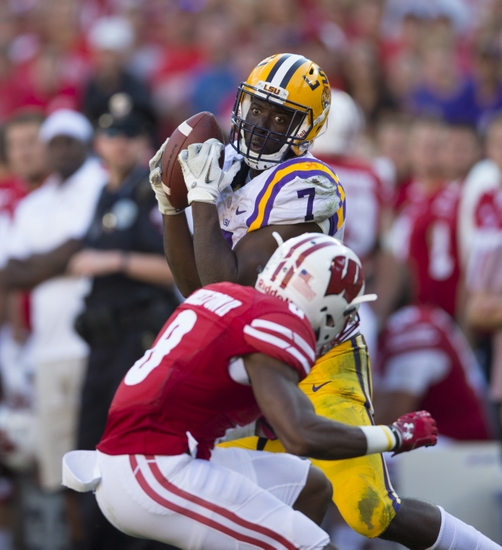 Coming out of high school, every college football fan in the country knew just how good running back Leonard Fournette would be. His combination of size, strength, and speed were unlike any we had seen since the days of Herschel Walker.
Being a Louisiana native, the Tigers knew they had a great shot at landing the star back. When he officially signed on to play in Baton Rouge, we all knew that we were getting a program-altering talent. As a freshman at LSU in 2014, Fournette saw spotty playing time for the first few weeks of the season. LSU had talented backs, and they were not going to rush him into a heavy workload so early in his career.
Through six games in the 2014 season, Fournette had run for over 50 yards just three times, with those games being against New Mexico State, Sam Houston State, and Louisiana Monroe. I don't remember the exact details of those contests, but I imagine many of his yards came in garbage time with LSU leading big.
After a brutal road loss against the Auburn Tigers, LSU headed to Gainesville to take on the always challenging Florida Gators. The Tigers needed to show some kind of life against UF, and Fournette was finally given the opportunity to leave his mark on a meaningful game. He did not disappoint, rushing for 140 yards and two touchdowns on 27 carries.
Since that night in The Swamp when freshman Fournette struck a Heisman pose in the Gator end zone, the star LSU tailback has only gotten better. He showed last season that he is one of the most talented players we have EVER seen at the position, as he rushed for 1953 yards and 22 touchdowns on the year. Leonard had one of the greatest seasons we have ever seen from a running back, and the Tigers barely managed a 9-3 regular season record.
That brings me to my larger point. Leonard Fournette is, in my opinion, one of the greatest running backs we have ever seen in the history of college football. He has consistently dominated against a conference known for elite defensive fronts, and the numbers he has put up to this point are absolutely astonishing.
But with that, the LSU Tigers have still managed to not win a single meaningful thing while Fournette has been on campus. The program has had one of the most talented players we've seen in decades and they still have not found a way to contend for any sort of championship.
There are multiple reasons for that, but by far the biggest is former LSU head coach Les Miles. For years, Miles had run the same ineffective offensive system, and showed zero willingness to change that. The Tigers basically did nothing but line up and hand the ball off up the middle for years, only deviating from that if a third-and-long situation presented itself.
Somehow, Leonard Fournette still managed to put up absurd numbers and dominate opposing teams. But can you imagine if he had been playing in an offense that was the slightest bit competent? With just the slightest bit of creativity and run/pass balance, Fournette and the Tigers could have put up offensive numbers we've never seen before.
Miles has his defenders, and the likely argument to what I'm saying is "Les never had a quarterback to work with, so how did you expect him to effectively throw the ball?" To refute that, all you have to do is look at what Ed Orgeron did with Danny Etling in one game. He effectively mixed the run and pass, and a 42-point explosion was the result.
LSU has something really special in Leonard Fournette, and the have let it go to waste. It isn't often you get a player that special in your program, and the fact that it was put to waste like this is a real shame. In my opinion, the blame falls squarely on Les Miles. If he and his staff would have shown the slightest bit of willingness to adapt, we could be talking about another national title. But they didn't, and now Leonard Fournette's LSU career will likely go down as one of the great "what if?"s of all time.
More from Death Valley Voice
This article originally appeared on