The Hot Read: Orange Crushed, Bama Smokes Vols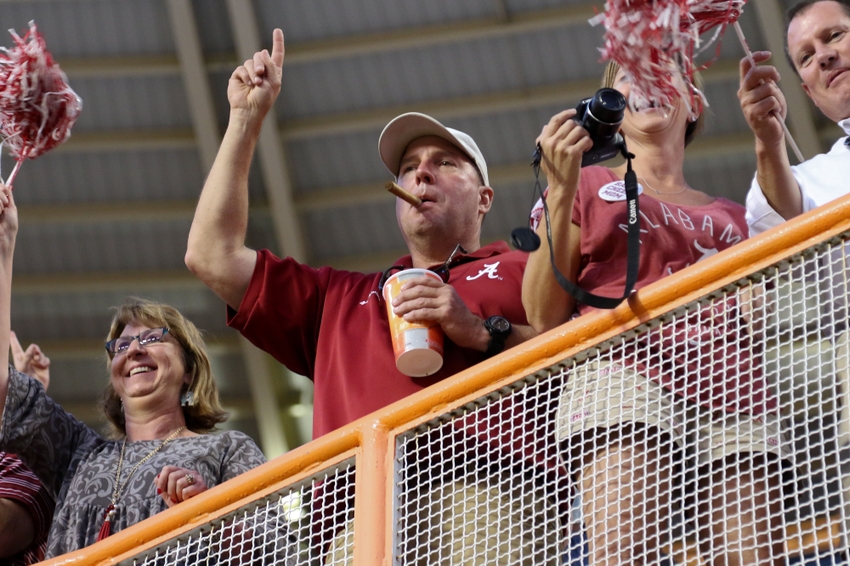 It's a long-standing tradition in the Alabama-Tennessee rivalry that the winner smokes celebratory cigars.  At this rate, the only chance Tennessee has of beating Nick Saban is lung cancer as he ran his record against the Vols to 10-0.  Coincidentally, that's also Alabama Football's winning streak against the Vols after the 49-10 mauling.
Earlier in the season, Tennessee defensive coordinator Bob Shoop said "No one will run the football on the Orange Swarm."  Well, I just ran for 60 yards and a TD. Seriously. Alabama finished the game with 438 yards rushing. That's a quarter-mile. Go ahead, do the math. I will wait.
Jalen Hurts accounted for 3 TD's, all on the ground while accumulating  132 yards on 12 carries. He became the second Alabama QB to have two 100 yard rushing games in a season since Tyler Watts in 2001.  Bo Scarborough had 109 yards, including an 85 yard TD. He also tried to high-five a Tennessee fan at the end of the run, who was having none of it.
There are beat downs and then there are muggings.  This was felony level for both.  Bama added to their season total of  NOT'S ( Non-Offensive Touchdowns)  with a 58 yard INT return by Ronnie Harrison and a 79 yard punt return by Eddie Jackson. In case you are scoring  at home, that's Alabama Special Teams and Defense 14, Tennessee 10. The Bama offense could have stayed in Tuscaloosa and still gotten the win.
By the 2nd quarter, the Vol faithful were raining down more boos on Butch Jones than ZZ Top fans at a Justin Bieber concert. People were not happy.  The Tennessee punter had more appearances than you want to see if you reasonably expect to win. By the 4th quarter, Vol fans were streaming out of Neyland Stadium in droves.
The final yardage total was 584-163. Yikes. The thing is, it could have been worse. Bama gifted Tennessee their only TD on a fumble inside their 20, and killed a drive with an INT inside the Tennessee red zone.
Next up is Texas A&M in Tuscaloosa. The same A&M defense that gave up 684 yards to Tennessee one week earlier.
All of that will be addressed in the coming weeks.  For tonight however, Bama will smoke 'em because they got 'em. Rocky Topped.
More from Southbound and Down
This article originally appeared on