The Crimson Tide Peek: WKU Hilltoppers Edition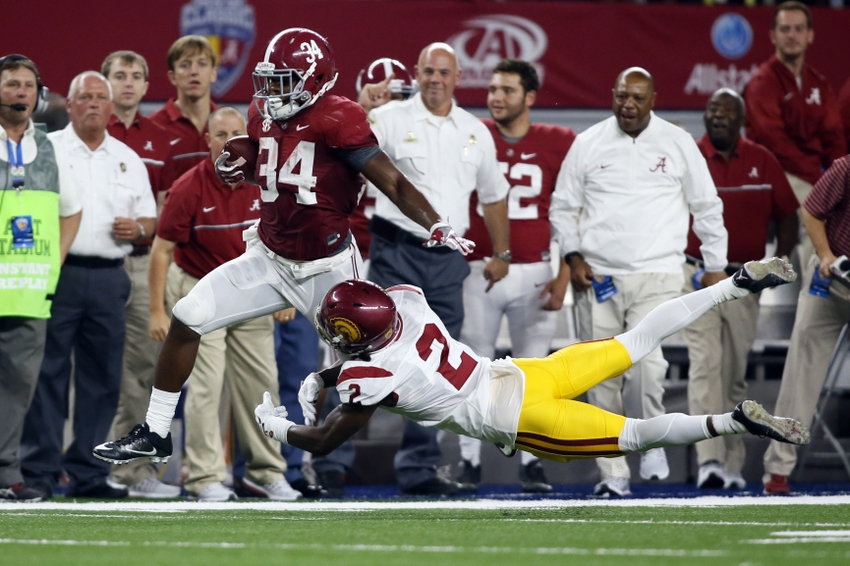 The Alabama Crimson Tide will play open up its home season in the first game in Bryant-Denny Stadium this Saturday.
The Crimson Tide will welcome the Western Kentucky Hilltoppers to Tuscaloosa in the program's first meeting since 2012. The more things change, the more they stay the same. WKU is a much-improved program since Alabama won the last meeting 35-0. WKU once again will play a number one ranked Alabama team in the second week of the season. Same as last time, Alabama is coming off a drubbing of a college football power in Arlington.
Alabama is still the king of college football and is once again the defending national champs. WKU has certainly improved making a bowl game in three straight seasons, finishing ranked, and winning 12 games last season. However, the Hilltoppers have a long way to go before they can expect to beat Bama at home.
Here's how the Tide and Hilltoppers will square off this Saturday:
When Alabama is on Offense:
WKU still has some major growing pains on defense. The Hilltoppers ranked 72nd nationally in total defense a year ago. This is actually a major regression since Alabama last hosted the Hilltoppers in 2012 when they ranked 26th. That said, the WKU defense will be a new look unit with only four named returning starters.
WKU will bring some solid defensive players with them.
Redshirt junior linebacker T.J. McCollum led Western Kentucky in both tackles (106) and tackles for loss (11.5) last year. McCollum is arguably the best defensive player on the WKU roster. He is a LB with good size and speed who can penetrate the line of scrimmage and defend the pass.
Redshirt senior safety Brandon Leston is a three-year starter.  Leston ranked second on the team last year with 96 tackles. Leston is a ball-hawking safety that also has the ability to play the run. He is taller than both USC safeties so he likely has better odds guarding Bama's tall receivers.
Linebacker Keith Brown and safety Marcus Ward provide a good compliment to McCollum and Leston. Both guys play like Power 5 defenders.
Crimson Tide 'Yea, Alabama!' Ranked 3rd in College Fight Song List
WKU has good size and depth along their defensive line as well. Derik Overstreet (6-foot-2, 250-pounds) and senior transfer Nick Dawson-Brents (6-foot-3, 260-pounds) will line up at the ends. Senior Omarius Bryant (6-foot-3, 310-pounds) and junior Chris Johnson (6-foot-3, 290-pounds) will man the tackle spots.
This is a defensive line unit that can hold its own against the run while creating pressure on the QB. Bryant will cause issues in the running game with his size. Backup ends Kalvin Robinson (6-foot-5, 250-pounds) and Tanner Reeves (6-foot-4, 240-pounds) are excellent pass rushers who cause havoc on passing downs.
The cornerback position is probably the weakest part of the defense for the Hilltoppers. In 2015, WKU was middle of the road in rush defense but near the bottom in pass D. Redshirt junior De'Andre Simmons and  junior Joe Brown are limited in experience. They more than likely do not have the ability to line up man to man with Alabama's stable of receivers.
As for the scheme, WKU runs a standard 4-3 defensive front. It's about as standard of a scheme Alabama will see all season. Like USC's 5-2 defense, it's a relatively easy defense for the players to learn and executve – it's very much read and react.
The 4-3 defense should play right into Alabama's hands. Alabama will likely try to use both young QBs, Hurts and Barnett, once again. These are two players still learning the system and adjusting to be the starter on Saturday. They should both relish in the opportunity to play a straight-up, non-trickery defense.
Get the Saturday Blitz App
What's more, Tide center Bradley Bozeman is still getting his legs under him as the starting center. I'm sure he and the guards, Pierschbacher and Cotton will love an opportunity to just go out and execute without fear of picking up twists and stunts.
I expect Alabama to run a pretty standard 11 personnel against the WKU front and just try to beat them with superior talent in the running game. Alabama will try to keep itself out of 3rd and long to avoid WKU from using its two good pass rushers in Robinson and Reeves. Also look for the Tide to get WKU lined up with its corners on islands to take those two safeties out of the game.
One last thing to look for is whether Alphonse "Shank" Taylor gets in this game. He served a one game suspension last week against USC. He was the starting right guard for Bama just one year ago but the Tide had Pierschbacher lined up there last week.
Coach Saban said during "Hey Coach" that Shank would likely see time in this game. Look to see if he gets in pre-garbage time, and, if so, what the line looks like. Shank would likely be playing right guard, Pierschbacher goes to left, and Cotton comes out. Just something to keep an eye on.
When Alabama is on Defense:
Western Kentucky has a potent offensive attack. WKU was 9th nationally in total offense in 2015, and it was 4th in passing offense. WKU knows it cannot physically match up against Alabama in the trenches. The Hilltoppers will attempt to throw all over the field and run just enough to keep Bama honest.
Western Kentucky lost star QB Brandon Doughty to the NFL Draft after an incredibly successful 2015 season where he led the nation in passing yards (5,055) touchdown passes (48), and completion percentage (71.9). WKU showed they still have plenty of offensive firepower last week against Rice, however. New starting QB Mike White was 25 of 31 for 517 yards and TD passes in the 46-14 win.
Along with a solid QB,  the Hilltoppers have a stud WR in Taywan Taylor. Coach Saban went as far to say that Taylor will be as good as any WR the Tide square off against this season. Last week he had five receptions and 165 yards receiving. Taylor has the tools to play on Sundays. The Alabama defense must be prepared for him.
The offensive line as a unit is pretty good. It's star is all-conference senior left tackle Forrest Lamp. He is currently on both the Outland and Wuerffel Trophy watch lists.  Lamp is a four-year starter at tackle so don't expect him to get blown up by the Bama defense.
Along side Forrest, the Hilltoppers have a solid unit. Every linemen has significant starts under their belt. They have been one of the better rushing teams in the nation despite relying primarily on the pass. It is not a unit that will simply lay down for Alabama.
At running back, the Hilltoppers have good one in redshirt senior Anthony Wales. Wales is already starting to receive  Doak Walker award attention. In only nine games, Wales rushed for 1,091 yards on only 155 carries and nine touchdowns. His 7.4 yards per carry average was the fifth-best in C-USA history. Alabama must also account for him in the passing game.
Want your voice heard? Join the Bama Hammer team!
The Alabama front 7 must force Western Kentucky into passing situations and make the WKU coaches give up on the running game. The Tide must take Taylor out of the game plan for WKU as well. If Bama can do that, we will likely see some players get experience in mop-up duty.
Bama will likely be forced into playing a lot of Nickel sets this game. That's pretty par for the course in today's football though. Star Minkah Fitzpatrick will likely play down near the line to account for Wales running and catching prowess. The Tide safeties will likely provide help over the top against Taylor to blanket him and avoid one-on-one coverage.
Prediction:
I expect the Crimson Tide offensive line to play better from the start against WKU. It took a few series for the unit to really click against USC. The offense really started rolling when it did. Should the linemen be able to get up the second level of the Hilltopper D the running lanes will open up for Harris and Scarbrough.
The Hilltopper offense is potent, but this Bama defense is the real deal. It made what will be a good Trojan offense look bad last week. Don't expect WKU to throw all over the yard against the Tide secondary. Alabama held WR JuJu Smith-Schuster to 9 yards a week ago. WKU has not seen a defense this good in a long time.
Alabama has this one well in hand late, but the Hilltoppers go down swinging and make it look closer on the scoreboard.
Final Score: Alabama 38 – WKU 17
This article originally appeared on