The Crimson Tide Peek: Kent State Golden Flashes Edition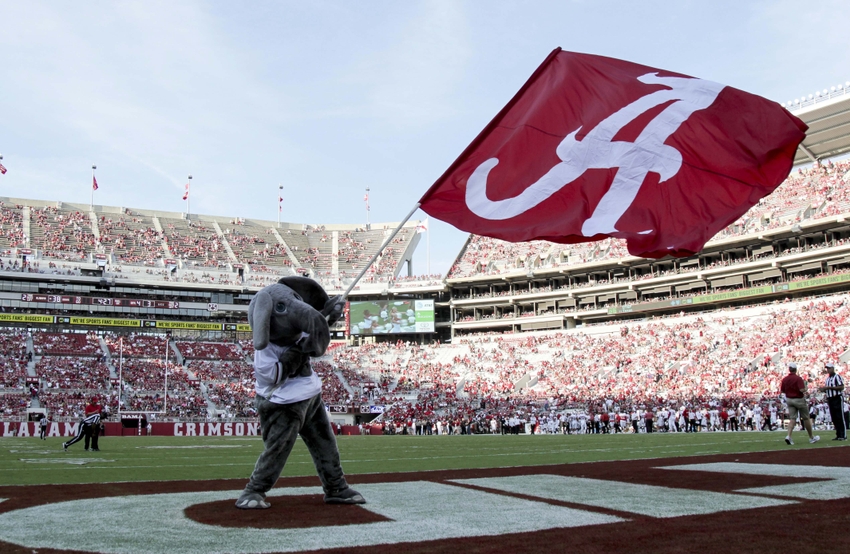 The Alabama Crimson Tide will take on Head Coach Nick Saban's alma mater this Saturday in their second meeting with the Kent State Golden Flashes.
Alabama returns to Bryant-Denny with an unblemished record after a hard-fought win against Mississippi last weekend. This weekend's game is a much-needed reprieve for the Crimson Tide. Nick Saban always talks about how the team can not overlook any opponent. As a fan, however, I'm telling you there isn't much of anything to worry about this Saturday.
This is a good weekend for Alabama to work on its execution and fix its mental errors. There is clearly need for improvement in many areas for the Crimson Tide despite their number one ranking.
 Head Coach Nick Saban instructs defensive Back Dre Kirkpatrick in Alabama's meeting against Kent State in 2011.
Here is how Alabama and Kent State will square off this Saturday:
When Alabama is on Offense
Kent State actually has a pretty solid defensive unit. The scores of their games are a misleading stat.
Penn State scored 33, but four of their scoring drives began Kent State's side of the 50-yard line. Two of them began in the red zone. It was actually a decent performance given their starting field position.
Yes, Kent State lost in overtime to North Carolina A&T and surrendered 39. However, that was a four-overtime game and the Golden Flashes defense only surrendered 17 in regulation.
Okay, I tried to convince myself. Yes, Coach Paul Haynes has a defensive background. Yes, the Kent State defense has actually been good under him in the past. Just last season, Kent State led the nation in points allowed, 13.1 per game.
It appears that the Kent State defense has taken a considerable step backward. Yes, Kent State held Penn State to less than four yards per carry, but at this point, I don't think anyone finds PSU's offense incredibly daunting.
One of the few bright spots for Kent State is safety Nate Holley. He's undersized by SEC standards but is still one of the better safeties Alabama will see this season. Holley made 137 tackles as a sophomore, 139 as a junior, and already has 47 stops in just three games this season.
Kent State is likely to pull the same move Western Kentucky did and load the box with eight players. Alabama is talented enough up front to be stubborn and run for three to four yards a carry against an eight-man front. However, Lane Kiffin simply isn't going to do that.
Look for Alabama to work on its passing game this weekend. QB Jalen Hurts did win SEC Offensive Player of the Week, but he still has areas to work on. Timing with receivers, getting the ball out sooner and going through his progression faster all need to be improved.
Alabama has a good opportunity this weekend to get real game action for Hurts and improve his skills. Sorry "run the damn ball" fan, Kiffin is going to come out throwing again. It will help Alabama in November.
When Alabama is on Defense
The Alabama defense is a stout unit despite giving up 43 points to Ole Miss. The Crimson Tide will not face a more well-rounded quarterback than Chad Kelly the rest of the regular season. Also, there might not be a better pocket passer in the country right now than Kelly.
Kent State brings in a redshirt freshman QB Mylik Mitchell. Mitchell wasn't able to practice in the spring due to a hurt ankle so he's really had a quick learning curve in 2016.
Mitchell is a typical QB for the spread option offense that Kent State likes to run. He is a decent passer and can run pretty well. I'm not saying he would start in the SEC but he can definitely hurt you if given the opportunity. Mitchell has thrown for 353 yards, five TDs, and just one interception so far.
Kent State's defense has been disappointing so far this season. The offense has been pretty much what was expected. That isn't a good thing.
This offense managed just 275 yards and put up just 17 points in regulation against North Carolina A&T. Kent State put up just 27 points to Monmouth. Seven of them came in a garbage time TD with less than three minutes to play.
Long story short, this is an offense that the Alabama defense should be able to keep off the board. Kent State is going to have a tough time crossing the 50 if the Bama defense comes out clicking.
This is a good test for the Alabama defense. This is an offensive scheme that Alabama will see again this season against Mississippi State and Auburn. Pruitt's defense can see the spread option in real time, real game situation. That is more valuable than doing it against the scout team each week.
Prediction
When these two programs met for the first, and only, time in 2011 Alabama won 48-7. Expect a similar result this Saturday.
Score Prediction: Alabama – 41 Kent State – 0
This article originally appeared on