The case for – and against – Tennessee winning the SEC East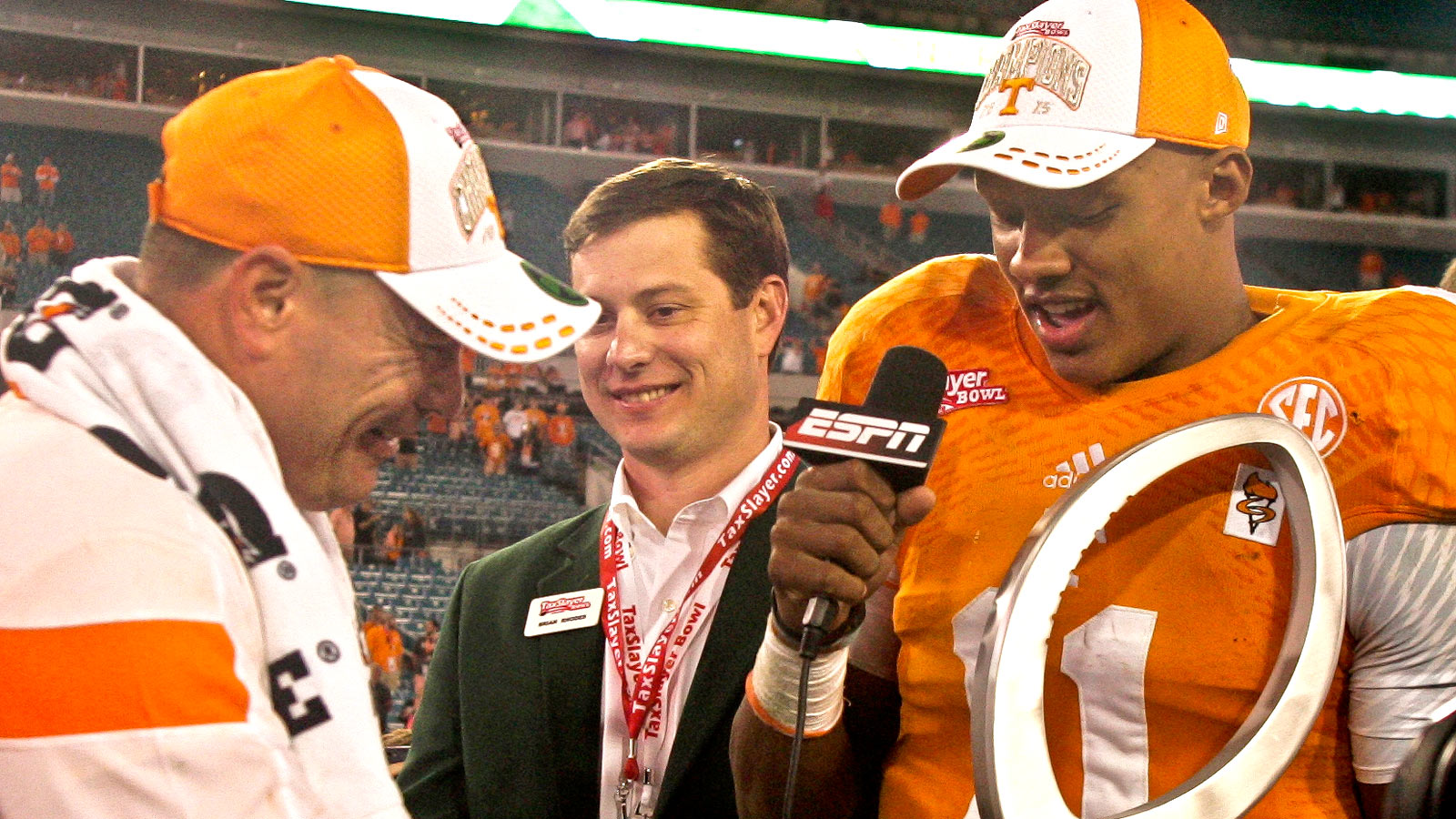 The rebuilding process continues to advance according to plan in Knoxville, as Butch Jones has his team poised to make some noise in his third season on Rocky Top. While few could have foreseen the Vols in position to threaten for the East crown so soon under Jones, Tennessee now has several building blocks in place to achieve that very goal.
Expecting Tennessee to win their division this year might be a little too optimistic for Vol Nation but college football is full of annual surprises. Could this year's surprise be a young Volunteer squad developing and maturing ahead of schedule?
ESPN recently broke down the case for, and against, Tennessee winning the East.
Why the Vols could breakout and win the East this season:
Joshua Dobbs
Entering the season with an unquestioned answer at quarterback is something Tennessee has not yet experienced under Butch Jones. Dobbs' leadership and maturation could lead to the offense finally living up to the hype, as the Vols are currently loaded with talent at receiver and have solid contributors at tight end and half back. If Dobbs becomes a more accurate thrower and consistent decision maker, Tennessee should have the best quarterback in the East this season. Judging by his showing this spring and at The Opening camp, where Dobbs is serving as a camp counselor, Dobb's improved presence and ability on the field are beginning to shine. His confidence under center very well could propel the team to new heights this fall.
Defensive standouts at every level
Sophomore defensive end Derek Barnett will be a likely All-American candidate this season, junior corner Cam Sutton may be the most complete player on the team, junior Jalen Reeves-Maybin burst onto the scene last year as the team's most complete linebacker and senior leader DE/OLB hybrid defender Curt Maggitt returns after racking up 11 sacks a season ago. The team's starting safeties have started the past two seasons and look to be getting pushed by their younger backups. Oh and the Vols have added two five-star defensive tackles to shore up the middle of their front seven.
Running back duo
Jalen Hurd lived up to the hype last season, as the five-star prospect came in and seized the lead running back duties early. Hurd piled up 1120 yards of total offense and seven touchdowns and clearly improved by season's end, rushing for 122 yards against Iowa in the bowl game. Despite splitting carries this season with Alvin Kamara, look for Hurd's number to improve behind an improved offensive line. Kamara appears to be the perfect compliment to Hurd, as his quick twitch and passing skill set will be put to use in Tennessee's hurry up spread offense. Expect the duo to reach 2,000 total yards and 20 touchdowns this fall.
Why Tennessee fans might need to relax their expectations heading into the season.
Inexperience and youth all over the roster
Tennessee certainly has the talent to win, but so does every team they will be competing with in league play. Where the Vols currently lack is the depth and experience of many of the SEC elite. The Vols may be starting a true freshman at offensive tackle and possibly two players at defensive tackle. The team is also lacking any experience at middle linebacker, nickel corner spot – an important position with advent of spread offenses and backup quarterback. One weak link could undermine the entire team in the competitive SEC.
The schedule
The Vols first league game is on the road to a Florida team they haven't beaten in 10 years, followed by a home swing against a resurgent Arkansas team and East favorite Georgia. Tennessee gets a week to recover before hitting the road to visit Alabama and Kentucky. Can they survive that swing? Don't laugh at that last game, as Kentucky should be vastly improved as they too have undergone a massive upgrade in talent and now have an experience level to match Tennessee. The Vols also travel to Missouri late in the season. For those counting, the Tigers are 3-0 against the Vols since entering the league.
(h/t ESPN)