The Biggest Reason Why Ed Orgeron Needs To Coach The LSU Tigers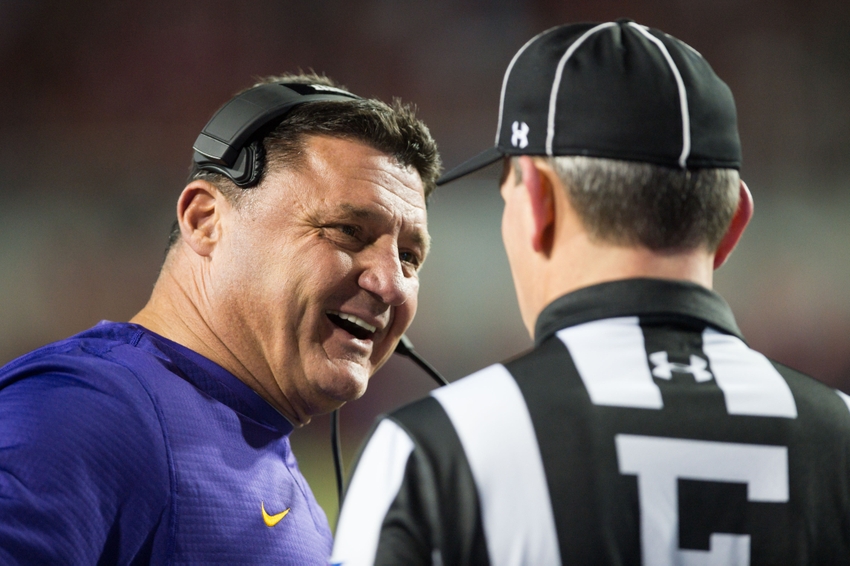 As the offseason nears, we are just a couple of months away from a program-altering decision. After a disappointing finish to the 2015 season and a 2-2 start to 2016, LSU made the decision to fire long-time head coach Les Miles. Miles is the greatest coach in program history, so the move shook the foundation of Tiger football in a lot of ways.
Immediately after the decision was made, Ed Orgeron was named as the team's interim coach for the remainder of the season. At the time, the rest of the year looked hopeless, and many thought Coach O was just a placeholder for the remaining games on the schedule, and that he had no real shot of coaching LSU in 2017.
Well, after five games, Ed Orgeron has led the team to a 4-1 record, with his only loss coming at the hands of the number-one ranked team in college football by just 10 points. In LSU's other four games, the Tigers have absolutely dominated, beating Missouri, Southern Miss, Ole Miss, and Arkansas, all by very wide margins.
There are quite a few reasons why many are considering Coach O as a serious candidate to win the job full-time, and that success is certainly a big one. Orgeron has come in and taken a down, rather hopeless team, and helped them reach their potential. Les Miles was completely unwilling to adapt to situations. His successor quickly showed he was more than willing to do just that, and the results are apparent.
Orgeron's love for the program and ability to relate to the local fans have always been huge factors in the increasing support he's receiving, but there's one major thing in play here that I don't feel is getting enough attention.
Since coming over from the Wisconsin Badgers, defensive coordinator Dave Aranda has built the LSU defense into one of the best in the nation. Under his watch, the unit has limited some very explosive offensive opponents, and they rank near the top in every major stat category. Just to show how remarkable this group has been, they did not give up their 10th touchdown of the season until Saturday's game against Arkansas, which was the ninth contest of the year.
Dave Aranda has to be LSU's number-one priority. With the job he has done, he will undoubtedly receive some pretty enticing offers this offseason. No matter what happens, the Tigers have to make sure their stud defensive coordinator stays in town. Money can go a long ways in doing that, but if reports are correct, the head coaching position is just as important as they attempt to keep Aranda in Baton Rouge.
If LSU opts to go with someone other than Orgeron, chances are Dave Aranda is gone. The new coach would want to bring in his own guys, and on top of that, I've seen and heard multiple times that Aranda would likely not want to stick around if a total staff overall were to indeed take place.
In my opinion, that's reason enough for offering this job to Ed Orgeron. He has proven that he can make excellent adjustments and lead his team to wins, and if they can play well these last two games, they'll have no excuse. Dave Aranda is too important to what this team does to risk losing him. The Tigers need to keep him at all costs, and that means we should see Coach O back on the sidelines next season.
More from Death Valley Voice
This article originally appeared on