The BH Debate: Jalen Hurts Should/Shouldn't Win Heisman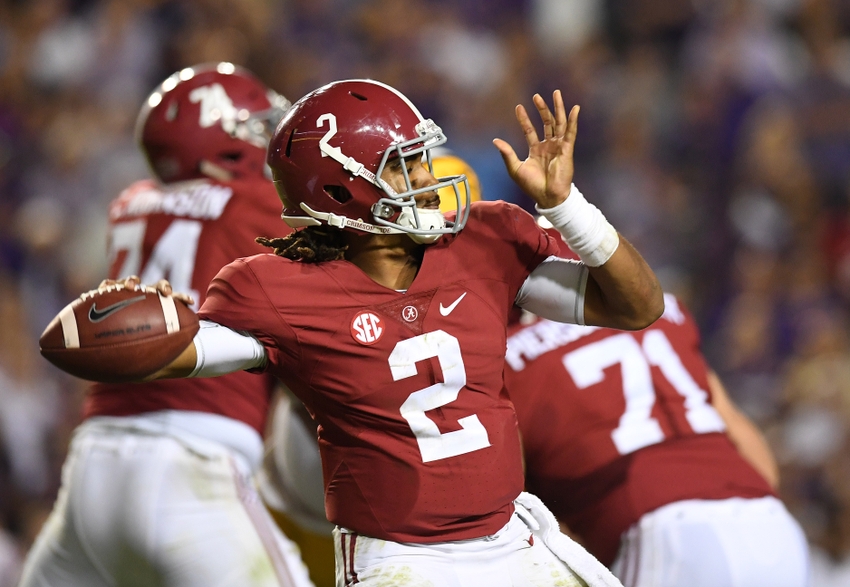 Jalen Hurts should win the Heisman Trophy! No he shouldn't! He's a baller with skills that pay the bills! He's an 18-year-old kid still learning to tie his shoes – but still a very capable game manager! … We debate, you decide.
Editor's Note: BH Expert David Wasson and new BH Contributor Kevin Brooks decided to take their PTI-like arguments on instant messaging to the next level for public consumption. This is the first in a (hopefully …) continuing series, exploring Jalen Hurts and the Heisman Trophy.
KEVIN BROOKS:  I'm not a Xs and Os type of guy. I'm a GI Joe type.
And Jalen Hurts has special forces written all over him.
As a true freshman, Hurts has found his way into the starting quarterback spot at Alabama after Blake Barnett came out looking like a scared rabbit getting shot at against Southern Cal. Lord Saban pulled Barnett and loaded up Hurts. Nine games later, Coach Saban's decision has paid off with a undefeated record thus far – including five road wins at places like Oxford, Knoxville and Baton Rouge.
Hurts has cemented himself as the elite quarterback in the best college football conference in America. I do not know what else an 18-year-old true freshman has to do to earn a Heisman Trophy.
ICYMI: Mullen, Bulldogs Just More Victims for Alabama Defense
DAVID WASSON: First, anyone who can't even earn a starting spot coming out of fall camp shouldn't be allowed close enough to the Heisman Trophy to see his own reflection.
Second, shouldn't one of the prerequisites be at least being the best player on his own team?
Look, no one is saying Jalen Hurts isn't a star in the making. The teenager has all the skills – thus far. And that's an important point. Lane Kiffin and Co. haven't put Hurts in a position to fail with the game plan – using Hurts' speed within read-option looks that stretch even the fastest of SEC defenses.
But what you don't see are Hurts' deficiencies. That takes a season, at least.
So slow down, my resident dirtneck friend, Jalen Hurts might get himself a shiny stiff-arm eventually. Just not this year.
KB:  I watched the spring game like you did, and yes he did not "start" – but it isn't how you start a race its all about how you finish said race. Hurts outran Barnett clear out of Titletown, and has a fourth-year junior in Cooper Bateman relegated to being just a holder.
Hurts might not be the best player on his team, but who is?! The entire roster is filled with NFL prospects. Hurts is just the new kid – but he's a freshman with senior skills. Hurts hasn't been asked to make all the plays, but when it has come time to make a play like in the LSU game, he is there. Who threw that long pass to ArDarius Stewart to set up the early missed field goal? Who scrambled for the only touchdown in that same bruising game?
Hurts is clutch when it has been time for him to step up and make a plays. Undefeated and 9-0 is the proof. But I'd love for you to elaborate on these deficiencies you see as if he's short on football skills.
DW: No doubt about it, Hurts is a gamer. He has shown me a lot more than I expected, honestly. When I saw Barnett yanked against Southern Cal, my brain and heart both said "well, this is a 9-3 season" … But Hurts has been a superstar – in that context.
Look, Chad Kelly is the best quarterback in the SEC. There isn't much debate about that. He won't win the Heisman, of course, because he plays for a middling Ole Miss team and is now out for the season with a torn-up knee. Playing with the stats to see how SEC quarterbacks fare, Kelly is actually THIRD behind Auburn's Sean White and Arkansas' Austin Allen in QB Rating. Hurts? Fourth.
But Kevinator, I agree with you on one thing – stats only tell part of the story, and they can often lie. QB Rating doesn't take into account what Hurts can do on the ground (he is 12th in the SEC in rushing yards, for example, with 635) and he is tied for the league lead with 10 rushing touchdowns. The kid (I think it is ok to call an 18-year-old a kid …) is a gamer.
But Heisman? As Keyshawn would say … C'MON MAN!
KB: Ha Ha Ha … Do you know what Chad Kelly was doing his true freshman season in the SEC? He was the guy playing inappropriate touch football with the sorority girls at Georgia! That is not what a Heisman contender is all about. But hey, Cam Newton has a Heisman, so anything is possible. That's what is swept under the rug about Kelly: he has got a rifle arm, and yes that guy is money, but he is no Jalen Hurts.
I think Hurts' arm is above average, and his touch and pretty good too. Plus, Hurts is mobile. Fourth on the list in SEC QB Rating as of this week isn't gonna win him a Heisman, but maybe that scramble for a touchdown against LSU will. And that selfie he took in the CBS cameras while standing in the Tennessee end zone after dropping 49 points on em isn't gonna hurt, either.
Yes, I think he has a legit argument for Heisman contention. Will he end up in New York? Who knows. There is still plenty of football to play and votes to sway. I just hope he gets a national title ring in 2016!
DW: This, my friend, is something we can agree on. Hurts has that intangible quality that is the hallmark of a winner. A certain Paul Bryant would recognize it from a mile away, and that's probably why Blake Barnett is on a Greyhound pointed west.
Maybe the Chad Kelly comparison isn't the best one, as Hurts already shows more poise and control on the field than any other true freshman I have seen since … Tim Tebow.
And that's why, with all of Hurts' poise and winning qualities, he won't be in New York City this December. Because Jalen Hurts, ultimately, is no Tim Tebow.
For Alabama fans, though, he could end up being even more of a winner. And at the end of the day, it's all about the Ws.
This article originally appeared on