The BH Debate: Does the SEC Championship Game Really Matter?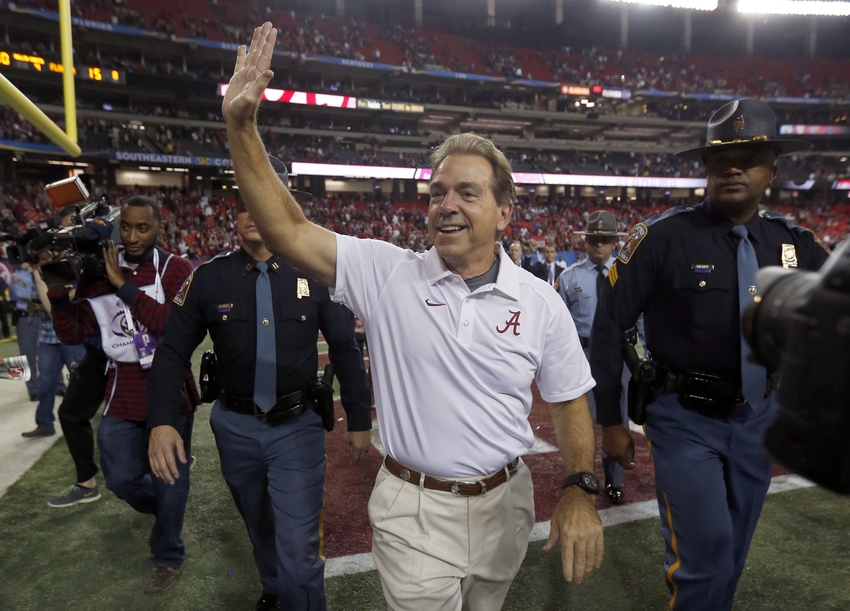 To ring or not to ring, that is the question. Does the 2016 SEC Championship Game really matter to Alabama's national championship hopes?
Editor's Note: BH Expert David Wasson and BH Contributor Kevin Brooks decided to take their PTI-like arguments on instant messaging to the next level for public consumption. This is the fourt in a (hopefully …) continuing series, discussing if the SEC Championship Game really matters to Alabama's national championship hopes.
DAVID WASSON: Since the inception of the SEC Championship Game 25 years ago, the winner of the game has almost always been in the national championship picture. That's the reason why the game became the blueprint for other conferences around the country – a way to definitively decide a conference champion on a truly national stage.
I don't think Roy Kramer and Co. ever envisioned anything remotely like the 2016 Alabama Crimson Tide – a team so dominant and so far ahead of the rest of college football that the following statement can even be considered …
The SEC Championship Game doesn't matter this year.
I mean, it *matters*. It's a ring game. But in the bigger picture, Alabama could lose the game and still win it all.
Is This Truly 'Peak Saban' For Alabama Football?
KEVIN BROOKS: Playoff or no playoff, the SEC Championship Game means something to Nick Saban and Alabama fans. It mattered in 1992 in the first-ever SEC title game when Alabama knocked off the favored Eastern Division champ Florida Gators to propel the Tide into Sugar Bowl.
Steve Spurrier's Fun 'n' Gun offense turned into doom and gloom when they ran into Gene Stallings' mighty 1992 defense, a unit that was good enough to rival any of Saban's defenses. Florida quarterback Shane Mathews cracked like a egg after battling Stallings' defense for four quarters, capping off the Gators' misery with a Antonio Langham Pick-Six to seal the deal on the SEC trophy.
It mattered in 1992 and it matters in 2016. Alabama has 25 SEC titles with a itch for 26 and Saturday's contest with their familiar foe Florida looms ahead.
DW: Kev, this isn't 1992. The world is different now. Instead of the archaic bowl system and a combination of sports writers and coaches voting on who is the mythical national champion, we have an actual four-team playoff.
When the playoff was born, interestingly, it was backlash from another Alabama football team – the 2011 team that famously lost to LSU and didn't make the SEC championship game, only to earn a rematch with LSU in the Sugar Bowl with the national title on the line. The uproar over that birthed the four-team playoff.
Live Feed

college football
In an odd way, the 2011 SEC Championship Game didn't matter to Alabama in the same way this year's version doesn't matter.
KB: Florida comes limping into Atlanta again with a lackluster offense and a sub-par defense. The SEC East has been a dumpster fire since Saban came to Tuscaloosa, and this year is no different – with a representative from the SEC East going 8-3. Do not expect Saban to go easy on Jim McElwain's Florida squad – because winning every game matter to Nick Saban and Alabama.
After taking a loss to in-state rival FSU last Saturday, the Gators should be hungry for a win. But the have one problem: they are playing No. 1 Alabama for the SEC title.
Winning SEC titles matters to Alabama fans and Nick Saban too, because he ain't nothin' but a winner.
DW: Quick, Kev … How many SEC Championships does Alabama have? I had to look it up – not because it isn't important, but because 16 national championships matter more than 26 SEC titles. Proof positive is that there aren't 26 pennants flying every home game weekend at Bryant-Denny Stadium.
I think Florida is dangerous, in that everyone from our friends in the desert to the struggling ticket brokers don't give the Gators a chance. A 24-point spread? Even Auburn got more respect on the road in the Iron Bowl than that. So Jim McElwain and Co. have absolutely nothing to lose here. Shoot, they aren't even going to the Sugar Bowl at the moment (the geniuses on the CFP Committee have Auburn one spot ahead of Florida at the moment …)
Florida might have 1 shot in 10 of winning Saturday. Or maybe 1 in 100. Either way, it isn't the winner-take-all mentality for Alabama that it always has. And that mentality could mean all the difference in the world on the field.
KB: As a football fan, SEC championships are just another opportunity for me to go buy a new Alabama SEC title hat for my insanely awesome collection. For the university, it is another prestigious title for their trophy museum. And for the state, it's bragging rights.
I don't know, pal. This is Alabama – if there is a football title of some sort, I'd imagine Alabama folks want it! For years, the winner of the SEC title game has gone on to represent the SEC in national championship games – and wanting to the win that game something Nick Saban and the Crimson Tide can't just turn on and off.
Nick Saban is a perfectionist and he is getting closer and closer to a perfect season. I bet he can taste it like a Little Debbie oatmeal pie! Yes, maybe Alabama cannot win the SEC title game and go on into the playoff. But do you think Saban and his players want to give anyone any opportunity to keep them out of the playoff?
That committee will stick it to Alabama – it's why they were created, because of Alabama. Bottom line is this: BCS, 4-team playoff, 8-team playoff … it doesn't matter. Alabama plays football games to win them.
This article originally appeared on