The BH Debate: Alabama Will/Won't Beat Auburn By 100 Points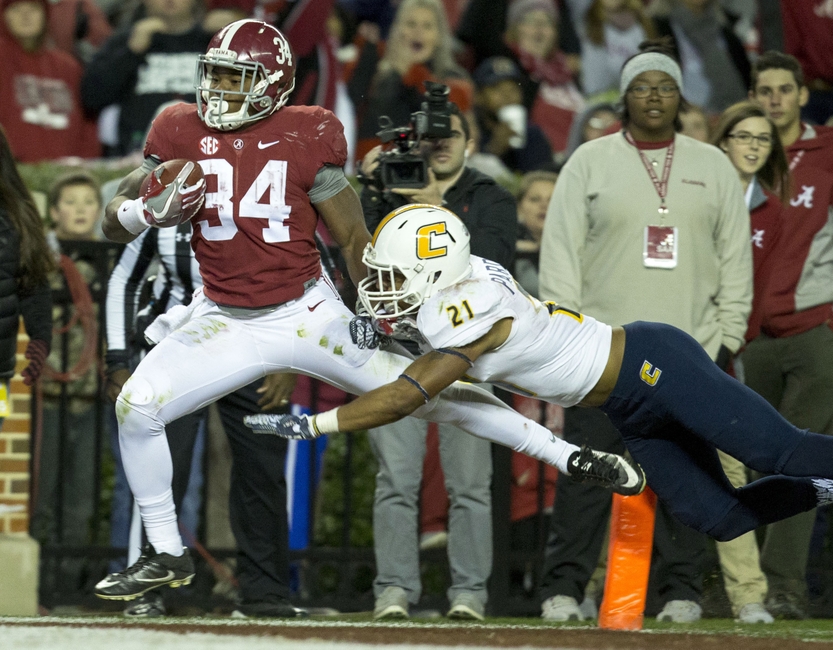 Booger eaters or little brother, we all can't stand Auburn here at BamaHammer.com. The only debate this week is whether Saturday's Iron Bowl will be a close game.
Editor's Note: BH Expert David Wasson and BH Contributor Kevin Brooks decided to take their PTI-like arguments on instant messaging to the next level for public consumption. This is the third in a (hopefully …) continuing series, trying to decide how badly Alabama will win Saturday's Iron Bowl.
KEVIN BROOKS: You know what pal, time flies when you are a fan of No. 1 Alabama – the season is already over and it just started !
Has it set in yet that its Iron Bowl week … are you starting the fret about the game?
Just like Vegas and the media, Auburn isn't getting much love out there. I'm with them. I think Alabama is gonna hang half a hundred on Coach Boom's former mighty defense this weekend. The Crimson Tide didn't play up to Nick Saban's standards last week, and I bet his knot is tied extra tight this week.
DAVID WASSON: Beware the wounded animal, they say in the jungle. And as history tells us in matters Iron and beyond, you can pretty much throw out the record books when Alabama and Auburn get together.
ICYMI: Skip Bayless is wrong about Alabama, defense and Nick Saban
My fret level is way higher than yours, Kev. Because even though your man Gus can't seem to figure out who is well enough to ride the Bus this week – Auburn is still an actual SEC program with an awfully strong running game.
Look for this game to be close at halftime and close in the third quarter. Just because little brother always deserves a tail-whipping doesn't mean he isn't crazy enough to test the Alpha Male.
Live Feed

college football
KB: Speaking of wounded animals, I remember in 2001 when Andrew Zow got the start over Tyler Watts in the Iron Bowl . Coach Fran would roll Zow out and he'd have some O-linemen blocking for him like a personal escort service of violence.  It was great!
I bring that up because this is the first time since 2001 I've seen Alabama utilize their quarterbacks like that. Jalen Hurts' running ability is why he is a contender for the Heisman Trophy this year, and is also why I think Alabama is gonna slay that War Eagle Tiger this Saturday, pal.
I've seen their running backs, and they are a'ight. But they also run upright and are gonna get plowed by Reuben Foster and his pals.
DW: Great game, yes, and that reference really illustrates my point. Alabama was the wounded animal in that one – holding so close to the vest whether Tyler Watts or Andrew Zow would play that Vegas would take the game off the board at one point.
Just like this year.
On paper, Auburn doesn't belong on the same field as Alabama does this year. I'm still not sure any team in the country actually can stack up with the Tide – the level of dominance is so complete they almost have a one-game cushion headed into the College Football Playoffs.
But again, Kev, they don't play football games on paper. And of all the times Alabama could possibly lay an egg, this is the worst possible option. Will it happen? Not likely but could it? Absolutely.
KB: Oh man! You are starting to sound like Coach Saban now, pal!
I just don't see Alabama laying a egg this Saturday. If Alabama plays the game like they are supposed to play the game instead of playing it like its a spring practice, Alabama should take them to poundtown.
Saban is dialed in this year like I've never seen him before. He knows exactly what kind of talented football team he has, and he's not gonna let them slip up. Not this Saturday.
Alabama needs all hands on deck. I expect ArDarius Stewart and Bo Scarbrough to be back in the lineup, and that is bad news for Auburn. I heard today that one of their running backs and has a bum leg, so its not like they are coming in on fire … they are coming in as the rolling dumpster fire they are.
I hope Alabama scores 50 points on them and puts Gus out of his misery for the season.
DW: Watching Alabama sputter around on offense last week to a measly 31 points against mighty Chattanooga makes me wonder if the Crimson Tide can go up and down the field on anyone the rest of this year.
I foresee the same eventual outcome as my quality dirtneck friend – a Crimson Tide win. But I see this going a lot more like the LSU game than do most. Auburn's defense is half-decent, and they will definitely look to shorten the game as much as possible (read: not throw more than 15 times). Factor in a couple of Gus Malzahn's patent-pending trick plays, and we could see ourselves a ballgame by the time the sun is setting.
Alabama wins and rolls on to Atlanta. But don't expect a blowout.
This article originally appeared on