The BamaHammer Debate: Chattanooga Has A Chance/Not a Prayer!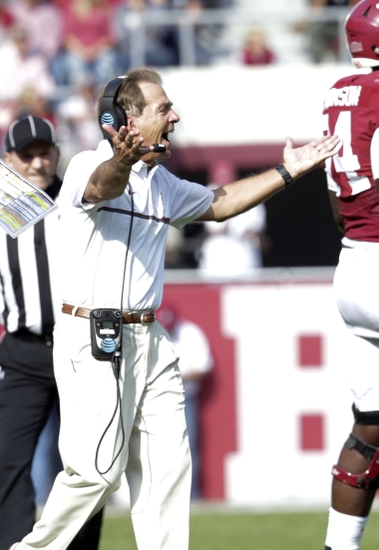 Wait, didn't this movie win Best Picture in 1976? Are the Chattanooga Mocs just a puncher's chance away from upsetting No. 1 Alabama? … We debate, you decide.
Editor's Note: BH Expert David Wasson and BH Contributor Kevin Brooks decided to take their PTI-like arguments on instant messaging to the next level for public consumption. This is the second in a (hopefully …) continuing series, exploring Chattanooga's chances against Alabama on Saturday.
DAVID WASSON: One of my dirtneck friend Kev's favorite movies, I bet, is "Rocky".
Before Sylvester Stallone turned the story of a scruffy southpaw into a franchise, Rocky Balboa was a down-on-his-luck tomato can who got the chance of a lifetime for the heavyweight championship of the world.
And my friends, Alabama is Apollo Creed this weekend – laying it all on the line against the Chattanooga Mocs.
ICYMI: THE BH DEBATE – SHOULD/SHOULDN'T JALEN HURTS WIN THE HEISMAN?
This is as close to a no-win situation as Creed-Balboa I was (minus the home-arena advantage Rocky had …) Alabama is such a prohibitive favorite that one is hard-pressed to even find a line on the game. ESPN gives the Tide a 99.6 percent chance to win.
But that means the Mocs have that 0.4 percent puncher's chance. Beware, Apollo Creed. Beware.
Live Feed

college football
KEVIN BROOKS:  Dave we live in a world where anything is possible. I mean, Donald "You're Fired!" Trump is the president.
In our blessed lifetimes we have seen a lot of firsts. It is not impossible to beat Alabama – I know how I'd attack their defense if I was a coach, but I'm not gonna tell! Lets just say the Mocs quarterback would have to have a Stephen Garcia-type game.
I don't know what I would do to attempt to stop the Alabama offense. Maybe the Mocs would need Coach Kiffin and the offensive line to be coming off an all-night bender to have a chance at stopping that offense. The only thing that stalls that offense is Kiffin. I'd do what LSU did and blitz Jalen Hurts from the edges, that seemed to fluster him.
But the Mocs are not LSU.
DW: No, Kev, the Mocs aren't LSU. But they could be Appalachian State. Ask Michigan about that. Or ask older Alabama players about Michael "The Burner" Turner and Northern Illinois.
Among the more irritating aspects of Nick Saban's Alabama teams is the tendency to play down to their opponents. We saw it this year in a lackluster performance against Western Kentucky. And just like that game, Saturday's game is a classic "trap game" for teams looking ahead.
I know what you'll say … of COURSE Alabama is looking ahead. To Auburn and their dumpster fire of a program. To whomever the SEC East pushes forth as the sacrificial championship game lamb. To the CFP semifinals and finals.
But the Crimson Tide better keep a full eye on the squad rolling out of The Fail Room on Saturday night. Because history tends to repeat itself.
Just ask Appalachian State and Northern Illinois.
KB: I cannot believe you brought up Northern Illinois! I was there for that game! Back then, Alabama wasn't as popular with the kids as they are now. I had to buy a three-game package to get the tickets to the game I really wanted to go to that year (Oklahoma). Out of the three-game package I bought, Alabama went 1-2!
I recall a older man in glasses berating me and my pals as I slunk out of Bryant-Denny stadium that night. It was brutal. I felt like a prizefighter that just got beat up and people were throwing Cokes and popcorn at me.
The Mocs should be hungry for a win coming off a loss vs. the powerhouse Wofford! I just don't know if this week is their week to feast on a victory, but stranger things have happened. Don't jinx it for me … I'm going to the game!
DW: Look, odds are you're not playing the William H. Macy part in "The Cooler" this weekend. But knowing that now almost makes me want to call a friend in the desert!
Just like death and taxes, the safe money is on Alabama. But I know plenty of wackos that believe in conspiracy theories that could easily conjure up the same mumbo-jumbo suggesting the NCAA/CBS/ESPN/Las Vegas go all-in against the Tide. Any black helicopter spottings in Tuscaloosa this week?
All kidding aside, Chattanooga is legit. Even after losing to Wofford, the Mocs are 11th in the FCS. Alejandro Bennifield has thrown 23 touchdown passes – with Xavier Borishade and C.J. Board both viable receiving targets.
Beware of the 1 percent, Kev!
KB: I did look at the Mocs last week, and I must admit I perked up when I saw their 8-1 record (well, now it is 8-2), but still they are a football team with helmets and all. So Alabama is gonna have to do more then roll their helmets out and wish for the best.
You wanna talk conspiracy theories,how is it Nick Saban can have his players so focused on winning? Have you ever notice they all sound like Saban, too? Saban has been saying the same exact thing for years … has he got everyone on the team under some kind of ultra mind control?
It is a fact that repetition is the quickest way to mind control, to constantly repeat the same things reinforcing the message. Coach Saban's message to his football players is to win.
Nonetheless, as long as the starters are healthy I don't give the Mocs much of a chance.
More from Bama Hammer
This article originally appeared on