Texas Tech Scores on Ridiculous Trick Play vs. Louisiana Tech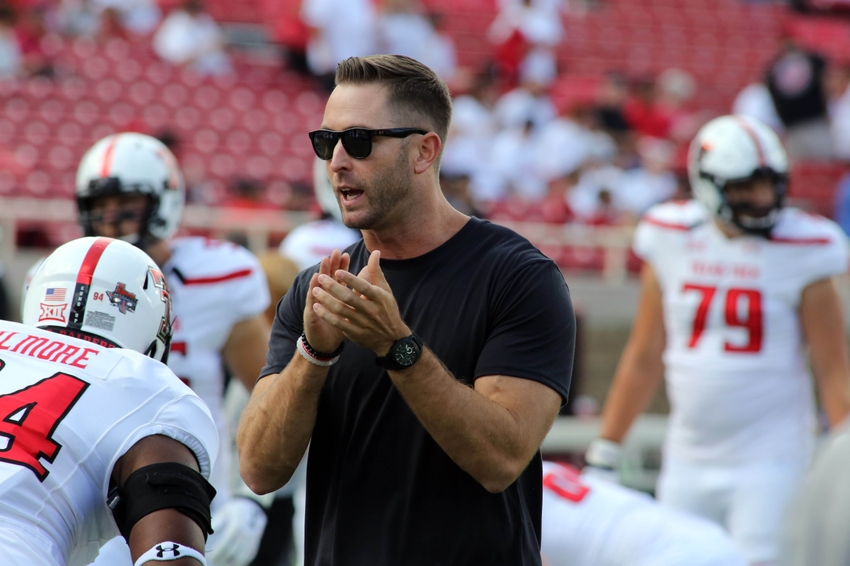 The Texas Tech Red Raiders drew up a wild trick play against the Louisiana Tech Bulldogs on Saturday that led to an exciting touchdown.
Kliff Kingsbury's Texas Tech Red Raiders have one of the most high-scoring offenses in the nation, but that doesn't mean that they don't throw in trick plays every now and then.
The Red Raiders were taking on the Louisiana Tech Bulldogs on Saturday. In the second quarter, Kingsbury called a wild trick play that involved Red Raiders quarterback Patrick Mahomes flipping the ball to wide receiver Jonathan Giles. The receiver then flipped it to Cameron Baston before he threw it back to Mahomes.
The Texas Tech QB then found Giles again before the receiver found some space and took off for a 42-yard touchdown to put the Red Raiders up 35-10. You can watch the whole play in the video below courtesy of Twitter.
While the offense continued to roll throughout the night, the Texas Tech defense struggled to contain the Bulldogs. Defense has consistently been a problem for the Red Raiders under Kingsbury, with the team much more focused on a fast-paced offense. A great example of this came just last week when the Red Raiders fell to the Arizona State Sun Devils in a 68-55 shootout.
Trick plays like this are always fun to watch, but you know for a fact that the Red Raiders won't be able to get away with this a second time. Still, who knows whether or not they'll come up with another trick play before the season is over.
This article originally appeared on