Texas stuns No. 10 Notre Dame in wild 2-OT season opener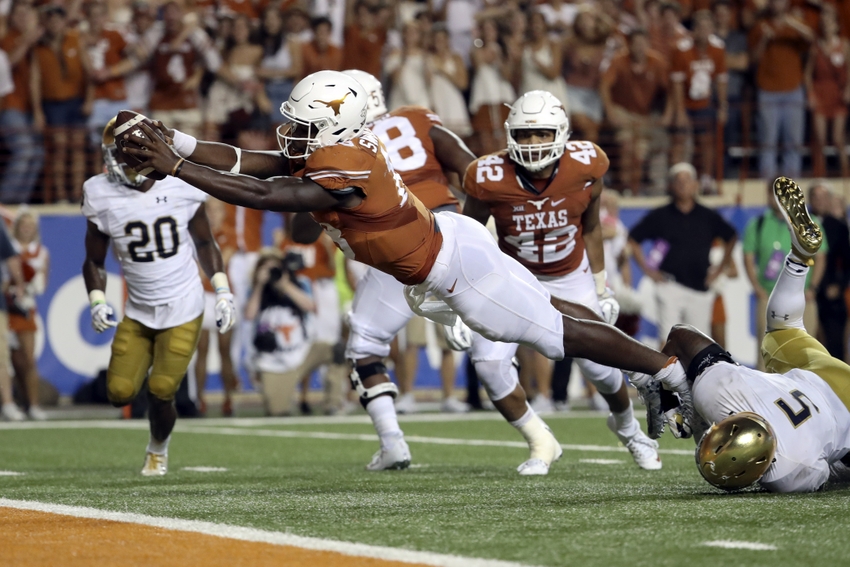 Tyrone Swoopes scores twice in overtime to lead Texas football over No. 10 Notre Dame in an early candidate for Game of the Year.
Texas Longhorns Head Coach Charlie Strong wanted to begin the season by showing his message of change has gotten through to his players. After one game, he may have accomplished that.
Senior quarterback Tyrone Swoopes stole the show as he led the unranked Longhorns to a 50-47 double-overtime victory over No. 10 Notre Dame Sunday night in front of a school-record 102,315 fans at Darrell K. Royal Texas Memorial Stadium.
The Texas offense was something Longhorns fans had not seen before Sunday night. With Shane Buechele starting as a true freshman, the quick tempo offense scored early and often to begin the game.
Texas quickly ran out to a 28-14 lead just 31 seconds into the third quarter when Buechele found John Burt racing down the sideline for a 72-yard touchdown pass, finding a seam in the Fighting Irish defense.
Notre Dame rallied after a Buechele interception led to a score. Fighting Irish quarterback DeShone Kizer scored two touchdowns in just over two minutes to cut the Longhorns lead to three going into the final quarter of regulation.
Buechele finished the game 16-for-26 passing for two touchdowns and one interception.
Texas looked poised to grab victory in the final minutes of the game after scoring a touchdown. However, Trent Domingue's extra point was blocked and returned down the field by Notre Dame for a two-point PAT. This would tie the game and force two overtime periods.
Swoopes would take over in the double overtime. He ran for a score in each overtime period, including the game-winning six yard score. He would finish with a total of 53 rushing yards and three touchdowns on the evening.
The victory is no doubt the biggest of Strong's tenure at the university. After his first two seasons, Longhorn fans were split between wanting him fired or giving him time.
Just one game into his third season, the burnt orange faithful seem to understand time may have been the better option.
Up next: Texas is now 1-0 on the season and will return to the field next Saturday when they welcome the UTEP Miners to Austin at 6 p.m.
More from Hook'em Headlines
This article originally appeared on