CFB AM: Texas won't rest until it steals the Aggies' future star QB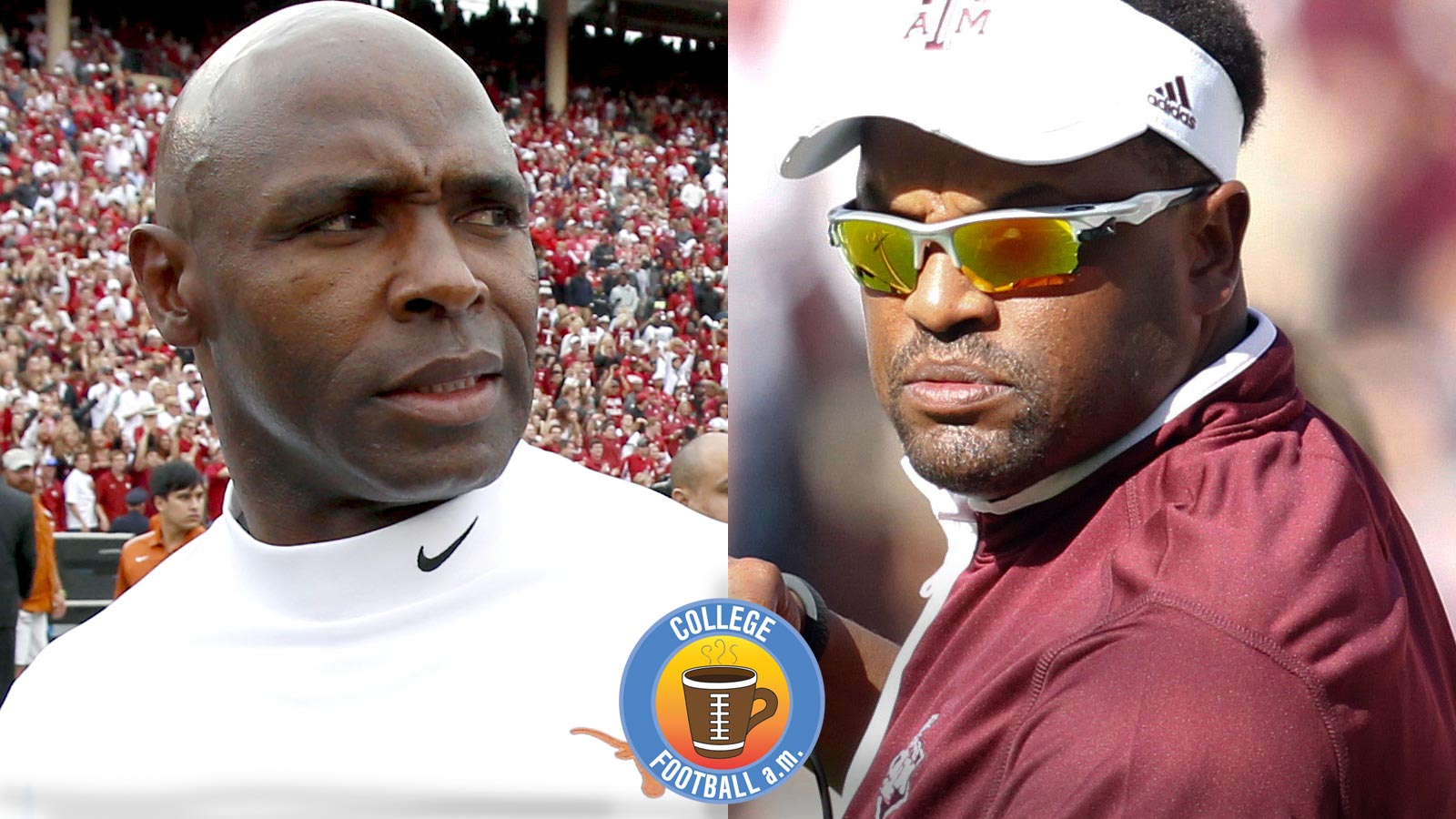 We're less than two weeks from national signing day on Feb. 4, which means recruiting is ramping up around the country as prospects make their final visits and programs make their final pitches.
This time of year drives everybody insane, particularly fans looking on the Internet for any reason to be excited about the future.
So today is for you, Texas fans.
Charlie Strong and the Longhorns appear to be making a hard run at Kyler Murray, a five-star quarterback who 247 Sports rates as the No. 1 dual-threat QB in the country.
The best part about this is Murray has already committed to Kevin Sumlin and Texas A&M and has many in College Station believing he's the future QB of the Aggies after Kyle Allen (or possibly sometime before if Allen doesn't fulfill expectations). There was no reason for the Aggies to panic until this popped up on Twitter yesterday:
— Kyler Murray (@TheKylerMurray) January 21, 2015
Murray already took his official visit to A&M, so if he's still surveying the landscape at this point, it suggests he's not QUITE sold on College Station (or just wants to be treated to free trips and meals, which, hey, live it up, son).
More good news for Texas fans: Joining Murray on his visit to Texas was four-star WR Damarkus Lodge, who used to be committed to Texas A&M as well but backed out of that commitment.
Lodge also tweeted a fresh UT jersey that could be his:
— DaMarkus Lodge (@DaMarkusLodge18) January 21, 2015
All of this is normal operating procedures during the crazy part of recruiting season. Texas is going after other QBs because the Horns themselves are suspicious one of their recruits – Zach Gentry – might flip to Michigan. There are 13 days left to seal commitments, which is an eternity in recruiting. Buckle up, Aggies.
THREE THINGS YOU NEED TO KNOW
1. It's difficult to think of a coach as successful as Georgia's Mark Richt who draws such a wide variety of opinions. We were reminded of this again on Wednesday when it was announced Richt received a two-year contract extension that will take his deal through the 2019 season and pay him $4 million per year. That announcement was met with many fans mocking Georgia. Richt deserves some of the criticism, for sure, given the Bulldogs have failed to meet expectations at times, but he's still won 10 or more games in nine of his 13 seasons in Athens. But fans are tired of solid 10-win seasons and now expect SEC titles and playoff berths.
2. Dallas Cowboys owner Jerry Jones is opening up the wallet for his alma mater, donating $10.65 million to Arkansas to complete a 55,000 square-foot athletic support center that is scheduled to open in 2015. That's a big-time commitment for the Hogs.
In similar news, Florida is also stepping up its game and building a $15 million indoor practice facility that should be ready this fall in time for the first season under new coach Jim McElwain. It's crazy it's taken the Gators this long to get an indoor facility considering UF is among the best jobs in the country, but it surely will be beautiful and allow the Gators to compare their facilities more favorably with others in the SEC.
3. Melvin Gordon did a really nice thing and posted a thank you note to Wisconsin fans on Twitter as he prepares for the NFL Draft and the next part of his journey. Here's the letter:
I want to say thank you to my teammates, coaches, everyone at UW and our fans. Your support means everything pic.twitter.com/C7uhuwGi8a

— Gordon | 25™ | A01 (@Melvingordon25) January 21, 2015
THREE THINGS YOU SHOULD KNOW
1. In the wake of the North Carolina academic fraud case last year now comes news that the NCAA is currently investigating 20 other schools for similar infractions. Jonathan Duncan, the NCAA's vice president for enforcement, told The Chronicle of Higher Education's Brad Wolverton that 18 Division I schools involved along with one Division II and one Division III school. Naturally, the NCAA declined to name the schools. So, yeah, looks like the words "misconduct" and "fraud" aren't leaving our college sports vocabulary anytime soon. Fun times.
2. Bruce Feldman has a new Audible with Houston coach Tom Herman, discussing how his previous job as Ohio State's offensive coordinator prepared him to be a head coach and more. There's also the story about why Herman gave his son two middle names, one of them being "Danger" (hint: it'll play well with girls). Listen here:
3. I will never understand why friends make stupid sports bets that result in permanent scars. That's how you end up being an Oregon fan with an Ohio State tattoo on your thigh.
LADIES AND GENTLEMAN. HERE IS THE TATTOO. A man of his word @Debellonia88 pic.twitter.com/HWUah8BL5D

— H (@Hlee3D) January 21, 2015
THREE THINGS YOU MAY WANT TO KNOW
1. Baylor QB Bryce Petty seems to be having some trouble in Senior Bowl practices this week adjusting to playing from under center, as opposed to out of the shotgun like he primarily did in college. Petty is a sharp dude, freak athlete and tireless worker – it's probably just a matter of reps for him.
2. Look at Washington taking its recruiting game to a whole new level. Awesome.
Lets just all take a moment and appreciate this pic.twitter.com/IPZidCj41M

— Brady Kuntz (@Bkdawg9) January 18, 2015
3. If you're looking ahead to next season and wondering which freshmen might produce value immediately, Wescott Eberts runs through the top incoming players around the country who could make an impact this fall.
LASTLY
* "Hi, this is coach Ed Orgeron with LSU football. Sorry I can't take your call right now, but I'm out recruiting the best football players in the country for LSU."
* Great work by the Georgia Tech staffers who produced this 2014 highlight video. We're seeing programs all around the country become more creative and prolific with digital media, and this is another example of a well-done video that gets fans excited about your program.
Have a great Thursday, everybody.
Teddy Mitrosilis is an editor and writer for FOXSports.com. Follow him on Twitter @TMitrosilis and email him at tmitrosilis@gmail.com.