CFB AM: Johnny Manziel doing his part to hurt Texas' recruiting class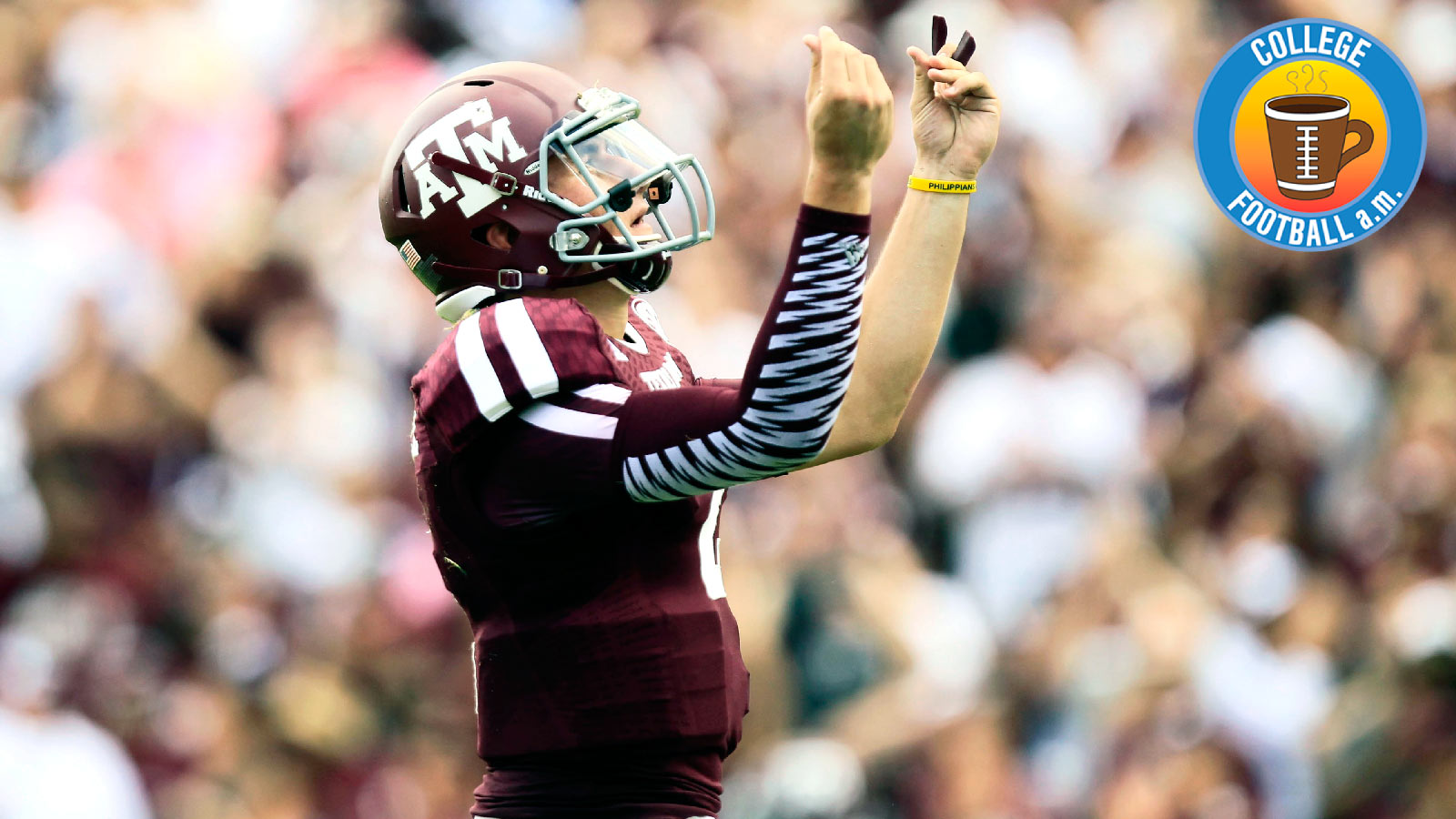 With signing day a little more than a week away, the battle for five-star quarterback Kyler Murray has taken another turn.
To refresh you: Murray is verbally committed to Texas A&M but sent ripples through the recruiting world when he took a visit to Texas last week and tweeted a photo of a Longhorns jersey.
This sent the state of Texas into a flurry as recruiting analysts wondered if Charlie Strong was about to steal an elite QB prospect from Kevin Sumlin and the high-powered offense he has built the Aggies on.
To make sure that doesn't happen, the most high-profile Aggie has gotten involved. Yep, Johnny Manziel is now trying to stifle Texas' recruiting efforts. He tweeted this at Murray on Sunday:
Gig 'Em @TheKylerMurray

— Johnny Manziel (@JManziel2) January 25, 2015
Texas jumped into the Murray battle late when the Longhorns feared they might be losing one of their own QB commits in four-star Zach Gentry.
Those fears were confirmed over the weekend when Gentry flipped from Texas to Michigan. Interestingly, part of the reason Gentry, a pro-style QB recruit, said he flipped is because offensive change is imminent in Austin.
"You know what, they're changing the offense at Texas, and I wasn't totally comfortable with that," Gentry told the Albuquerque Journal. "The Michigan coaches called me a week ago, and the opportunity presented itself."
If Texas plans to go more up-tempo and break out of its offensive rut, going after a dual-threat talent like Murray makes even more sense. We have nine days to find out if the Longhorns can land the kind of commit that could swing Strong's future in Austin.
THREE THINGS YOU NEED TO KNOW
1. For this year, at least, we can officially put to rest the speculation about Lane Kiffin leaving Alabama for another job. With his name connected to the San Francisco 49ers offensive coordinator job, Kiffin confirmed he will return to Tuscaloosa for a second season as Nick Saban's OC. "I made a comment at the Sugar Bowl that I would be back this fall at Alabama and that is definitely the plan," Kiffin said in a statement. "This time of year, there are lots of things out there regarding other coaching opportunities, but I want to reaffirm my commitment to the University of Alabama, coach Saban, and our team. "I'm excited about what our offensive staff was able to accomplish last year, but I also think there are a lot of things we can do a better job of in terms of putting our players in the best situation to have success."
It's clear that Kiffin won't be at Alabama for long if the Tide continue to have the kind of success they had in 2014, and Saban knows that. "[Kiffin] is going to have plenty of opportunities in the future and we want to continue to help him develop as a coach so when he leaves here, he'll be in a very good situation," Saban said in a statement.
2. Ohio State officially celebrated its national championship in The Shoe on Saturday, and the quarterbacks addressed the crowd. Braxton Miller, who many assume would end up transferring somewhere else after the emergence of J.T. Barrett and Cardale Jones, told the crowd, "It was a privilege and an honor to be part of this national championship team in 2014. But guess what, we've got another year to do it. Go Bucks."
So nobody is really indicating they're NOT coming back to Columbus in 2015, which will make for a fascinating QB battle and dilemma for Urban Meyer.
Also: As part of Ohio State's marketing efforts for this title, they're renaming a street The Undisputed Way, as they want everyone to know they're the undisputed champs.
The new street sign for @OhioStAthletics. Undisputed Way. pic.twitter.com/An4rrP39fM

— Ohio State on BTN (@BTN_Ohio_State) January 24, 2015
3. One of the last layers of Jameis Winston's sexual assault case is about to be pulled back. Winston's accuser has taken part in a documentary called "The Hunting Ground" in which she speaks publicly for the first time about allegedly being raped by Winston. The documentary premiered recently at the Sundance Film Festival and will air later this year on CNN, as well as be released in some theaters.
To be clear: Winston was not charged with sexual assault and was cleared of violating Florida State's sexual conduct policy. State Attorney Willie Meggs, who determined there wasn't sufficient evidence to charge Winston with rape, reportedly says in the film, "I think things that happened that night were not good."
THREE THINGS YOU SHOULD KNOW
1. Oregon QB Marcus Mariota, a strong candidate to go No. 1 overall in the 2015 NFL Draft, is unsure if he'll throw at the combine next month after spraining the AC joint in his shoulder against Ohio State in the national title game. Mariota said he's back to throwing and the shoulder feels fine but hasn't determined if it's quite ready. He could always delay the throwing until his pro day at Oregon later this spring.
2. Hey, the Senior Bowl was this past weekend, and Nebraska running back Ameer Abdullah had a nice day. With that, college football officially goes into hibernation until the opening weekend of 2015.
3. It looks like Jim Harbaugh is having fun at Michigan while he continues to work on the 2015 class. He recently played the piccolo with the UM band:
Who's got it better than us? pic.twitter.com/S4n8YgIidM

— Jordan Maleh (@jordanmaleh) January 24, 2015
And then he launched halfcourt shots on TV:
Speaking of Harbaugh, a few more details from his contract have been uncovered. An important perk: He's guaranteed between $4 million and $5 million in salary for his assistant coaches, which will increase by 10 percent in Year 3 and Year 5, giving him sufficient funds to maintain an elite staff.
THREE THINGS YOU MAY WANT TO KNOW
1. SB Nation looks at eight uncommitted five-star recruits and takes a guess at where they'll land in the 2015 class. USC gets two of them.
2. Frank Beamer … Frank … you alive?
That's Frank's son Shane on the left with his daughter at a recent basketball game. The little girl was apparently upset her sign didn't make it on the JumboTron. Grandpa seems to be having a fun time.
3. Here are some early 2015 SEC predictions, per Steven Lassan.
LASTLY
The Boom Era has officially begun at Auburn. Come back, college football, come back.
Have a great Monday, everybody.
Teddy Mitrosilis is an editor and writer for FOXSports.com. Follow him on Twitter @TMitrosilis and email him at tmitrosilis@gmail.com.