CFB AM: This video reminds every recruit why they should pick Texas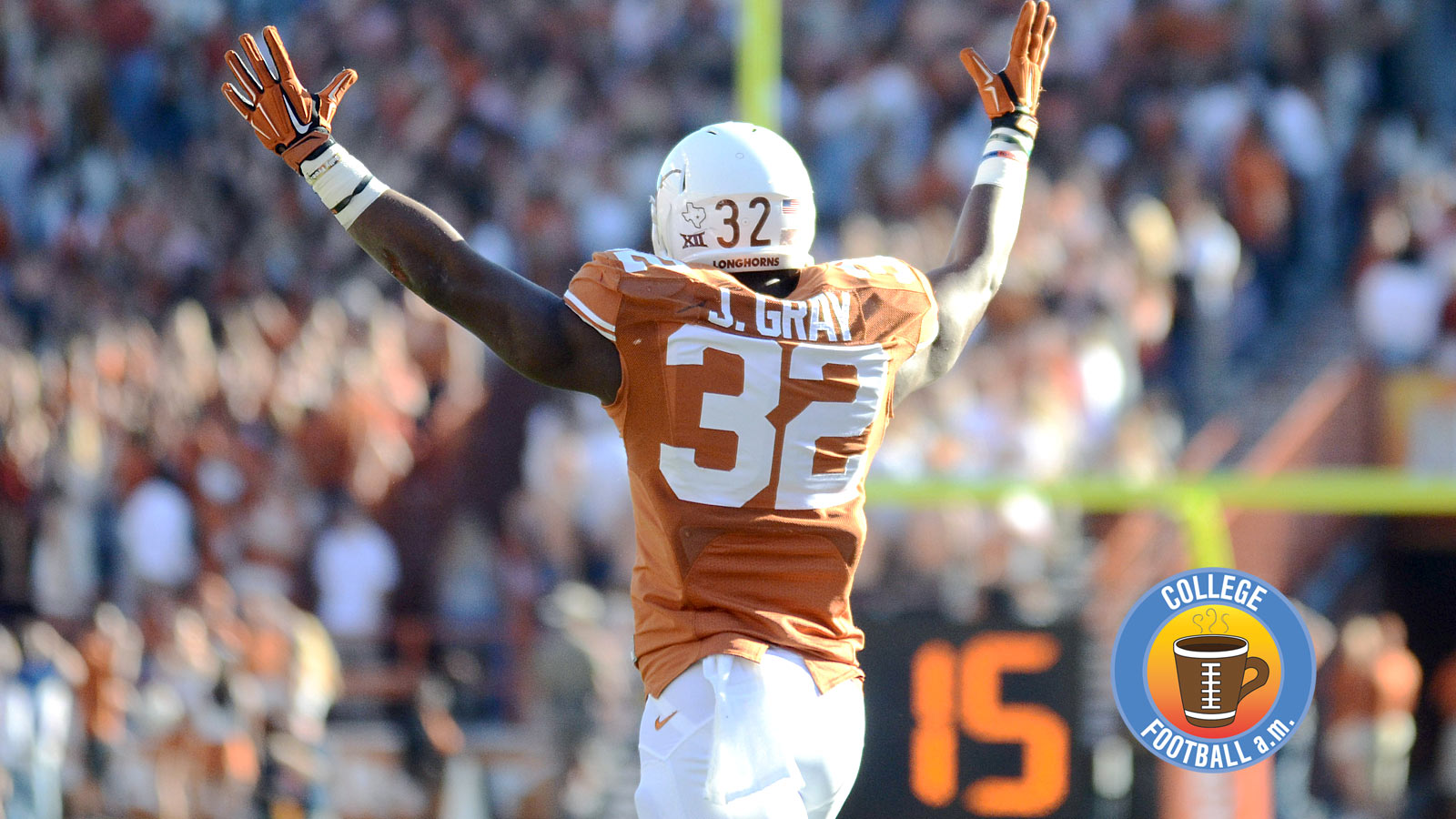 With National Signing Day officially less than a week away, Texas remains the most fascinating program in the country.
As Stewart Mandel wrote on Wednesday, the Longhorns can put a huge finish on their 2015 class and steal the show on Feb. 4, which would be a new experience for UT fans.
Much of that depends on one domino: five-star QB Kyler Murray. (Update: Murray re-affirmed his commitment to Texas A&M late Thursday night).
With Murray out of Texas' class, it's less likely WR DaMarkus Lodge and defensive lineman Daylon Mack head to Austin.
Still, Texas fans are clamoring for some big news to celebrate after the Horns went 6-7 in Charlie Strong's first season in Austin.
This hype video one Texas fan put together should help the cause. It reminds every blue-chip recruit why picking Texas could never be a bad option – Austin has everything you could want. Here's the video:
Is it enough to get Mack, Lodge and others to become Horns? We'll see — other programs have compelling pitches, too.
But college football needs the Horns to be great again, and cleaning up on Signing Day would be a fun start to Year 2 for Strong.
THREE THINGS YOU NEED TO KNOW
1. Have the Oregon Ducks found Marcus Mariota's replacement at an FCS school? Eastern Washington QB Vernon Adams Jr. says he has been offered a scholarship by the Ducks and will visit Eugene this weekend. Adams Jr. was the Big Sky Conference's MVP last season and theoretically would be able to pick up Oregon's tempo system rather quickly, given the way Eastern Washington operates. He will have one season of eligibility remaining and can play immediately if he does end up with the Ducks.
2. Good bit of news for Alabama quarterback Blake Sims: He has been invited to the NFL Combine after a strong 2014 season, per Bruce Feldman. Sims is a wonderful story about what can happen with persistence and perseverance, given nobody thought he'd beat out Jacob Coker for the Bama QB job last summer heading into his senior season.
3. Louisville defensive coordinator Todd Grantham was reportedly offered the Oakland Raiders' DC job but has turned it down to remain with the Cardinals. Grantham wasn't exactly run out of Georgia last year, but no UGA fan was sad to see him go and Jeremy Pruitt come in. If he can follow up 2014 – in which Louisville had one of the nation's best defenses – with a great 2015, Grantham will deservedly have more opportunities or a healthy raise on Bobby Petrino's staff.
THREE THINGS YOU SHOULD KNOW
1. Former Miami star Michael Irvin had some blunt words for Hurricanes fans who don't support coach Al Golden: He wants them to "calm their asses down." Said Irvin in a radio interview: "I thought it was the right move, and guys, I've said this over and over again and I'll say it here again: Al Golden has earned this opportunity, has earned the right to see this through. With what he's done, to jump there and fight, that was not his fight, and he stayed through the fight. He recruited well and he kept us in the fight.
"It would be absolutely stupid, absolutely ignorant to do it to him, so it would be absolutely the right thing to let this man get one more year to finish and make it right. Building a championship takes time and there's a process to it. And we're in the midst, I think, of a very good process. And I surely hope that people, in Miami, can calm their asses down and let the process see itself through."
Most Miami fans are probably willing to give Golden the 2015 season to build on what was started with freshman QB Brad Kaaya last year. But after going 6-7 in Year 4, time is running out for Golden with the Canes, no matter what Irvin says.
2. Brandon Harris came into LSU with a ton of hype and then had a pretty miserable freshman season in 2014 as the Tigers offense sputtered. He's back at school for the spring semester and focused on winning the starting QB job entering his sophomore year, but apparently he's had voices telling him to bail on Baton Rouge. Over winter break, according to a report, his high school coach advised him to play at a junior college for one year and then transfer somewhere else. We'll see how 2015 goes. These aren't the first transfer rumors around Harris, and it wouldn't be that surprising if he went searching for a fresh start if his second year at LSU doesn't go well.
3. Some details on Jimbo Fisher's contract with Florida State: He will owe $5 million if he leaves FSU before December 2016 and $3 million if he leaves before December 2018. After that, Fisher's buyout is $1 million. The only way I can see Fisher ever leaving FSU is if he was intrigued by the NFL – and he doesn't seem to be a pro guy – or if off-field trouble and/or sanctions forced FSU to make a move. Otherwise, Fisher should be with the Noles as long as he wants and make a run at Bobby Bowden's school wins record.
On another contract note: New Oklahoma offensive coordinator Lincoln Riley will make $500,000 per year over a two-year deal, making him the second-highest paid OC in the Big 12 behind Texas' Shawn Watson ($650,000). At $500,000, Riley would have ranked 66th among all assistant coaches in 2014. The guess here is that, if the Sooners have a productive 2015, Riley gets a new extension next offseason.
THREE THINGS YOU MAY WANT TO KNOW
1. Mariota isn't the only huge name that needs to be replaced in the Pac-12. Steven Lassan looks at a few others.
2. There aren't really any surprises in this graphic of the winningest program in each state, but it looks cool. If anything, some rivals will use it as fuel (FSU fans no doubt get itchy when thinking about being inferior to Florida).
RT if your school is the winningest team in your state. pic.twitter.com/lzqetOsc21

— CFB Nation (@UofCFB) January 28, 2015
3. Is this the last great interview Marshawn Lynch did? It's probably the best. Here is after his last high school game before going to Cal, where he wants to treat his linemen to Sizzler.
LASTLY
Have a great Thursday, everybody.
Teddy Mitrosilis is an editor and writer for FOXSports.com. Follow him on Twitter @TMitrosilis and email him at tmitrosilis@gmail.com.