Super freshman Malik Jefferson already separating himself as a leader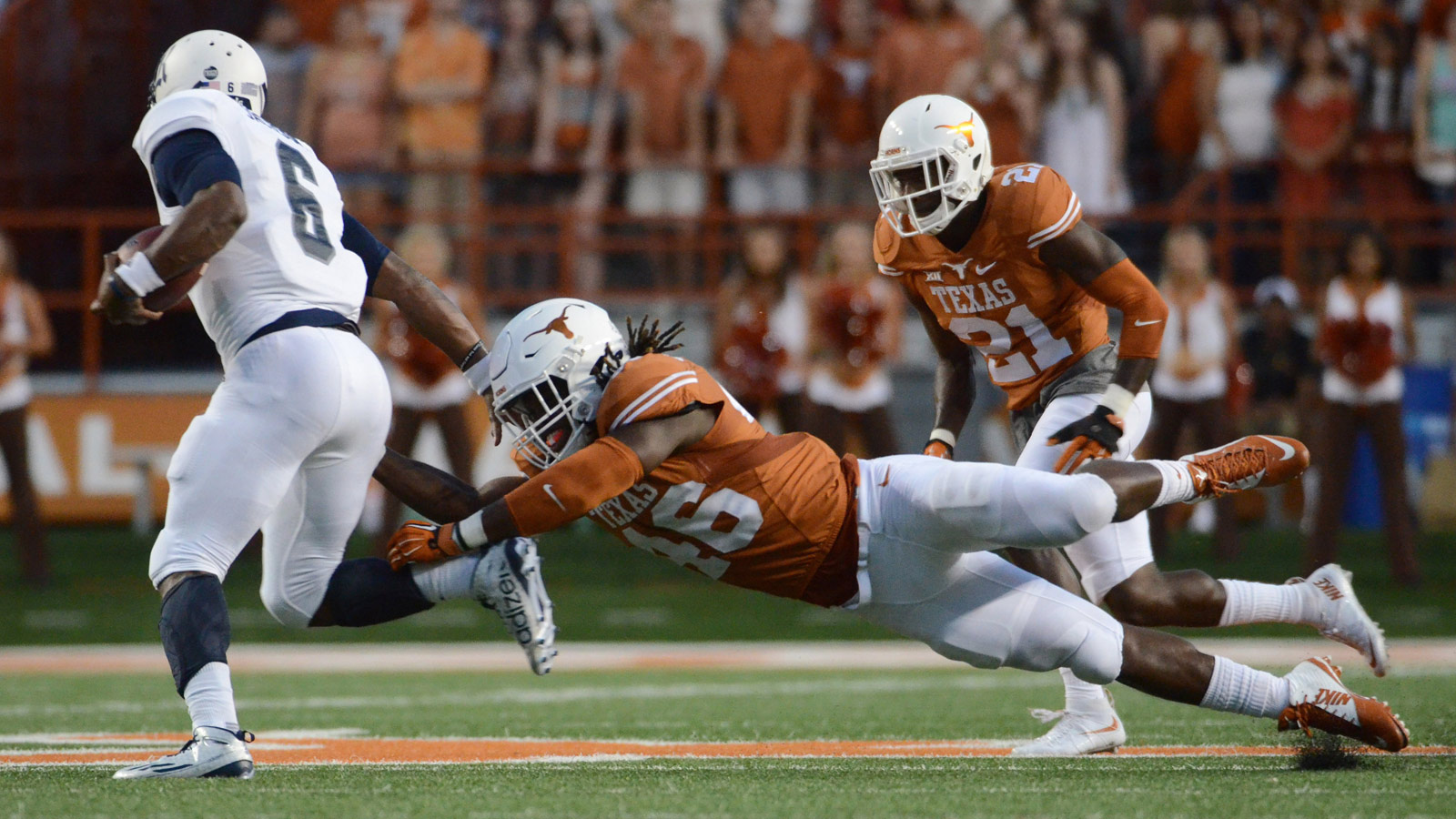 True freshman Malik Jefferson was the feather in coach Charlie Strong's recruiting cap. The five-star linebacker helped lure other top talent to the Longhorns, and he wasted little time asserting himself as worthy of a starting job.
In last week's big win over Rice, the 18-year-old from Mesquite, Texas, scooped up a fumble and sprinted 26 yards for the first of what promises to be many more touchdowns.
"I timed it perfectly. My eyes did light up," Jefferson said Monday during Texas' weekly press conference. "You can see in the picture that my eyes got real big. I was like 'Does the end zone glow when I score?' I wasn't for sure."
Texas LB'er Malik Jefferson taking a Fumble to the House. https://t.co/5qH736gPAS

— Uncle Duke (@MaddenDC) September 13, 2015
Jefferson and the rest of Strong's 2015 recruiting class are expected to become the backbone of a Texas renaissance that certainly seemed light years away after the opening-week loss to Notre Dame. But after a solid bounce-back against the Owls that included the first career start for redshirt freshman quarterback Jerrod Heard, the mood has lightened some in Austin as the youngsters begin to take more control.
Here's a portion of Jefferson's time with the media:
On his maturity: "It comes back from where I was born and raised, from my house. My parents told me to always think older than what you are because it will make you better than the end of the day. Looking at my brothers and what they did, I learned from their mistakes. I brought that into my world and did what they didn't do. What they did right, I did right.
#Predator 😈 pic.twitter.com/aaTkPQ2l4F

— Malik Jefferson 4⃣6⃣ (@Official_MalikJ) September 14, 2015
On the defense's early struggles: "Just lack of discipline. We should have been slower linebackers. We should have been more patient when it came to the split zone, and when the back came through the hole and tried to bounce out we should have been there. It's going to be tough for us until we find a true identity in the front seven. We have to make sure we get a push on the ball and make sure we get a push back."
On assuming a leadership role as a freshman: "I didn't think it was my responsibility. I wanted to part of something that could be great. I knew that Coach Strong was pushing this program toward a higher standard."
On whether he worried about stepping on the toes of veterans: "Oh yeah I was definitely worried about that. I never wanted to look like I was above anything. I respect them and they respect me at the end of the game. I just make sure that I am going out there 100 percent. It's not about me right now. It's for them. They've had a couple of down seasons. We need to win. We all need to contribute to do that.
On saying the future has to be now: "It is coming fast. We know it is. But we have to get it in our heads that it starts today. We can't wait or it's too late."
(h/t Horns Digest)
MORE NEWS:
Want stories delivered to you? Sign up for our College Football newsletters.