Heard's night for the ages eclipses VY, revives Horns' hopes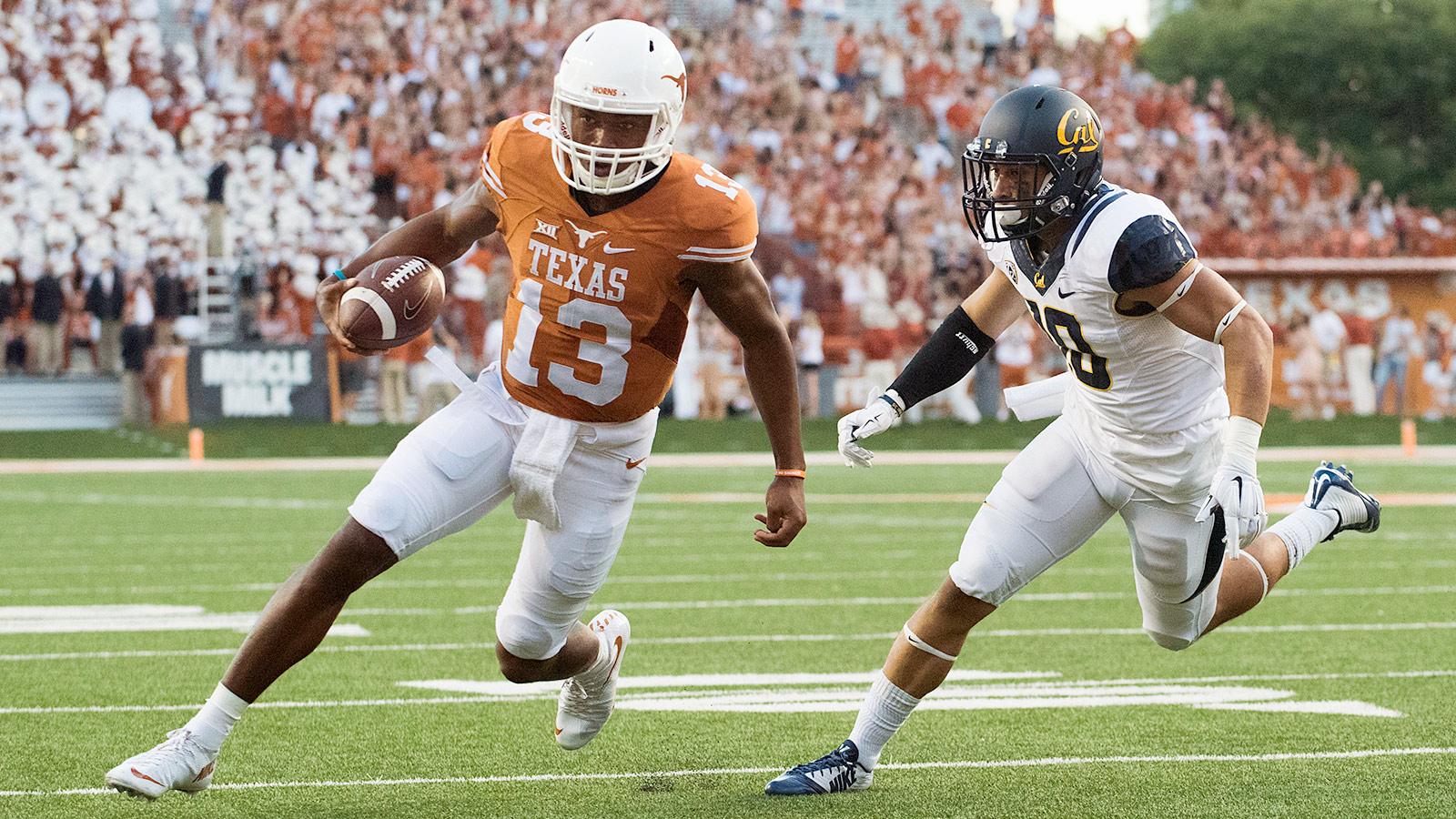 Texas Longhorns fans have been so down in the dumps that it's nearly impossible to remember a time when the fans of a proud powerhouse have been so elated — following a loss.
It illustrates how badly the program had bottomed out at Texas. Suddenly redshirt freshman quarterback Jerrod Heard has made Longhorns football fun again, and his electric performance in the 45-44 loss to Cal has reinvigorated the fan base, if not the entire program. And who knows, if kicker Nick Rose doesn't flub the extra point with a minute to go, maybe the Horns even pull the game out after trailing by 21 points in the fourth quarter.
Heard, in just his second start, has effectively ended the quarterback competition he didn't win in the spring or in fall camp against 2014 Tyrone Swoopes with his last two performances as the starter.
Heard's latest was one for the record books. He eclipsed Vince Young's 2005 school record of 506 total yards — while outdueling Cal quarterback Jared Goff, a projected first-round NFL draft pick — by piling up 527 total yards (364 passing, 163 rushing).
The crew at SB Nation compiled this list of other heady Heard accomplishments from Saturday's game:
364 — Heard's passing yards ranked 10th in school history, tying with David Ash's performance against Oklahoma State in 2012.
650 — Heard keyed an offensive outburst that ranked as the fifth-most for the school since 1970.
2006 — The last time that a freshman quarterback threw for 300 yards. McCoy accomplished that feat against Iowa in the Alamo Bowl when he threw for 306 yards.
106 — The number of games since McCoy's performance against Iowa.
2003 — The last time that a Texas freshman quarterback ran for over 100 yards. Vince Young ran for 163 against Nebraska that year.
2009 — The last time that a Texas quarterback threw for over 300 yards and rushed for over 100 yards. Colt McCoy accomplished the feat against Texas A&M that year in throwing for 304 yards and rushing for 175 yards.
68 — The number of games since McCoy went over 300 passing yards and 100 rushing yards against Texas A&M in 2009.
(h/t SBNation)
MORE NEWS:
Want stories delivered to you? Sign up for our College Football newsletters.